In this Telegram AMA recap, you'll find insights about the Land Of Conquest (SLG) project. In an event hosted by Sen Ho from MEXC Global, you will meet Benny PAN (Marketing manager).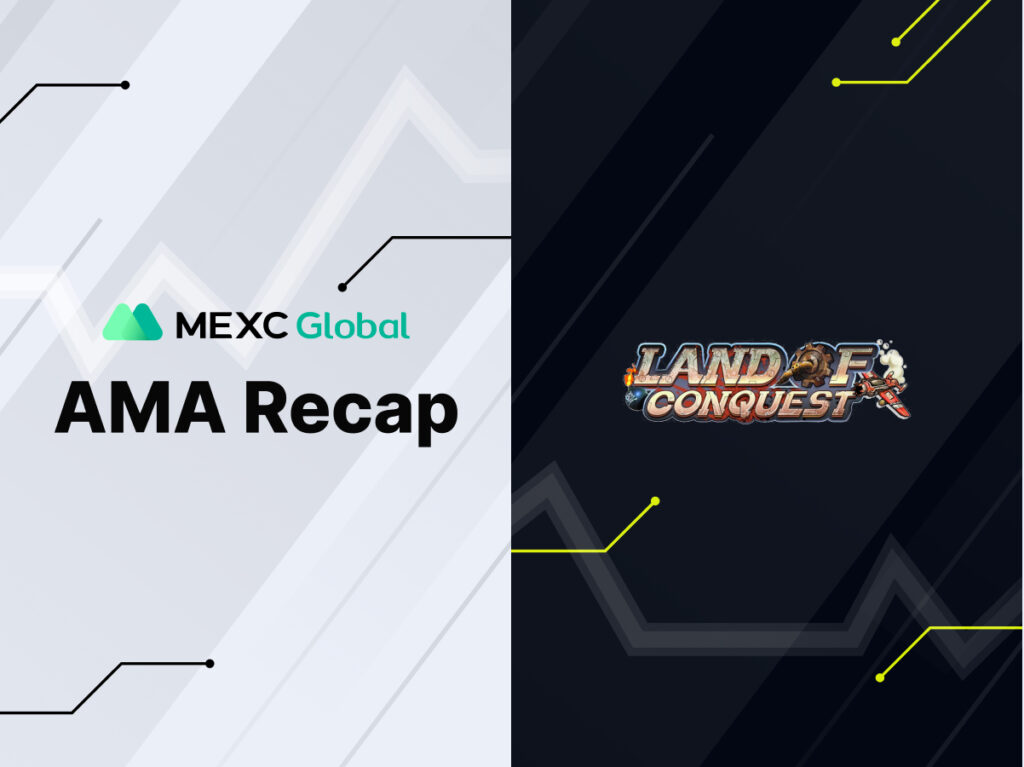 Introduction:
Benny PAN: My name is Benny, I am the marketing manager of Land of Conquest. My role in LOC is basically to introduce LOC project to the world through platforms like this, and also act as a bridge between LOC and communities. Prior to LOC, I have worked in crypto industry in general like crypto exchange.
Questions from community:
Sen Ho: 1. What is SLG? Can you share with us more in detail?
Benny PAN: SLG is the governance token of the Land Of Conquest game, which will be on-chain and IEO Exchange. The total amount of SLG issued is 1 billion, and the initial value is set to 0.03usdt, which is a deflationary currency.
There will be a very small amount in the operation activity game. SLG is divided into two types: in-game and on-chain. Players can exchange XTAL to get SLG in-game in the game, and then extract SLG in-game to SLG on-chain. And then it shows play through the Pancake liquidity pool, or trade on the exchange.
Sen Ho: 2 What triggers you to launch SLG? What are some of the real-world problems/ pain points that SLG aims to solve?
Benny PAN: When we launch a game, of course we need a "currency" to play and to reward players.
Hence, we create SLG as our main currency. It reflects real value of the game as well as it is traded in some exchange (soon, more bigger exchange).
SLG's unique selling point is its deflationary nature: one it's sold, we don't sell anymore.
If we refer to our principle of economics (supply & demand), once a commodity's supply is less than demand, the price its commodity tends to increase (disclaimer on).
Sen Ho: 3. What is the role of the $SLG token? Would you tell us more about its tokenomics?
Benny PAN: That's a very interesting question
There are many usage of SLG:
Voting, where players can use their SLG tokens to decide on upcoming game proposals and future plans for Land of Conquest
Staking, which lets players stake their SLG tokens to earn extra SLG rewards
Purchasing and upgrading Hero NFTs and Mech NFTs
The number of $SLG tokens for the initial offering is 1 Billion where a big chunk of it goes into liquidity incentive (25%), game & land incentive (25%), and ecological fund (10.25%)
Sen Ho: 4. Are there any exciting news or updates with regards to SLG that you would like to share with the users?
Benny Ho: Actually all of our news will be shared through our social media, mainly twitter and telegram. Please follow our twitter and telegram for updated details where from time to time we will have some promotion and updates.
Some of our news lately:
SLG is currently traded in major exchanges like MEXC, Bybit, Bitget, gate_io. It was previously oversubscribed (meaning, demand is more than the number of token itself).
Mech NFT has started to be sold on Bybit NFT Marketplace
We will have our Alpha test for our game is on the first week of August, and our Beta test is on the last week of August.
And last, we have partnetship with the best of the best in blockchain security, Certik.
Sen Ho: 5. If you were to summarize your project in ONE word, what would it be? Why?
Benny PAN: Reliable, that's it 🙂 Well, if you allow me to add another one, "revolutionary" is the other word 🙂
Free-asking Session
1. Are you planning to promote your project in countries / regions where English is not good? Do you have a local community for them to better understand your project???
Benny PAN: Yes. We have done over 15 AMA like this in countries whose native language is not English. We did AMA in Turkey, Indonesia, Hong Kong, Russia, and many more.
We are not going to limit our users to only specific countries.
2. STAKING is one of the STRATEGIES to ATTRACT USERS and HOLD Them and long term.
Does your GREAT PROJECT have plan about to Staking?
Benny PAN: Yes, actually one of functions of our token, SLG is staking. We will announce in our social media like twitter when we start have that feature.
Please follow our twitter and telegram for that.
3. Are you going to list token on other exchange?
Benny PAN: Yes. So far we have done in several exchanges like MEXC, Bybit, gate.io, Bitget etc..please stay tune for other big names.
By the way, we are invested by Huobi Global, so you know what to expect 🙂
4. Can you tell us about your team members? are they qualified and professional in their fields? what are the recruiting qualifications for team members for your extraordinary project?
Benny PAN: Our team members are half from gaming industry and half from crypto and blockchain like from crypto exchange. Yes, we are very professional and have more than more than 10 years of experience in this field
Actually before we got investment, the VC have verified the backgrounds of our members including co-founders.
5. NFTs is hot trending now, Do you have a play to have NFTs in your platform? If so, can you tell us the plans of your project in NFTs?
Benny PAN : Yes actually we have started listing our Mech NFT on Bybit NFT marketplace, and we plan to sell our Land and Hero NFT next month.
I think NFT is going to be the future, beside definitely metaverse and gamefi.
Trying to find MEXC AMAs recaps?
It's easy! Explore them in a special section of our MEXC Global blog. Find insights for other recently listed projects at MEXC like Land Of Conquest (SLG).
Start your crypto trading journey with MEXC Global Exchange
---
The content of this webpage is not investment advice and does not constitute an offer or solicitation to offer or recommendation of any investment product. It is for general purposes only and does not take into account your individual needs, investment objectives, and specific financial circumstances. Investment involves risk.
Please note that the information and data above are cited from third-party sources & whitepapers and do not represent MEXC. Please refer to direct sources for more details. This is not financial advice and does not constitute an offer or solicitation to offer or recommend any investment product. It is for general purposes only and does not take into account your individual needs, investment objectives, and specific financial circumstances. Investment involves risk.
This disclaimer informs readers that the MEXC Creator's content, views, thoughts, and opinions expressed in the articles belong solely to the creators and authors, and not to MEXC Global itself. MEXC Global doesn't give any investment recommendations or advice.