In this Telegram AMA recap, you'll find insights about the HYVE project. In an event hosted by Iris from MEXC Global, you will meet Tudor Sandor, the BD representative at Hyve.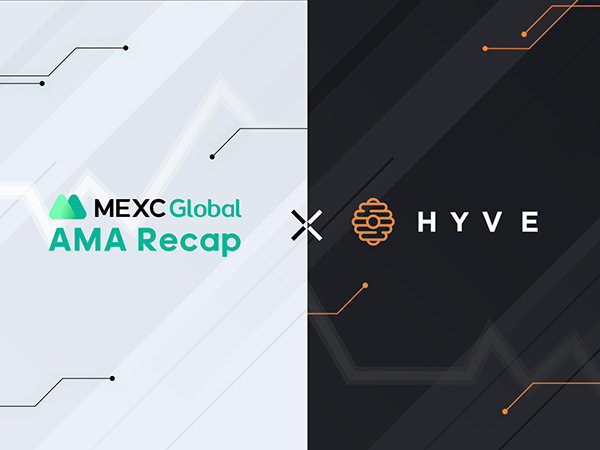 Introduction to AMA member from HYVE:
Tudor: My name is Tudor Sandor, and as a Business Development Specialist, I work together with my colleagues to form and maintain valuable partnerships for HYVE, develop new strategies for HYVE going forward, and discover ways to expand our thriving and growing community.
Questions about the HYVE project:
Question 1:
Iris: What is Hyve? Can you share with us more in detail?
Tudor: HYVE is a decentralized autonomous ecosystem that empowers collaboration between people and addresses the problems in the workforce industry. It does this through the HYVE platform that allows both employers and freelancers to work together in a safe and seamless way. Through the use of blockchain technology, we offer the most secure marketplace for people to browse profiles of freelancer candidates and hire them, as the payments are always escrowed, and transferred instantly when the task or job is complete.
Service providers can also use HYVE to offer their skills and services through a marketplace, making it both easy and safe to find new clients. Furthermore, out of all the available freelance platforms, HYVE has the lowest fees, offers more collaboration methods, has a built-in dispute system and provides management tools to make the interaction between employees and contractors effortless and accessible.
By using the HYVE platform, freelancers now have the opportunity to band together and offer their services as a team, in the form of a DAO, empowering people to work together towards their common goal. This feature is non-existent on any other platform, and can truly decentralize and empower the way people work together.
HYVE is an open infrastructure for any platform that aspires to become a blockchain-first business. The provided infrastructure includes things such as contract confidentiality, instant settlement, P2P agreements, a vast, universal collaboration module, and self-verifiable tasks powered by the HYVE Protocol.
HYVE is decentralized and open, thus allowing other projects to build on top of our ecosystem. Furthermore, it's based entirely on game theory, which means the platform revenue ends up back in the ecosystem.
Users can pay for tasks in $HYVE or they can have their fees reduced by using $HYVE. Users can also stake $HYVE in order to earn rewards and have access to custom features. Furthermore, $HYVE is the governance token of the HYVE Ecosystem and can be used to make proposals or to vote.
Question 2:
Iris: What triggers you to launch Hyve? What are some of the real-world problems/ pain points that Hyve aims to solve?
Tudor: There are so many people from different countries around the world that are more than willing to work, but they cannot support their families because in their environment there are no real opportunities to do so, or for example, access to a bank is difficult and withdrawing funds are also a problem.
Our vision is a future where people from around the world, can find a job based solely on the merits of their skill and character of their work ethic, where 1.7 billion unbanked adults worldwide can be paid in crypto as soon as they finish their task, and people can team up from around the world, find work together while governing themselves in a democratic, decentralized manner, in the form of a DAO.
Iris: That's a grand vision!
Tudor: Currently, companies will pay a different salary for, let's say an IT developer that lives in the US compared to one based in Eastern Europe and they both have a different salary from a developer that lives in Africa, for example, despite, perhaps, no apparent difference in skill. Simply because they were born somewhere else.
On the HYVE platform, you will be able to see someone's work history, reviews, the services they offer, and the skills they provide, but you cannot know the age, gender, or anything personal about the freelancer, leading to a more objective and skill-centered hiring process and salary uniformity, in a fairway.
HYVE is a trustless and borderless system governed by meritocracy and peer-to-peer interactions. What we aim to change is simply offering people everywhere in the world the necessary tools and opportunities to earn money through their skills.
Question 3:
Iris: What is the role of the $HYVE token in HYVE? Would you tell us more about its tokenomics?
Tudor: At the center of the ecosystem is the HYVE token, which fuels the governance and staking functionalities of the ecosystem. The built-in utility of the HYVE token includes being able to use it to lower fees, pay people, participate in platform governance, and staking the token to help sustain the ecosystem. Users may use the token to make payments within the ecosystem, access bonus features, and much more.
One primary use of the HYVE tokens is the governance of the ecosystem. Token holders are able to freely share ideas that others can vote on. In order to vote, a user may stake any number of tokens in a voting smart contract and then freely vote in any proposal.
All HYVE token holders will be able to stake their tokens and as such, will be rewarded from the fees gained by the protocol.
During the "earning period", the contract collects fees and stores them. The stakers are then rewarded for participating in the ecosystem and temporarily reducing the supply by being able to claim their rewards during the "locking period". Holders may claim their rewards each month, regardless of the period staked.
Question 4:
Iris: Are there any exciting news or updates with regards to HYVE that you would like to share with the users?
Tudor: As HYVE continues to grow and thrive, we are steadily looking for new ways to make our platform more visible to people and companies that would greatly benefit from our decentralized, community-oriented approach to work.
In the upcoming weeks, we will undergo a complete rebranding of our landing page, and reveal our new and developed website, both of which we are very excited to share with you soon.
Iris: 👀 Can't wait to see the new website!
Tudor: From 2022 onwards, HYVE will be mobile-responsive, so you will be able to access our platform with just your phone if you wish to do so. People being able to browse and book/post jobs and tasks while commuting, perhaps between classes if the user is a university student, for example, and later on arriving home to start work on their PC, would make HYVE much more accessible for many.
We are also excited to announce our latest integration partnership with Radar. The integration of the Radar Bridge will greatly encourage further adoption of the $HYVE token, by allowing a smooth transfer of tokens between different blockchains.
The bridge will be live in the next few days. After it goes live, we are thrilled to reveal that a few weeks later we will introduce our third integrated chain, which is POLIGON. Users will be able to make payments in MATIC if they choose to do so. After the integration of POLIGON, we are excited to let you know that we are planning to integrate a surprise forth chain in the near future.
This is essential for our growth since it provides opportunities for scalability, benefiting both token holders and investors, either by reducing gas fees through smooth transfers between chains or by increasing the reach of the project, thus raising the price.
Question 5:
Iris: If you were to summarize your project in ONE word, what would it be? Why?
Tudor: Collaboration.
Throughout our journey and evolution on this planet, humanity's greatest gift has always been our ability to work together. From completing simple tasks to solving complex problems, facing terrible threats and overcoming great challenges, it is through collaboration that we are still here and going forward.
Collaboration is what allows us to specialize as individuals and complete each other as we work together towards a common goal. From collaboration comes the understanding that we all need each other in order to thrive. It encourages us to constantly learn from one another and allows us to face and overcome adversity together. When people unite and come together, we can achieve great things.
HYVE is and will always be a collaborative environment, meant to empower people to grow, thrive, and work together, judged solely on their own merits and effort, and provide them with the tools they need to govern themselves and pursue innovation and change, together.
Free-asking Session to HYVE
Q1. What achievements have been obtained during the project? are there any unfulfilled achievements in the past year?
Tudor:
The first task ever completed in the blockchain space was done on HYVE, in the form of an NFT, marking the inauguration of our platform in a sense, and paving the way for many more tasks and jobs to come. The user that posted the task on our platform hired a designer that created a unique NFT, in two identical forms. One was gifted to our team and the other is owned by the user.
The HYVE platform is fully functional on two different blockchains, with a third chain soon to be launched.
Q2. Did you consider community feedback/requests during the creation of your product in order to expand on fresh ideas for your project? Many projects fail because the target audience and clients are not understood. So I'd like to know who your ideal consumer is for your product?
Tudor: From the launch of the platform we have always kept our users in mind, and thoroughly gathered valuable feedback which helped us bring improvements. In order for us to communicate effectively, we had numerous one-to-one discussion sessions with our users, so we may have a good understanding of the problems or challenges they were facing.
As we are preparing to rebrand our landing page, we are looking forward to learning from the feedback of our users, so that we may continuously improve and offer them the experience they deserve while working together on our platform. Our relationship with our users has always been very important to us, and we will continue to maintain our open communication and collaboration.
Q3. How many team members do you have? Do they have enough experience in the blockchain field? Do they have any experience working in crypto and non-crypto projects?
Tudor: Our team is composed of almost 50 individuals, including our Development team, Operational, Design, and Marketing teams. Among our teams, most of them have extensive blockchain experience, while some are more inexperienced in this particular field, however, they excel in other domains. The most important trait we all share at HYVE though is our willingness to consistently learn from each other.
Looking for a review of AMA from MEXC Telegram?
It's easy! Find them in a special section of our MEXC Global blog. Find insights for other recently listed projects at MEXC like HYVE. Lots of helpful information for your DYOR!
Start your travel on MEXC Global