In this Telegram AMA recap, you'll find insights about the Grove (GVR) project. In an event hosted by SenHo from MEXC Global, you will meet Mendy Parker COO of GroveToken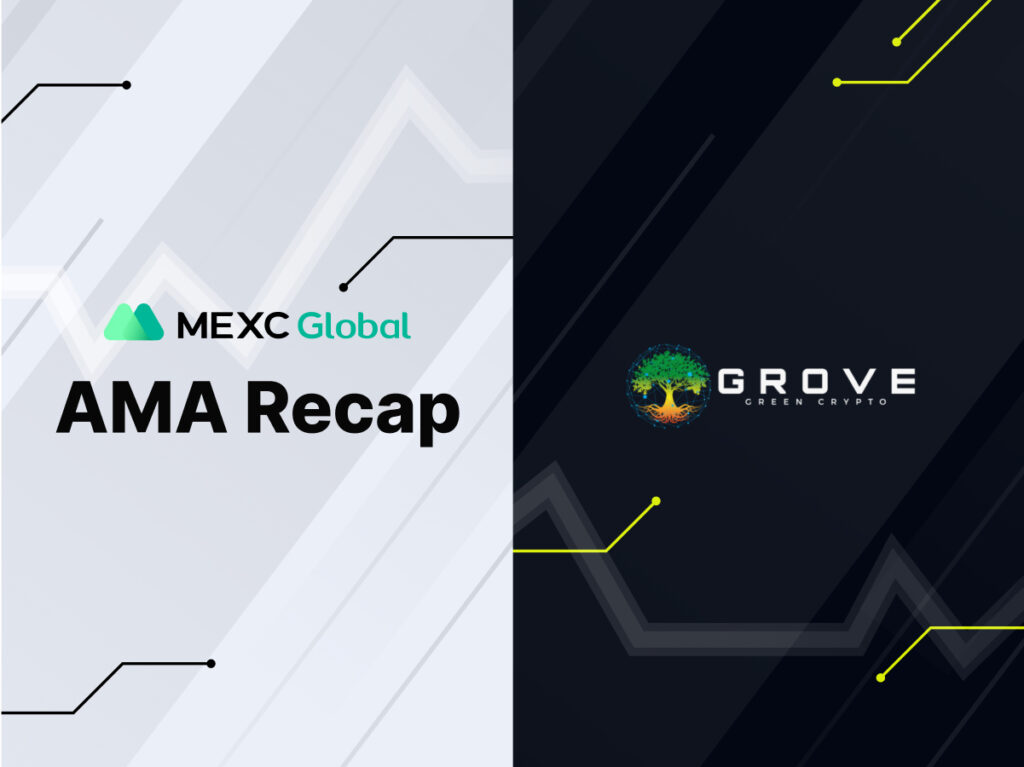 Questions from the community:
Sen Ho Q1. What is Grove (GVR)? Can you share with us more in detail?
Just.Being.Mendy: GVR/GroveToken is a utility token that focuses on crypto related utility and real-life use case utility. We have a long list in both areas that we aim to bring to Defi and our investors, through global partnerships and diligent efforts by our team. Our founders and core team harness a strong belief in assisting with the mass adoption of crypto, while working towards the betterment of sustainable living and advancing utilities within Defi
Sen Ho Q2. What triggers you to launch Grove (GVR)? What are some of the real-world problems/ pain points that Grove (GVR) aims to solve?
Just.Being.Mendy: GroveToken is unique in many ways. One, our real-life use case utilities, rare among the crypto space. Another is with the high pressure professional experience our team has: planning, execution, and delivering are required for the success of a utility cryptocurrency.
At GroveToken, we have quite the passion for sustainable living. There are many ways this can be accomplished! So with assisting in mass adoption of cryptocurrency and while also assisting in sustainable living, it's a win win!
Sen Ho Q3. What is the role of the $GVR token in Grove (GVR)? Would you tell us more about its tokenomics?
Just.Being.Mendy: Yes! That is also unique!
This graphic will help the community see the breakdown. What is unique, other than the buyback/burn, is our buy is only 5%! Another win win for our investors! The lower the taxes/fees, the more GroveToken you receive for the same amount of money! All while decreasing circulating supply at a faster rate
Sen Ho Q4. Are there any exciting news or updates with regards to Grove (GVR) that you would like to share with the users?
Just.Being.Mendy: Yes! A LOT of exciting upcoming news!
•Our sneak peek for our Play to Earn is scheduled to release soon
•The global headquarters in Dubai, is In development.
•GroveKeeper wallet currently in private beta.
• Bridge (BSC/ETH) is currently in testing
• Representing Shiekh Butti bin Suhail Al Maktoum, at the Dubai Crypto Expo in October
Sen Ho Q5. If you were to summarize your project in ONE word, what would it be? Why?
Just.Being.Mendy: Efficient.
We offer many forms of efficiency for researching, purchasing GroveToken. As well as, with our real-life use cases, efficient practices in self sustainability will be utilized.
Free-asking Session
Q1. [5576] How can users stay updated with this project? Are there channels, including local communities where users can get the latest updates? @justbeingmendy
Just.Being.Mendy:
We utilize our official website as the core hub for links, while also utilizing the official Twitter page and John G (CEO) Twitter page
Q2. [5576] Have you being audited ? Have not heard you talk about that security of funds is what every investor craves for and plans to escape incase of insecurity if funds,scams and rug pulls ? How strongly built are your security put in place? @justbeingmendy
Just.Being.Mendy:
We have 2 completed audits. Brewlabs and Dessert. Currently waiting on the completion of Certik
Q3. [5576] Does your project support staking program? If yes. how is your stake system work, what is the requirement for user if they want to stake in your platform? @justbeingmendy
Just.Being.Mendy:
Yes!!! We offer staking and farming!! I receive a lot of feedback from the community about their excitement!
Q4. [5576] Do you have a whitepaper? if yes please share it with us and secondly are you working to AUDIT your project, to make its security more secure and reliable? @justbeingmendy
Just.Being.Mendy:
Yes. Also, the white paper is also available in multiple languages! Located on the official website
Q5. [5576] Funding is an important part for any project. So I want to know how much funding you raised from the Investor? @justbeingmendy
Just.Being.Mendy:
I agree! Often that is a reason for the demise of a token. To assist GroveToken with that huge challenge, we received a 25 million dollar seed investment from GEM Limited Digital


Trying to find MEXC AMAs recaps?
It's easy! Explore them in a special section of our MEXC Global blog. Find insights for other recently listed projects at MEXC
Start your travel on MEXC Global