In this Telegram AMA recap, you'll find insights about the Giftedhands project. In an event hosted by Iris from MEXC Global, you will meet Olu, Crypto Don at Giftedhands.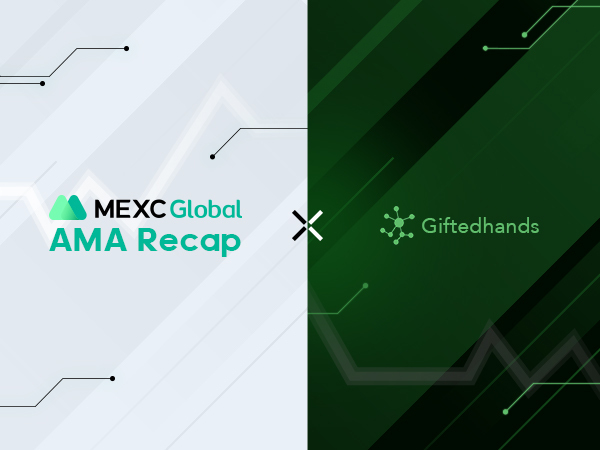 Introduction:
Hello guys, I'm Olu, representative of GiftedHands Network in today's AMA event. It's cool meeting y'all.
Questions from the community:
Question 1:
Iris: What is GiftedHands? Can you share with us more in detail?
Olu: Yea buddy
GiftedHands is an amazing blockchain project that involves both in and out of the cryptocurrency space.
A platform involve in DeFi, online shopping, business NFT/Gaming, product promotion, cryptocurrency investment, freelancing services, blog design/template, and NGO specially created to give back to the society.
GiftedHands Token offers solutions to constant issues in payment to our freelancers and developers. (GHD) Will enable us to speed up the payment process in the mobile market.
Question 2:
Iris: What triggers you to launch GiftedHands? What are some of the real-world problems/ pain points that GiftedHands aims to solve?
Olu: Yea thanks for asking this important question
The GHD project was born out of the idea of creating something unique where we can come about bridging the conventional to the digital business world by using cryptocurrency.
Yea, one unique part of this multipurpose platform apart from the DeFi, NFT/Gaming part is the "GiftedHands online shopping platform" which you'll not only be able to buy but also sell your goods and services from anywhere around the world. You'll be able to buy and sell goods and also be able to market your services. And also the GiftedHands foundation is designed to generate certain funds to give back to society anywhere around the world.
Question 3:
Iris: What is the role of the $GHD token in GiftedHands? Would you tell us more about its tokenomics?
Olu: Yea thanks
GHD is the official governance token of the GiftedHands Network. Lots of utility comes with the token as it won't be left behind without any user on any of the products/platforms that'll be rolled out by the Network. It'll have a multi-use case cutting across Defi, as we've seen already on different S2E platforms including Justswap, Olive, and others. It'll also be part of the purchasing currency on the GiftedHands NFT marketplace currently in the development phase and also on the GiftedHands mobile marketplace.
We've also developed a full-fledged wallet with an inbuilt staking platform where you can stake certain numbers of tokens including ghd to earn more GHD and other tokens/coins. It's currently available as a web wallet, and the mobile app will be available soon.
Question 4:
Iris: Are there any exciting news or updates with regards to GiftedHands that you would like to share with the users?
Olu: Yea definitely
Yeah, there is quite a number of initiatives, and the most recent of them is the TRADING COMPETITION currently on and staking events on MEXC and Bitrue exchanges Everyone can join to have a share of the rewards. We've also secured a listing deal with another top-tier exchange.
And information on the coming GHD multipurpose wallet application, Using the GHD online payment part of the platform excludes the use of middlemen used on other platforms (PayPal, Quickteller, Payme, etc) and the extra fees that they charge. It, therefore, reduces the cost of purchasing and paying for items on any platform. On it is also a decentralized wallet where you can generate your wallet and you and only you have control over it. This application also comes with a decentralized application where you can connect to a number of decentralized finance platforms.
Question 5:
Iris: If you were to summarize your project in ONE word, what would it be? Why?
Olu: AMAZING!
Yea thanks, it's amazing in a way that GiftedHands Network isn't restricted to only the cryptocurrency space but also extended to the outside world.
Free-asking Session
Q1. How many team members do you have? Do they have enough experience in the blockchain field? Do they have any experience working in crypto and non-crypto projects?
Olu:
Yea definitely, we have about 12 personnel in the GHD Team consists of experienced players from different parts of the world cutting across Asia, Africa, Europe, and South America. Having experience in Blockchain/software development, marketing, and promotion, graphics designs, and community management services.
Q2. Is your project a community only for English-speaking countries or for users not of other languages?
Olu:
GHD network is an inclusive project available for everyone from across the world. We have investors and community members from different regions across the world. GHD network isn't restricted to a special place thanks.
Q3. Your Project has a plan to educate the community, thereby raising awareness, applying, and helping more people understand you easily?
Olu:
Yea definitely. No project can stand the test of time if the community of investors isn't carried along in the making of decisions. If you're a member of the community, You'll know that GiftedHands Network community members are part & parcel of the decision-makers, and we always make sure that we pass every information about any new development on a project before making any decision.
Q4. (3052)Do you have any plan on implementing an NFT on your project? Recently many NFT projects are flying, please explain to us your project concern on NFT?
Olu:
Yes, as NFT is the rave of the moment, we're working on building not only an NFT platform but also building together with a gaming platform (a P2E platform) and incorporating the NFT marketplace with the GHD mobile marketplace. With this, the product won't be available for only the participants from inside the crypto space but also bridge with the outside crypto world of fashion.
Q5. What is the most ambitious goal of your project? How will you develop this project to be more advanced and successful?
Olu:
A very important question here.
The most ambitious goal and aim of this project are to successfully complete and delivering of the GHD multi-utility platform cutting across the fashion world, to Defi and gaming, the GHD marketplace incorporated with an NFT platform, and finally see the GHD token boon in value and become stable in pricy in the crypto market.
Trying to find MEXC AMAs recaps?
It's easy! Explore them in a special section of our MEXC Global blog. Find insights for other recently listed projects at MEXC like Giftedhands.
Start your travel on MEXC Global