Reports suggest that Do Kwon, the co-founder of Terraform Labs, has been arrested by the local police in Montenegro. Do Kwon was on the run since the $40 billion collapse of the Terra-Luna ecosystem in May 2022.
Montenegro's minister of interior, Filip Adzic, tweeted that the police apprehended a person suspected to be Kwon at the Podgorica airport. However, the authorities are still waiting for official confirmation of identity. Kwon was last seen in Serbia after leaving Dubai in December and has been running from authorities since.
The South Korean Ministry of Justice requested the Serbian government's assistance in finding Kwon if he was indeed in the country. The arrested suspect was caught with falsified documents, according to Adzic. Furthermore, the U.S., Singapore, and South Korea are all demanding the individual's extradition.
The arrest of Do Kwon in Montenegro comes almost a year after the collapse of the Terra ecosystem in May 2022. The event was significant as it led to the failure of several firms, including the crypto hedge fund Three Arrows Capital. The collapse involved the implosion of LUNA and the algorithmic stablecoin TUSD. This collapse created a loss of $40 billion in digital asset markets as the coins' value plummeted. The event also had an impact on Bitcoin's price, which dropped from $40,000 to around $27,000 two weeks later.
How is Bitcoin Doing Today?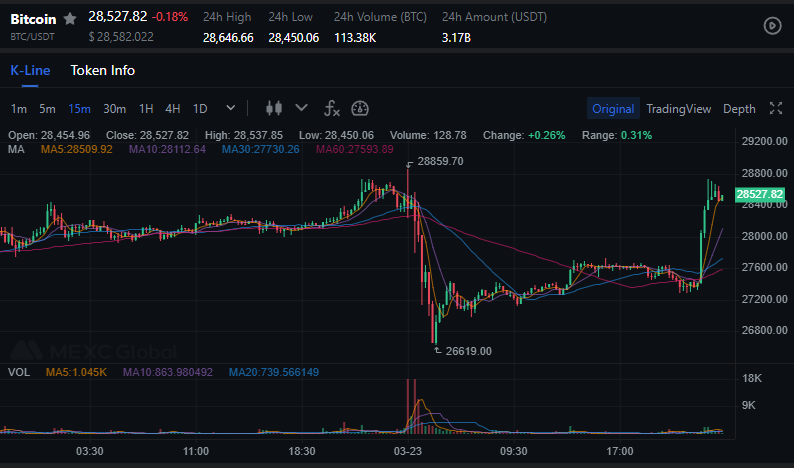 After Terra's collapse, the crypto industry continuously spirals down to a bear market. We also saw FTX crumble down along with a long list of bankruptcy. At one point, Bitcoin fell to the $16,000 range. However, the year 2023 gave many of us hope.
At the time of writing, BTC/USDT is trading at $28,485.87. However, we are currently in a very volatile market after the news on interest rate hikes. As the news of Feds hikes surfaced, Bitcoin immediately plummeted back to $26,619 before regaining its $28,000 value. Nevertheless, recent positivity in the crypto market is pushing the Fear and Greed Index toward a 16-month high. Traders and analysts are looking very well at the prospects BTC can bring. Therefore, it is high time for you to join in the trade!
Personal Note From MEXC Team
Quickly check out our MEXC trading page and find out what we have to offer! Do not miss out on the golden window. You can learn more about crypto industry news and interesting articles to get you up to speed with the crypto world. Happy trading!
Start your travel on MEXC