In this Telegram AMA recap, you'll find insights about the GensoKishi Meta World project. In an event hosted by Iris from MEXC, you will meet Maxi, CEO, and Matt, Global Account Manager from Gensokoshi Meta World.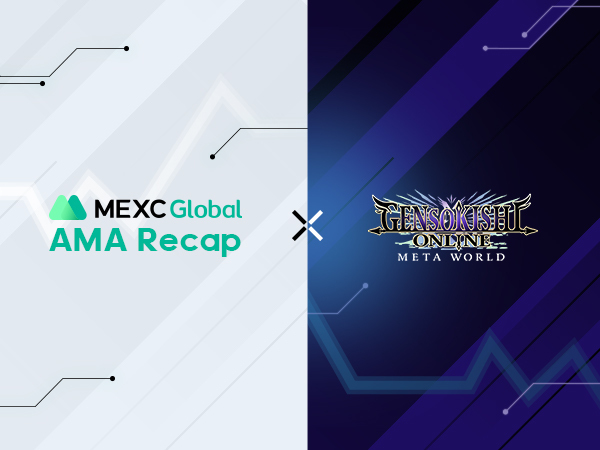 Introduction:
Maxi: Hi everyone here on MEXC. I'm Maxi, CEO of GensoKishi Online -Meta World-. I've been working in Japan (Tokyo) for over 10 years and have been running a consulting business for startups for 5 years. Since 2017, also had experience on digital marketing and KOL marketing. I've been in the blockchain industry as a senior consultant for blockchain media. Also have connections with Japan game makers so that's why I'm working on the GensoKishi Project now 😄
Matt: I'm Matt. I've been running with Genso handling everything globally. Have been looking forward to this AMA!
Questions about the GensoKishi project:
Question 1:
Iris: What is GensoKishi Meta World? Can you share with us more in detail?
Maxi: Okay this would be a little long…
As a classic 3DMMORPG, GensoKishi was from the original title "Elemental Knights" launched at 2008, so far 13 years since the start. It has been updated so many times that you now could still play it on Android/iPhone/Nintendo Switch/PS4.
So the gaming part of the GameFi version of "Elemental Knights" will be like other 3DMMORPGs, you could raise your own character with different jobs like fighter/wizard/assassin, etc. And build your team to cooperate with other players online to beat strong monsters to get rare items, and clear missions to get higher levels and unlock unknown worlds.
And, as a GameFi project, yes that is saying P2E(Play to Earn) part. We have several features for you:
1. NFT and Tokens: In GensoKishi your adventure for free at the start, don't need to buy some characters(NFTs) to start. Team with others to beat monsters and get some rare items for deals in the game. You will have the ROND token, which is the in-game crypto. It will also be on Polygon blockchain so you could swap it to another token, which means you could make a profit by doing so.
2. UGC to Earn: Okay this is the highlight from GensoKishi, you could create your own equipment(Weapon/objects) and NPC(non-player character) into the game and enjoy the game with the items. You could just play with it in-game or make it more valuable, to sell it on NFT markets like Opensea or any other EVM compatible markets. So you could create ANYTHING into the game, with totally free ideas. (Of course some improper objects we'll have to restrict for "social security" in the metaverse of GensoKishi) And, you could even buy LAND(Maps) in the game and edit it at your will, which is another big feature of the game.
and,
For your quick understanding this is a video of our actual development of the game, for your reference:
Matt: See here for when we had the game from in 2008!! We have had the game for 14 years already.
Iris: that's really a long history! The Game OG 👍
Question 2:
Iris: What triggers you to launch GensoKishi Meta World? What are GensoKishi Meta World's unique selling points as compared to other similar projects in the industry?
Maxi: We had the game for a long time, and as above we said, the biggest thing is that we have had the game already for 14 years. Now we are going to build a real GameFi, which means there is the real Game + Fi(DeFi).
That will be the most different part to other so-called GameFi projects. Which are mostly DefI+"Game skins".
Play to Earn, we do focus on the "playing part" and "earning part". This has been planned for about 4 years since we started in 2018 around.
Matt: Our metaverse has the same history. We have allowed users to come in and generate their own skins, characters, maps, and weapons for the past 13 years.
It's not like we're building from scratch :):)
The development team behind the development has a brilliant track record, having developed online games and prominent MMORPG titles for 20+years.
Now that's important when you see all these game projects popping up.
Question 3:
Iris: What is the role of the $MV token in GensoKishi Meta World? Would you tell us more about its tokenomics?
Maxi: MV token is our main "governance token" for the project. Here is some features you might want to know:
From WP:
Standard: Polygon(ERC20 base)
Currency name: Metaverse
Symbol name: MV
Total number of supply: 2,000,000,000
MV is the currency that this game uses outside of the game, mainly to construct the metaverse.
You could use MV to do many things just like controlling the in-game metaverse, here is some of its utilities:
Function to buy the cosplay(skins) equipment at a discount price.
・The right to power up your equipment.
・Function to buy various paid items of various sizes at MV exclusive prices (these items are used to competitively advance the game)
・Voting rights that allow you to decide the policy of this game (DAO which I mentioned.)
・Function to stake MV (deposit MV and be rewarded with ROND)
btw the staking of MV is quite popular at our official DAPP staking site.
・The right to participate in the preliminary public closed alpha test(2022/5) and closed beta(2022/7) test presented by the project. (Currently, 22,000 MV staking is the requirement)
・The right to create and offer your original item/monster/NPC/equipment (UGC function)
(Only for those who have staked out a certain number of MV, necessary quantity is TBA)
the UGC function is a highlight we mentioned above.
Matt: If you want to buy plots of land in our Metaverse you need to bid on MV as well
Maxi: The staking amount of MV on our official site exceeds 40M MV today too.
Iris: may I know the staking APR?
Maxi: Yes like other projects we have LAND.
So far it's not too high if you compare it to other FARMING DeFi, it's close to 5% now because the coming MV stakers are increasing so many these days. But $ROND which you earn has high potential in the future so don't have to worry about the APR now.
Matt: A lot of our original game users made their own cosplays in our game. You can do that if you have a certain amount of MVs in GensoKishi as well
Question 4:
Iris: Are there any exciting news or updates with regards to GensoKishi Meta World that you would like to share with the users?
Maxi: There is a coming big tie-up which will be announced tomorrow.
Yes, we'll be announcing a big tie-up with a great artist from Japan. Will issue the very original NFTs from the IP. The artist is a worldwide famous game industry icon. We are really excited about this.
And we'll have alpha closed game testing in May, those we stake 22,000 MV on our official DAPP site will get the alpha test ticket NFT for entering the test site.
Matt: We allow other projects to come in and use our Metaverse as well. Aavegotchi will join too:
Maxi: yes the AAVEGOTCHI!! and also the SoulZ project as you might ever hear.
Some roadmap schedule here for you too:
2022/6 2nd Official Skins NFT auction ( NFT tie-up version with brands, we did the 1st auction at a total of 2M USDT last time )
2022/8 Game Official Launch
2022/10 LAND(Map) Auction (MV needed for bidding)
2022/12 UGC function release.
Iris: fantastic! looking forward to this great news 👀
Maxi: We actually give UTILITIES to NFTs so that they could enter our Metaverse easily.
Question 5:
Iris: If you were to summarize your project in ONE word, what would it be? Why?
Maxi: One word, I'll make it simple…
I'll say it's INFINITY! Everyone has his/her way to experience the Metaverse of GensoKishi, and you are the very original one that others cannot be. It's based on the Web3 concept and just like NFTs you are the unique one, everything is possible and the future plan will be made by users who own MV. As long as everyone participates more and more, the meta-world is endless and just like infinity. Create together, play together, earn together. Eventually, we aim for a DAO world. And it has infinite potential.
Matt: I'll say EXPERIENCE.
We've been in this gaming industry for quite a long time now. We know people.
You'll find many collabs we did in our past game by googling:
エレメンタルナイツ コラボ
That's Elemental knights collab in Japanese
Matt: EXPERIENCE INFINITY. 😄
Free-asking Session
Q1. I am an EXPERIENCED DEVELOPER AND ETHICAL HACKER, do you have plans for HACKATHON so as to check the security of your ecosystem periodically and also invite developers to build?
Matt:
Yes, that is the main purpose of the alpha and Beta test!! Please join!!
Q2. For a project development first of all main priority is having enough funds. Does your team financially capable to run this project? Do you have enough funds for its development Can you tell us how your project generates profit?
Maxi:
Hi, thank you for asking. Yes, we did a success from the very first private sales 2021 last year. As we have the game branding and showcases investors gave us big trust. And as you might see that we did a good job on IDO on TrustPad and WhiteList campaign of $MV for 2 times, also the listing on CEX/DEX, so far we do not worry about the fund but more about the whole environment like the GameFi industry and the NFT industry. But since so many good projects are coming out we love the current status now and will promise on the development.
Q3. What are your future goals in the next 5years? and what security measures have been provided to guarantee users from hackers?
Maxi:
Hi yes, we aim for the DAO world in GensoKishi metaverse, and our contract is audited too. These are all delivered to the CEXs. Also for security, we use a famous wallet security company CYBAVO. You could see them on our official website.
Q4. Do you do buy back or token burn to increase the value and drive scarcity. If not, do you have plans for such in the future?
Matt:
For our in-game tokens ROND, yes we definitely do. Our MV tokens will become scarce as it is necessary for land development. Many companies want their own universe. They need to stake and lock a certain amount of MV to do that
Q5. Where I can get all the latest news? Do you have Twitter/Telegram/Discord community? If yes can you share the link here because there is a lot of fake telegram/Twitter groups?
Maxi:
Alright, I'll take this easy one, here it is:
Twitter: https://twitter.com/genso_meta
Telegram: https://t.me/gensometamain
Discord: https://discord.gg/gensometa
Too many scammers are aiming for the community so please be sure you are on the right official ones.
Trying to find MEXC AMAs recaps?
It's easy! Explore them in a special section of our MEXC blog. Find insights for other recently listed projects at MEXC like GensoKishi.
Start your travel on MEXC