In this Telegram AMA recap, you'll find insights about the Tank Wars Zone project. In an event hosted by Iris from MEXC Global, you will meet Vivek – Partnership Manager, and Aman – Product Manager, at Chingari (Gari Network).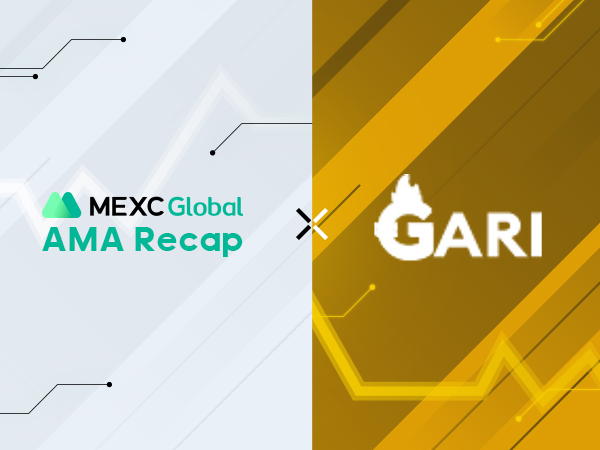 Introduction to AMA members from Gari Network:
Vivek: Hello! Thanks for welcoming us.
Aman: I am Aman and my role is a product manager of Gari Network. Looking forward to exciting questions!
Questions about the Gari project:
Question 1:
Iris: What is Gari Network? Can you share with us more in detail? On which Blockchain is GARI built on?
Vivek: Sure GARI Network aims to build a crypto-powered creator economy on Chingari
GARI is deployed as an SPL token on the Solana blockchain to support cost-effective and fast on-chain transactions. The GARI Network introduces to Chingari App users a gateway into the blockchain space. The goal is to empower both creators and viewers on the Chingari App with technological tools to interact directly with each other and allow all users on the Chingari App to participate in the long-term direction of the social economy impacting the GARI Network.
Question 2:
Iris: What triggers you to launch Gari Network? What are Gari's unique selling points as compared to other similar projects in the industry?
Vivek: We believe that creators should be in charge of how the platform their creations live in is developing. This is why we introduced the GARI token, which will also serve as a governance token, allowing creators on the platform to shape its future. For instance, they will be able to make proposals on changes that could be introduced to improve the social media platform.
Chingari is India's fastest growing social media platform that enables sharing of short videos.
GARI Network token will be the backbone element of Chingari's tokenomics. It will serve as a motivation instrument for new and existing creators, helping them to publish engaging videos. At the same time, GARI will be a familiar short-form tool for crypto newbies projected to support them in their first baby steps in blockchain and decentralization.
Question 3:
Iris: Could you please explain about GARI and its utilities?
Vivek: Surely! The GARI Token introduces to Chingari App users a gateway into the blockchain space. The goal is to empower both creators and viewers on the Chingari App with technological tools to interact directly with each other and allow all users on the Chingari App to participate in the long-term direction of the social economy impacting the GARI Token.
The GARI Token is interconnected with the Chingari app, opening to all users to a wider blockchain world where they directly control their assets and can use their tokens to connect and transact with their counterparties, place governance votes, catalyze platform engagement and grow the user base.
Iris: BTW, GARI Network is currently available on MEXC M-day!
Question 4:
Iris: What is your roadmap for 2022, and what can we expect from Chingari and the GARI token in 2022 and beyond?
Aman: Sure, I will answer this question! We have a very exciting roadmap for 2022, Gari Network will be integrated with Chingari app for bunch of utilities such as.
Boost: Creators will be able to boost their profile and posts to 100M+ Chingari users while making the payment for the service through Gari. NFTs: Chingari will be the world's biggest video NFT marketplace. These NFTs can only be purchased with Gari tokens. Audio Rooms Currency: The audio room is a feature on Chingari app, similar to a clubhouse, where creators can connect with their followers over audio meetings. Gari will be used by users to purchase gifts for these creators. And last but most important Governance: Gari Network Token holders will be able to vote on proposals to decide the future direction of the platform.
Iris: Great! Looking forward to all the exciting news!
Question 5:
Iris: Can you help us understand the Market Opportunity for Social tokens? What makes you excited about this space?
Aman: Sure!😄 Absolutely!🚀
Social tokens are the future of social media. If you have seen the evolution — Web1 was read-only where you can just browse static websites, people used to create websites using HTML and people could just read information.
Web2 was read and write, where it gave the opportunity to creators to create content and we saw the evolution of social media. We saw really large social media companies Facebook, youtube, Twitter, TikTok come out of the Web2. I think web 3 is about read, write and own where creators will also own and this ownership will be powered by social tokens.
So, GARI Network is their first social token and the world's largest social token. Imagine 30 million active users going on-chain. So the opportunity of social tokens is really large in fact in the future, all social media companies big or small will launch their own tokens to give ownership back to their users and if they don't they will be out of the market.
Question 6:
Iris: If you were to summarize your project in ONE word, what would it be? Why?
Aman: Umm, pretty solid question haha let me think! 'Community'
Iris: Would you explain why?
Aman: This is because the Web3 space is built by the community, and for the community. We, at GARI, believe in a business model which leverages the power of community. The creator economy exists and flourishes only with Community Assistance and mutual understanding. 😁
Free-asking Session to GARI Project
Q1. In INDIA 🇮🇳 Most of the users are still not aware of Blockchain & its related projects! So, How Your Project platform create awareness about their project with NON-CRYPTO INDIAN users too?
Aman: Well, correct, a major number of people are not aware fully of blockchain and projects yet but we at GARI are running down marketing for all tiers of the public who understand and consume the content who can join our community and we are focusing on making them understand in simple language as many new investors are coming to invest for first time in crypto via GARI so this is a great initiative, all thanks to our existing product with over 100 million downloads.
Next, we are also focusing on educating the non-crypto person who doesn't understand what's web3 or blockchain as we are based on "creator's economy"
Q2. I like the idea of having gari DAO but can you shed some light on how the voting power is shared (say for example ,can any individual by chance have a major influence on some proposal)
Vivek: As GARI network is DAO, all participants will be free to submit proposals and also vote on them, with millions of users and creators on platform this will be highly decentralized and everyone will be able to take part in governance in a very transparent manner
Q3. Is the platform suitable for every kinds of users? Who are the potential customers? Are you mainly focusing on big investors or small investors?
Aman: The platform is mainly for all creators and users consuming content, Chingari has all kinds of users from small towns to big cities, as long as you can create good content or add value to the community be actively participating it in all users are welcome to be a part of GARI's creator economy.
Reach more MEXC AMAs recaps?
Explore them in a special section of our MEXC Global blog. Find insights for other recently listed projects at MEXC like GARI! Lots of helpful information for your DYOR!
Start your travel on MEXC Global