In this Telegram AMA recap, you'll find insights about the GamiFi (GMI) project. In an event hosted by Miranda from MEXC Global, you will meet Laura Walsh and Casey McQuillan from GamiFi Project.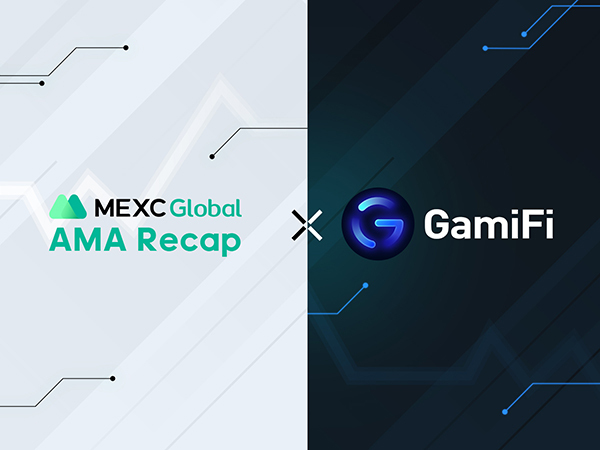 Introduction of GamiFi AMA Members:
Casey: Hi everyone, great to be here
Laura: Thanks for having us. Casey is our VP of Operations, so please welcome him as well
My name is Laura Walsh and I have spent many years in the blockchain space, primarily focussed on South East Asia. I was a former Former Executive Committee member of
NEM and also worked at NEAR Protocol.
I have a Master of Arts/Political Science in International Development Studies from
For anyone who wants more information, please visit our website at: https://gamifi.gg or our social links listed above. We're all real people and easy to find 🙂
Also you can get GMI on PancakeSwap OR MEXC – of COURSE, 🙂
Questions from community to GamiFi:
Question 1:
Miranda: What is GamiFi (GMI)? Can you share with us more in detail?
Laura: Sure can.
🚀GamiFi.gg is the IDO launchpad for blockchain-based gaming. Gamifi will be the launchpad of choice for your Metaverse, Play to Earn, or blockchain-enabled games. Gamified whitelisting and a multi-chain agnostic support system are just some of the benefits of Gamifi.gg. Gamifi everything.
We take the guesswork out of IDO participation with a fun, tiered, whitelist system. The more tasks you complete, the more tickets you get, the more chances you have to be whitelisted for our IDO's!
We live up to our name of GamiFi by making the whitelisting fun and interactive. The GamiFi platform will also cater to an industry-leading chain agnostic NFT system which will allow you to see all your NFTs in erc721 and erc1155 format so you can tap into any of the games listed on the platform.
Miranda: that sounds very different
Laura: Yeah we have a 'golden ticket' NFT membership system, kind of like tha fast pass at Disneyworld. You can bypass all the whitelisting tasks. If you hold our lowest tier – 1000 GMI and an NFT, you wil get the max allocation available. It is STILL FCFS after whitelisting though so you'll need to be on your toes!
Additional to this ultra-cool user dashboard will be a link to all the most recent EVM based games in the blockchain space with an ability to see their daily statistics and user amounts. Think of Netflix for games, but on the blockchain. Metaverse, In-game NFTs, and blockchain-enabled games are our specialty
Question 2:
Miranda: Next can you tell us what triggers you to launch GamiFi (GMI)? What are some of the real-world problems/ pain points that GamiFi (GMI)aims to solve?
Laura: Yeah of course. I hope your community members are into games!
I'm a gamer, always have been. The intersection of games and blockchain really is the natural progression of the space.
We wanted to solve the real world problem of indie developers and small scale games having access to funding is what we aim to solve. There are far too many barriers to entry for the indie game developer, especially if they are new to the blockchain space, and its easy to get lost and confused. We want to help them grow their community, and give them access to crowdfunding and to help them along the way, post IDO as well.
You join the #GMIArmy Corps for life. 🙂
Question 3:
Miranda: What about the native token of GamiFi? what's the role of it and it's tokenomics?
Laura: GamiFi token is pure utility. The purpose of the token is soley to access the IDO platform.
At present GMI is used in tiered staking for whitelisting.There are 4 tiers which each give you more tickets into the draw for Whitelisting so the more GMI you have the better chance you have of Whitelisting. In turn the amount of GMI you hold will also directly relate to the allocation you receive if successful.
Tiers for holders are below, the more GMI you hold, the more tickets put into the pot for a chance to win a whitelist slot. These tiers also correspond to the size of the allocation granted during the IDO, if/when your wallet is chosen for whitelisting. Tiers How it Works (How to Participate)
Player 1 10000 GMI = 15 Tickets
Player 2 6000 GMI = 10 Tickets
High Score 2000 GMI = 5 Tickets
Griefer 1000 GMI = 3 Tickets
We also have staking for very generous APY's running at the moment and in the future we see the token also being used for the purchase of our NFT's.
You can check out our staking pools at: app.gamifi.gg
Tokenomics wise, we had a private raise, a strategic raise on launchpool, and a public IDO in January
Miranda: 👍👍Guys, whoever is interested in staking to earn high APY can check it out here: app.gamifi.gg
Question 4:
Miranda: Also are there any exciting news or updates with regards to GamiFi (GMI) you would like to share with the users?
Laura: I know that our community is DYING to know WEN FIRST IDO, and WHAT IS THE FIRST GAME? I *can* say that we are locking down our first FOUR IDO's in the next two weeks. The first IDO will be in the first two weeks of March, then another mid-March and two more end-March, early April. Please note though, that market conditions can delay or amend launches.
We are also working on at least three BIG partnerships and collaborations, but we're under obligations not to disclose the names just yet.
We will be announcing the first IDO Game very shortly, we are just doing our legal due diligence first, which protects our community from bad actors!
Until the legal docs are signed and submitted, we can't announce, BUT its very, very soon
Miranda: understand, but very curious about who are they🤣🤣
Question 5:
Miranda: Alright, last question: If you were to summarize your project in ONE word, what would it be? Why?
Laura: Oh my goodness that's a hard one!
There's so much to the platform, so many plans ahead to make it really interactive and personalized.
I'd have to go with:
Gamification – we try to make everything enjoyable, like a game. 🙂
Free-asking Session to GamiFi
Q1. What is your top 3 things for priorities in 2022? Could you share some plans for the upcoming year? @LauraBKK
Laura: Our top 3 priorities for 2022:
Make our platform a seamless experience for our community members. 
Add more features like personalized avatars to the platform and to add in our multi-chain NFT dashboard
Launch amazing games and build a fantastic community around them.
Q2. Have you being audited? Have not heard you talk about that security of funds is what every investor craves for and plans to escape in case of insecurity if funds, scams and rug pull? How strongly built are your security put in place?
Laura: Yes our token contract has been audited by Peckshield.
Q3. Where I can get the latest updates or more information about the project?
Casey: Great question and its very important for everyone to keep up to date in this fast-moving space, all our socials are on Linktree.
Q4. Do you allow suggestions and feedback from the community? Are we allowed in decision making, do you put community into consideration ?
Casey: Community is very important to us at GamiFi. While final decisions lie with the team the community sentiment must be taken into consideration when making any decisions. In this way we ensure we get the right balance for the community and the project