In this Telegram AMA recap, you'll find insights about the Duelist King project. In an event hosted by Mia from MEXC Global, you will meet Kartikeya Behl, Social Media lead and Tech Evangelist of Duelist King.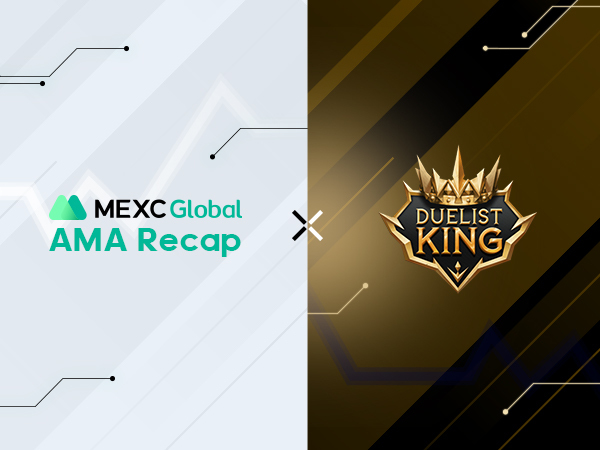 Introduction:
Hi everyone! Hope you are having a nice day 🙂
My Name is Kartikeya, and I am a tech evangelist at Duelist King.
I come from a traditional gaming background and have used my gaming experience while building Duelist King with fellow team members.
I have over 7+ years of experience within the industry. I am happy to represent Duelist King and hope I can answer your questions!
Questions from community:
Question 1:
Mia: What is Duelist King? Can you share with us more in detail?
Kartikeya: Powered by a Decentralized Autonomous Organization (DAO), oracle, and random number generator, Duelist King is the first generational NFT card game that transforms the way people play, participate and earn in card games. Duelist King features top-notch gameplay, asset designs, and sustainable Win2Earn opportunities.
Question 2:
Mia: What triggers you to launch Duelist King? What are some of the real-world problems/ pain points that Duelist King aims to solve?
Kartikeya: Duelist King is more than a decentralised card game, it is a full quality game, with top-notch game design, gameplay, and everything you would expect from a great video game title. Unlike most games out there on the market, that can lack quality, we put gameplay first, to create a game that players will keep coming back to.
We want to advocate for #Win2Earn. Compelling players to Engage, Enjoy and subsequently Earn from the game.
Check out our latest gameplay! https://t.me/MEXCEnglish/2582499
Question 3:
Mia: What is the role of the $DKT token in Duelist King? Would you tell us more about its tokenomics?
Kartikeya: Like any decentralised token, $DKT is at the heart of tokenomics at Duelist King. $DKT, will be used in our DAO, giving token holders to power to dictate what happens within our game. Likewise, with $DKT you can stake, and buy cards
10,000,000 DKT (Duelist King Token) will be issued and token holders will have rights for governance voting. Token holders of DKT are able to participate in DAO governance by locking their tokens to gain voting power. The Duelist King DAO voting mechanism is based on weighted voting.
Furthermore, the tokens come with a number of utilities including life-time discount to mystery boxes, staking to mint rare NFTs, and cash-out rewards in the game.
Our tokenomics can be referred from here https://duelistking.com/tokenomics
Question 4:
Mia: Are there any exciting news or updates with regards to Duelist King that you would like to share with the users?
Kartikeya: We have our Public alpha releasing on the 15th. So make sure to stay tuned to the Duelist King website for more information about how to get involved. Likewise, soon, we will release our next batch of cards. April, will be a huge month for Duelist King, and we are just getting started.
Our Game Alpha 2.0 Version already has 25000+ registrants. It will be available to everyone to experience our improved gameplay 😄
We took the community's feedback to integrate changes in this version. We can't wait for all of you to try it!
Kartikeya: You can register your interest here to get notified when the game is released: https://forms.gle/5UWvPdLYg8BHM6W7A
Question 5:
Mia: If you were to summarize your project in ONE word, what would it be? and Why?
Kartikeya: Quality. We focus on mastering all verticals of our project to provide consistent quality, we are truly a community driven game hence we focus on delivering our best
Mia: Awesome 👍
Free-asking Session
Q1. Can you list 1-3 killer features of this project that makes it ahead of its competitors? What is the competitive advantage your project has that you feel most confident about?
Kartikeya:
1. Generational NFT Card Game
2. Community Focused and Driven
3. Promotes Play2Win & Win2Earn
4. Value for Creators, Collectors, Investors and Gamers.
We want to draw attention from our people to the game first.
Our slogan is Free2Play – Play2Win – Win2Earn. We believe people need to Enjoy Engage and then Earn in the game.
We enable the community to drive the game causing a learning amongst gamers to have more ownership in their experience with Duelist King. Community has been the pillar of our project and we believe to be our advantage.
Q2. Are you planning to promote your project in countries / regions where English is not good? Do you have a local community for them to better understand your project??
Kartikeya:
We plan to integrate local language support. As for us, we ourselves are a global team so we do understand the need for localisation. We will have region specific communities soon to onboard anyone who wants to be a part of our journey and not limit them by their language.
Duelist King aims to be a truly global project with networks all over the world🙂
Q3. Can you tell us about your team members? are they qualified and professional in their fields? what are the recruiting qualifications for team members for your extraordinary project?
Kartikeya:
We have a background of professionals who are experts in the crypto field. With over 6 years of experience in this niche field, we are confident that our team has all the skills required to be a successful project. We are global, as we have a team of people who operate from Vietnam, India and even Europe. Community is the pillar of our project and we are inclusive as we take them into account for our decisions.
Q4. [2684] Do you allow suggestions and feedback from the community? Are we allowed in decision making, do you put community into consideration ?
Kartikeya:
Oh Absolutely. Our closed alpha version was made available to community members to report bugs and feedback. Our development team looks very closely into all the feedback given to us.
Our public alpha, which will release tomorrow will have all the changes integrated as per the community.
Q5. Security and anonymity are always prioritized by BlockChain projects in the development of project platforms and technologies. So, does you have any technological solutions or plans to enhance user trust in these issues?
Kartikeya:
As Duelist King owner, we will provide a tool for everyone to verify their transactions and the distribution result.
Along with the traditional distribution scheme of card games in lootboxes where the distributor has offered anything but transparency and fair supervision of distribution, DK uses a oracle to process external inputs to a decentralized RNG in a manipulation-proof and 100% random process, allowing fair distribution of card; whilst DAO as an open source, transparent and community-powered entity will govern the whole ecosystem in a permissionless, incorruptible and community-driven approach.
All token vesting will be automated with vesting contracts and we will be working with a third party for smart contract auditing plus KYC for our investors.
Follow us:
Medium: https://medium.com/mexcglobal
Telegram: https://t.me/MEXCEnglish
MEXC trading: https://t.me/MEXCTradeofficial
Twitter: https://twitter.com/MEXC_Global, https://twitter.com/MEXC_Updates, https://twitter.com/MexcResearch
Facebook: https://www.facebook.com/mexcglobal
Discord: https://discord.gg/nc6Jfwn3ap
Instagram: https://www.instagram.com/mexc.global
Trying to find MEXC AMAs recaps?
It's easy! Explore them in a special section of our MEXC Global blog. Find insights for other recently listed projects at MEXC like Duelist King .
Start your travel on MEXC Global