In this Telegram AMA recap, you'll find insights about the DeFine project. In an event hosted by Iris from MEXC Global, you will meet Bella, Head of Marketing at DeFine.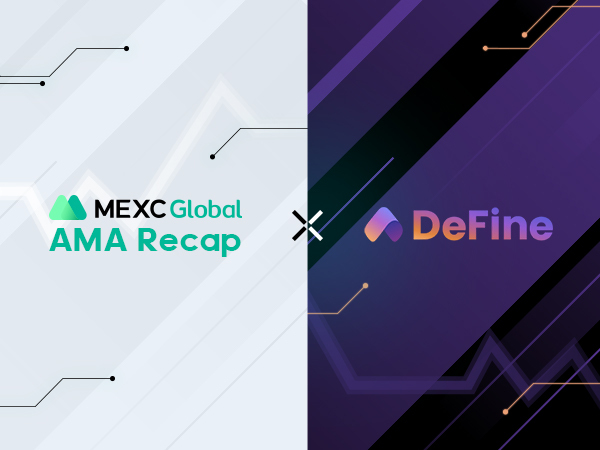 Introduction to guest from DeFine:
I'm Bella Wang from the DeFine platform. I have been in the blockchain industry for more than four years including working on the senior product management team at Ontology and has a bachelor's degree from Voronezh State University in Russia.
Questions from the community to DeFine:
Question 1:
Iris: What is Define? Can you share with us more in detail?
Bella: Sure. DeFine is the NFT-based social network for web 3.0. DeFine provides an interactive communication tool for creators and web 3.0 users through its marketplace and social functions that support exhibitions, INO, digital credit systems and metaverse profile.
We want to expand existing crypto-enabled NFTs, including digital labels and badge systems, and also enable all creators, ranging from musicians, social influencers, gamers to athletes, to freely publish and communicate with their fans through DeFine Art, DeFine Gaming, DeFine Music, and DeFine Studios. Ultimately, the DeFine will serve as a social platform for creators and users to dene how to engage with each other and build communities in the digital world.
Question 2:
Iris: What triggers you to launch Define? What are some of the real-world problems/ pain points that Define aims to solve?
Bella: When the NFT trend hit the market, there were a lot of demands for every NFTs out there which were minted by existing digital artists and also traditional artists. We think the current NFT market is just entering the beginning stage of maturity or still in the early growth stage. From marketplaces to NFT based DeFi and various models, the market is evolving and expanding it's industry areas.
We believe that the most important part for NFT will be the 1) collaboration with real-world assets 2) providing new ways of interaction with creators.
If the NFT remains only in the digital space and does not deliver real world value to people, it will be hard to survive. Real world value can be a digital asset that can be exchanged into fiat currency or and it can be a special benefit that can be closely related to the physical world. And also we can make new interactive tools that the fans and creators can use to communicate with each other.
Question 3:
Iris: What is the role of the $DFA token in Define? Would you tell us more about its tokenomics?
Bella: DFA is the native token for DeFine, and the governance token.
1. Governance: DFA token holders staking DFA on DeFine can submit proposals and vote on important decisions aecting the platform including new features, usage of transaction fees, token reward allocations, auction mechanics, etc. For example, a user can submit a proposal to adjust the minimum DFA staking amount required to list an NFT on the platform. Platform governance directly aects how creators and users interact across the platform. Additionally, community governance will facilitate ecosystem development decisions of which will be funded by the DeFine NFT DAO.
2. DeFine DAO: DFA will be utilized to enable our community to participate in the DAO's operation, decision making process and future development. Additionally, a portion of DFA token supply will be DFA is the native token for DeFine, the social NFT platform for all creators. Roadmap 2022 Q1 2022 Q2 2022 Q3 2022 Q4 Launch GameFi NFT Marketplace Launch On-chain Governance Launch DeFine DAO Treasury Gaming Ecosystem Expansion Launch DeFine Arcade Launch DeFine Studio Activate DeFine Social System Launch DeFine Mini Game Studio Genesis DeFine Badge Drop Launch Ranking and Level system Launch Guild Scholarship Program Release Mobile Application Launch DeFine Social V2.0 decision making process and future development. Additionally, a portion of DFA token supply will be allocated towards DeFine DAO to fund DeFine's NFT ecosystem, take on its own development and showcase NFTs on its platform. DFA token holders will directly inuence the future of our ecosystem with their involvement in the DAO.
Iris: On a separate note, DFA is now available on MEXC. head over to https://www.mexc.com/exchange/DFA_USDT to trade 🔥
Question 4:
Iris: Are there any exciting news or updates with regards to Define that you would like to share with the users?
Bella: yes! So first of all, as you mentioned, DeFine (DFA)gets listed on MEXC, that's pretty exciting.
Also DeFine has some updates on partnership and ecosystem building, including Klaytn and filecoin. As a long-time advocate for decentralization in the NFT space, DeFine is honored and delighted to have been selected as a Notary in the Filecoin Plus program. We hope to put the DataCap grant into great use for the NFT assets.
DeFine, the web3 native social world powered by NFTs, is thrilled to announce that DeFine has successfully integrated Klyatn.
Klaytn is the 5th blockchains that DeFine has supported to its platform after Ethereum, TRON, Polygon and BSC.
Basically, DeFine core community contributors are trying to expand the market globally, especially in the token listing, partnership building and providing more high-quality and exclusive NFTs to the users, helping collectors to get more engagement with their fans community.
Iris: cool! looking forward to this great news!!
Question 5:
Iris: If you were to summarize your project in ONE word, what would it be? Why?
Bella: Social.
The core of DeFine is social.
DeFine is the NFT social platform for all creators including artists, musicians, influencers, and gamers. The platform facilitates all social interaction, engagement, and communication for creators and their fanbase through marketplace features that utilize digital assets like NFTs, social/fan tokens, and real assets on the blockchain. Owners of social/fan tokens will have many benefits including special access to the creators' NFTs, merchandise, content, etc. while being part of a private community. It is also the social platform for all participants in the digital world where they can identify and interact with each other through their NFT social proles which are based on their contributions and achievements in the digital world. Ultimately, the DeFine will serve as a social platform for creators and users to dene how to engage with each other and build communities in the digital world.
In 2021 and the Q1 of 2022, DeFine launched community governance as a major step towards decentralization. As DeFine core contributors, we listen to our community and value the importance of bringing governance on-chain to promote a more inclusive and democratized consensus on platform upgrades. The core contributors have also set up the DeFine DAO treasury multi-sig wallet and allocated the designated DFA token supply to the treasury.
these features have greatly enhanced decentralization, and transparency, and help the DeFine become more socialized.
Free-asking Session
Q1. According to the roadmap, what is your most important next priority?
Bella:
Following the roadmap, DeFine has completed all the Q1 plan. The other 3Q's task are in process. DeFine now is working on activating social system, launching the ranking and level system and the gaming ecosystem expansion
Q2. Where I can get all the latest news? Do you have Twitter/Telegram/Discord community? If yes can you share the link here because there are a lot of fake telegram/Twitter groups?
Bella:
yes sure. Join our community
Official Website: https://www.define.one/
Twitter: https://twitter.com/DeFinePlatform
Discord: https://discord.gg/UYahw74GdG
Medium: https://medium.com/define-platform
Instagram: https://www.instagram.com/define_nft/
Telegram: https://t.me/DeFinePlatform
Telegram KR: https://t.me/DeFinePlatform_kr
Contact Email: contact@de-fine.art
Q3. Do the token holders have the right to participate in the governance of the project? What kind of decisions can they vote on about the project?
Bella:
as I mentioned before, token holders can participate in the governance of DeFine. Users can submit proposals and vote on important decisions affecting the platform including new features, usage of transaction fees, token reward allocations, auction mechanics, etc.
Q4. What is your strongest advantage that you think will make your team lead the market?
Bella:
Good question. Definitely, we're not perfect and there are challenges ahead. One of the challenges could be how can the users have a better idea of the actual value of the NFT they own? Price discovery is a hard job and the less known the NFT you are holding, the harder it could be appraised. We think it's safe to say there are two types of NFTs in the market which are 'more liquid' ones and 'less liquid' NFTs. Liquidity comes from the market participants' confidence on the purchase/sale decisions and this, we believe, roots out in the information. More informed the people then more likely people would act. DeFine as a social NFT platform provides the users an online space where they could have discussions on such topics. In the existing communities, you can't be sure whether the person you are debating actually has any skin in the game because you have no real idea if he holds any NFT at all. But the social accounts on our project exactly show if the person is holding any NFT issued on DeFine. And possibly, this social activity could be a rewarding experience with our 'honor system' we are planning to integrate soon.
Q5. Please tell me, how can I buy your tokens right now? And which wallet supports your token? thanks
Bella:
You can check the DFA listing progress on coinmarketcap and coingecko. DFA is now available on MEXC,Huobi Global, Bithumb, KuCoin and Gate.io. We are excited to inform you that $DFA was listed on MEXC Global on May 8!
Trying to find MEXC AMAs recaps?
It's easy! Explore them in a special section of our MEXC Global blog. Find insights for other recently listed projects at MEXC like DeFine.
Start your travel on MEXC Global