In this Telegram AMA recap, you'll find insights about the ColdStack. In an event hosted by Miranda from MEXC Global, you will meet Alexander Shishow, founder and CEO of ColdStack.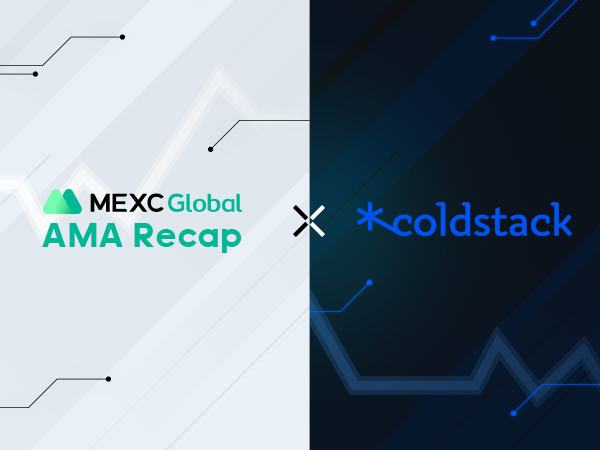 Introduction to MEXC AMA Member from ColdStack:
My name is Alexander Shishow. I am the founder and CEO of ColdStack Cloud Storage. I am excited to answer your questions and give a more indepth perspective of decentralized cloud storage and the opportunities it will create for investors.
Questions from community to ColdStack:
Question 1:
Miranda: First can you tell us what is Coldstack ? Can you share with us more in detail?
Alexander: ColdStack is connecting all the decentralized cloud storage protocols like Filecoin, Crust and Arweave into the largest data storage network on the planet. We aim to aggregate all the decentralized clouds ecosystem to create the most affordable, friendly and easy to use data storage ever. We call ourselves the "First to market decentralized cloud aggregator for Web 3.0"
We launched in February 2021, and brought a functioning prototype to market in the first 6 weeks. After over a 1000 beta testers, we used that data to begin developing a working product and integrating data storage networks. We launched our public beta in December of last year and currently have over 150 customers storing data with us
We are currently on the Ethereum and Binance networks with a cross chain bridge native on our website. And have 300+ Petabytes of total data storage capacity.
That means all the storage, which we have integrated, have got this volume combined )
Question 2:
Miranda: what triggers you to launch Coldstack? What are some of the real-world problems/ pain points that Coldstack aims to solve?
Alexander: Before founding ColdStack I was the Chief Product Designer for Prometeus Labs, a leading blockchain incubator focused on decentralized frameworks for data monetization.
Since 2017, I saw that cloud storage was a huge market. In 2021 alone it was a $150 Billion industry and it is expected to double if not triple over the next 10 years. I also knew that because encryption is at the foundation of current decentralized cloud storage networks, I could see that they would be able to build cloud storage that is 100x cheaper, more secure, more resilient than current centralized data storage centers.
So in 2020, after three years, I didn't understand why decentralized cloud storage didn't have more adoption. I began to realize that different networks solved different decentralized cloud storage problems really well but none of them provided a sufficient product on their own. So, I asked our team if it would be possible to solve this problem and combine all the networks into a single sort of super cloud and that is how ColdStack was founded.
One of our biggest selling points is that we are a team of experienced engineers that are building a product first company. Because of our experience and knowledge of the blockchain industry, we have been able to bring a functioning product to market in months where it has taken other projects years.
One of the biggest pain points that ColdStack solves is providing true censorship resistant and user controlled privacy cloud storage. Our cloud storage aggregator provides cheaper and more stable data storage than centralized networks. And because we have aggregated decentralized cloud storage networks located all over the world we are able to have some of the fastest upload and download speeds.
Question 3:
Miranda: What about the native token of ColdStack? What is the role of $CLS in Coldstack and its tokenomics?
Alexander: CLS tokens are utilized for a number of critical tasks when interacting with the ColdStack platform. One of the most important uses for the $CLS token is paying data storage fees during the billing process. These fees are incurred by users who store and retrieve their data, and can be awarded to miners who run ColdStack Nodes.
$CLS tokens are also used for signing and authorizing transactions on the ColdStack platform as well as for creating access keys for users to interact with their uploaded files. NFT issuance and related operations on ColdStack will also be handled in $CLS tokens, with these NFTs then being transferred directly to the billed $CLS wallet.
$CLS tokens will also be the primary medium for conducting DAO governance. This will allow users to participate in vital decisions on the ColdStack platform such as admitting new nodes and handling customer complaints.
Question 4:
Miranda: Next maybe you can share with our users some exciting news or updates regards to Coldstack?
Alexander: We are excited to announce our Store-To-Earn program that is going to reward users with a combination of NFT's and $CLS tokens. Many projects offer a standard staking program that rewards whales with high APY while leaving out loyal users.
At ColdStack we are committed to our community. So we are developing an innovative process of earning badges that will unlock more ways to store data more affordably and get higher APYs for holding CLS. You can also earn them with other activities like bringing new partners, social network activities etc
Question 4:
Miranda: If you were to summarize your project in ONE word, what would it be? Why?
Alexander: Aggregation
Simply put we combine the benefits of decentralized cloud storage into a seamless user experience that saves users time and money for the data storage needs.
Free-asking Session
Q1. Do you have any NFT plans and its integration ahead in the roadmap? Also do you have any passive income options and incentivization reward for a long term hoder?
Alexander: ColdStack will allow for users to create NFTs out of any file they upload! Minting NFTs on ColdStack does not cost anything extra apart from typical gas fees, and our platform allows users to store these NFTs affordably. Users will be able to list these NFTs on any marketplace such as OpenSea or Rarible.
Q2. Almost 80% investors have just focused on price of token in short term instead of understanding the real value of the project. Can you tell us on motivations and benefits for investors to hold your token in long term?
Alexander: Because we are the one and only decentralized storage aggregator. We plan to aggregate decentralized storages, as opposed to competing with them. Our ability to save users a great deal on storage by analyzing the entire market, as well as our ability to provide a portal for accessing all decentralized storage through a familiar interface, definitely gives our platform a lot of advantages.
Q3. Can you give an overview of your Tokenomics, and the UTILITY of Token?
Alexander: Please find our medium article!
Q4. Q)Can you tell us about some of your partners and who you plan to collaborate with in the near future ?
Alexander: Great question. We have such projects as Chainlink, BitTorrent, Ankr, Arweave, Akash, Storj and many others. Feel free to ping us concerning integrations, we have got an affiliate program
Q5. Do you have any Coin Burn / BuyBack systems or any Token Burn plans to increase the value of Token & attract Investors to invest?
Alexander: We will announce a nice NURN program pretty soon! Actually, we want to burn 100% of our storage fees (actually, project revenue!)) for the next 12 months. Imagine, we are going to store our user's data and burn all of our tokens they will pay! 🙂
Q6. Can you list 1-3 killer features of this project that makes it ahead of its competitors? What is the competitive advantage your project has that you feel most confident about?
Alexander:
1. Price
2. Seamless intagration
3. Nice UI and AP 100% compatible to S3
Q7. Revenue is an important aspect for all projects to survive and maintain the project/company. How have you been able to build a complete project and what is the way to generate profit/revenue of the token? What is the income model?
Alexander:
Pretty simple
It's storage fee – when u'r storing files with us, u need to pay
We will take our comission and pass the rest of the money to storages like Filecoin, SIA, Arweave etc
BUT we will burn 100% of those money in 2022
Just to make some boost to whole tokenomy 🙂
Q8. Do the token holders have the right to participate in the governance of the project? What kind of decisions can they vote on about the project?
Alexander: We are planning to implement DAO fovernance to the project so users could do almost everything… including customer support solutions
Q9. Your project name seems to be very interesting. Does it have any story behind it? Can you share us with the inspiron for approaching to this name?
Alexander: Yes, it means COLD storage – because we mostly focused on Cold Data – i.e. data, which need to be stored for a very long term but used to be accessed not really often
Q10. Do you have a whitepaper? if yes please share it with us and secondly are you working to AUDIT your project, to make its security more secure and reliable?
Alexander: Hacken guys made the audit, you can find the report on their website!
Q11. Where can I currently buy Token?
Alexander: Pancake, Uniswap, and… DEFINITELY MEXC! Our beloved and very first CEX.
Q12. Is your project a community only for English speaking an countries or for users not of other languages?
Alexander: We will create a local communities soon. Now it's an English group only.
Q13. Do you guys feel satisfied by seeing your progresses and achievements till now, when you look back to the day when you have started this project?
Alexander: Absolutely! We did a great job, we have got a wonderful community, we mada a very promising product and future is very bright, as for me
Q11. Many projects have problems with UI / UX and this one turns off new users. How do you plan to improve the interaction with new users and with users outside the crypto space?
Alexander: Interaction with users beyond the crypto space is one of our main goals, we believe we could attract them with our simple and easy integration process. Actually, if you are using Amazon storage then you will need to change LITERALLY 2 strings in config to start being decentralized with us. As for background… While working at Prometheus, we worked with various storages and saw that each storage has its own features that may be interesting for various customer types.
We created ColdStack in order to make decentralized storage easily accessible to anyone, and provide users with the most cost-efficient storage solutions available. There are many excellent decentralized storage solutions available, however it can be difficult for users to determine which one is best for them.
Why do I feel decentralized storages are kinda better? Than gaints like Amazon and Google?
OK… Decentralized storages are far superior for a number of reasons. Most importantly, these storages are more secure, less prone to failure, and are censorship resistant. Centralized storages by their very nature are much more susceptible to hacks and other data breaches like we saw with the Solarwinds hack. Decentralized storages are spread across multiple nodes, making them much more immutable. Centralized storages also require a great deal of sensitive personal data in order to use them and are subject to changing internal (company) and external (government) regulations, while decentralized storages are not subject to KYC requirements and other limiting regulations.
DeFi… DeFi… DeFi! Projects which participate in the Ethereum DeFi ecosystem typically need to store critical data such as payout schedules and token bonding curves for great periods of time. Filecoin or Arweave, due to their decentralized origin, fit really well for those tasks.
Because DeFi dApps need Web3 based "all-in-one" experience for unified data management. ColdStack provides an all-in-one platform to deal with decentralized storage services, while still retaining their overall decentralized nature. Could anyone run a node or participate in the network in another way?
For now we have quite a limited list of trusted partners who will participate in the network in the beginning until we will implement DAO governance. Once our ecosystem has matured and become more sustainable, we will prepare for exponential growth. For the foreseeable future, we will start by allowing those running file nodes to take part in governance, after that those running billing nodes, and finally anyone running a gateway node will be able to participate.
Trying to find MEXC AMAs recaps?
It's easy! Explore them in a special section of our MEXC Global blog. Find insights for other recently listed projects at MEXC like ColdStack. Lots of helpful information for your DYOR!
Start your travel on MEXC Global