In this Telegram AMA recap, you'll find insights about the ORIGYN Foundation project. In an event hosted by Lucky from MEXC Global, you will meet Tim Bullman, CEO of Caduceus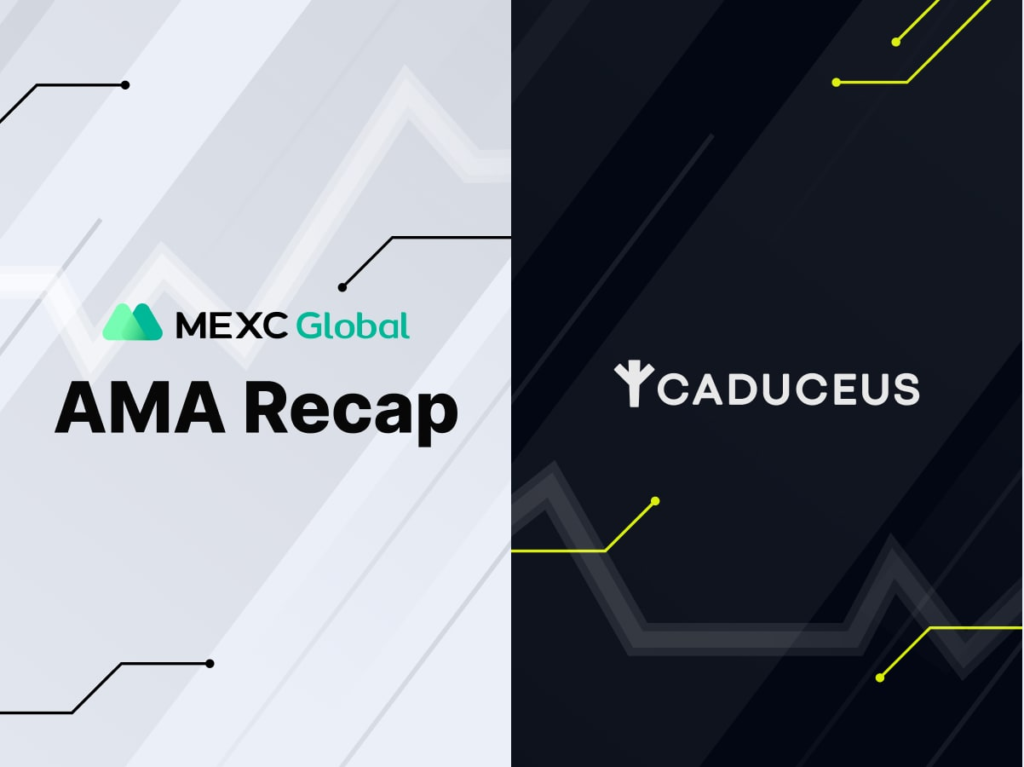 Introduction:
Lucky: Today, we're honored to have Tim Bullman, CEO of Caduceus, in our community to give us a more intuitive introduction to their unique project.
Tim Bullman: Hi everyone, my name is Tim. I am super excited to be here today to share with you more about our project here at Caduceus.

Our website: https://linktr.ee/caduceus_cmp
TG-EN: https://t.me/CaduceusMetaverse
Twitter: https://twitter.com/Caduceus_CMP
Questions from the community:
Lucky: What is Caduceus? Can you share with us more in detail?

Tim Bullman: Caduceus is the Metaverse protocol for decentralised edge rendering, an infrastructure-level open blockchain platform specifically built for the metaverse and the decentralised digital world. It's manufactured with next-level processing power and rendering capabilities.
As you can see from our introduction, the underlying technologies we provide for the Metaverse are blockchain technology, edge computing technology, computing resources, and rendering resources derived from computing power.
First of all, Caduceus's business logic is based on a decentralized, fully modular, and open blockchain with lower transaction costs, faster speed, and higher security than any other public blockchain. Blockchain technology has transformed the computing power industry from a closed system into an open system.
Secondly, GPU-based computing resources are the core of our business. Caduceus has created a completely open system: through the available method of the computing power supply side, everyone can participate, and everyone can join the Caduceus platform through Caduceus' technical modules inside, thereby contributing to the computing resources of the GPU. We will provide services not limited to film and television, traditional games, AI, and other industries. Our business direction is mainly for the Metaverse, online games, film, television, etc. We will provide them with essential GPU computing power to reduce their computing costs, to improve the user experience. We have nearly four years of precipitation, and the Metaverse identity system, Metaverse edit tools, and GPU mining products which will be officially launching this year.
Created and developed by internationally renowned investors and blockchain experts, Caduceus has a team of superstars with deep expertise in blockchain, DeFi, software development, finance, retail, music, art, media, and entertainment.

Lucky: What prompted you to start Caduceus? What industry problems/needs do Caduceus aim to address? What are Caduceus's unique selling points compared to other industry projects?

Tim Bullman: As mentioned above, the current business direction of Caduceus is in the Metaverse. The Metaverse is a virtual social form generated by integrating various new technologies. It provides an immersive experience based on XR technology and builds an economic system based on blockchain technology. The virtual world and the reality world are closely integrated into the economic, social, and identity systems, and each user is allowed to produce and edit content. Such a scene makes the high real-time, high interactivity, and high immersion of the Metaverse very demanding on the computing power of terminal devices. The adoption of edge rendering technology will be essential to break through the limit of computing power. Computing power and rendering have become critical infrastructures for the Metaverse.
At present, our network is still undergoing more optimization and testing and many features have not been fully deployed and announced. However, according to the data in the current testing phase, our fastest TPS can reach 100,000 and the cost of a single transaction can be controlled at $0.0001.
Caduceus pays more attention to performance and capacity. It completes edge rendering by computing, rendering, and storing on the cloud GPU and transmits it to the display terminal through the streaming process. With the characteristics of massive computing and flexible use, it provides the optimal solution for shortening the rendering cycle. In addition, the cost will be significantly reduced, and the efficiency will be higher, making it suitable for various usage scenarios. To realize some hypotheses, the developers can do many experiments on Caduceus with lower trial and error costs and a cleaner environment. In the metaverse ecology of Caduceus, creators can also be widely disseminated, motivated, and recognized. The wisdom value of the creators can also be separated from a closed ecology, and their identities will be more diversified. They can become the builders of the ecology.
There is a lot of issue of transaction fee at this time, looking at the transaction fee of CMP, it seems that this can be a big project to come DYOR 😍

Lucky: What is the role of the CMP token in Caduceus? Would you tell us more about its tokenomics? @timb1234
Tim Bullman: Yes the low transaction fee and security of our chain will definetely help users alot.
CMP is the native token in the Caduceus Metaverse protocol, and it is also a vital part of the Caduceus Metaverse ecology. We see CMP as the bridge that connects the real world and the virtual world.
Enterprise users can use CMP to exchange GPU computing power provided by Caduceus global computing nodes, flexibly use massive computing resources, improve computing efficiency, shorten rendering cycles and obtain higher-quality metaverse development scenarios at a much lower cost. Caduceus uses CMP as a reward to create a C2B open system allowing all networked devices to participate in contributing idle GPU computing resources, expand Caduceus global computing nodes to finally achieve supply and demand between enterprises and users with mutual benefits.
In addition, CMP can also be used as a circulation medium for ecological applications on the Caduceus chain. For example, 3D NFT brand HAPE has introduced CMP as a circulation medium, so that project fans can directly use CMP to interact with the application and further provide liquidity support.
In the past IDOs, $CMP has set a number of fastest sales records and 100x over-subscription records on platforms such as Daolaunch, PlaySky, Safelaunch, DaoStarter, and GameStarter. As a partner of Caduceus, CMP token will also be launched on MEXC on July 25th. Token-related mechanisms will also be announced in Q2-Q3 2022, including the introduction of the pledge function of decentralized computing power nodes, where users will be able to pledge CMP and obtain ecological application tokens and NFTs. Stay tuned to our social channels for information and announcements!
Lucky: Are there any exciting news or updates with regards to Caduceus that you would like to share with the users?

Tim Bullman: Yes there are alot of exciting news coming. Caduceus is the 2022 TOP 10 project on the CoinMarketCap Community. Caduceus is also ranked fourth in the top 10 launchpad token sales ratings sourced by CryptoGraph Ratings and Caduceus is also the top 10 most used chains in ONTOWallet.
Caduceus has raised $4 million in an oversubscribed Series A round jointly led by Susquehanna International Group, the leading crypto investment firm founded by Jeff Yass and BlockFills, the world leading disruptive technology firm dedicated to cryptocurrency.Other lead investors in the round included Bin Zayed Group, Qredo, TokenInsight, Nukkleus, Europe's leading digital asset execution platform Digital RFQ and Luna Venture Capital. Football legend and former England and Chelsea FC captain John Terry has also chosen to invest in us. At the same time, Caduceus' supporters also include Stephen Hendry, a former professional snooker legend, a former world champion and the "Snooker Emperor", a former England rugby player and England BT Sports TV commentator. Austin Healey, the godfather of cricket, Lord Ian Botham.
Currently, there are more leading venture capitals, crypto investment companies, film and television stars and sports celebrities who are optimistic about the future development of Caduceus. We are also about to complete the second round of strategic financing and will announce more blockbuster financing and cooperation in the near future. You can look forward to it. We are very happy to see that many investors recognize the great potential and value of Caduceus.
Lucky: If you were to summarize your project in ONE word, what would it be? Why?
Tim Bullman: Caduceus combines all foundation, innovation, technology, and liberty.
With the in-depth exploration of the Metaverse, technologies such as rendering and edge computing will be the underlying requirements for various business fields to enter the Metaverse and the digital world.
The creation of the Metaverse requires innovation and freedom. Caduceus provides the technology and foundation for the development of the Metaverse. To provide a rich development environment for the creation of the Metaverse and realize the construction, financing, and cross-over of 3D worlds and digital assets between the Metaverse blockchain portability. Through Caduceus, Metaverse creators can deeply participate in the creation of the Metaverse easily. So, Caduceus is the combination of all the words foundation, innovation, technology, freedom, and a place that offers everything the Metaverse has to offer.
But to Sumarize this in one word. We would call it the "Future"
Free-asking Session
Q1. Are you a global project or local project? At present, which market are you focus on, or is it focused on building and growing to gain customers, users and partners?
Tim Bullman: CMP can be traded on both mexc and bitget. This is just the beginning for us. In the future, it will be launched on more mainstream exchanges, as well as decentralised exchanges. But we are also heavly focused on growing our partners, collaborating with other projects to continue our growth.

Q2. Which one of these aspects is important for you? 1-Increasing Token Price & Value 2-Empowering Platform Development 3-Building Community Trust 4-Expanding Partnership Globally In what order?

Tim Bullman: That is a very good question. I think all of these play an important role in our ecosystem. But we built Caduceus to be a superior tech that we can provide to our users and community. So I would say 2- empowering platform development (this will alow our users and community to have the best blockchain out there), then 3 – Building community trust (this is vital to ensure our success), 4 – expanding partnership globably (as this will allow us to enter and connect with more industries and create more exposure). finally 1 – token price increasing (we believe the token price and value will naturally grow with the success of our community, partners, and technology)

Q3. Can you list the features that your project have and other similar projects don't and Can you convince me to invest in your project as compared to others which are similar to yours? @timb1234

Tim Bullman: Here is the difference, between our Blockhain compared to Fantom, Mysten, Aptos and other.
A)High-Performance, Real-Time transaction confirmation time and highly decentralized. In the V2, 100k continuous TPS, sub-second transaction confirmation speed based on hundred thousand nodes will be realized.
b) Fully compatible with Ethereum JSON RPC interface and EVM/WASM, minimizing the difficulty of DAPP migration.
c) Highly scalable runtime modular architecture design.
d) Provide a Restful interface, OAuth2.0 interface and GraphQL interface for traditional applications, and support data synchronization with MySQL/Redis/MongoDB. It provides convenience for traditional Internet applications to link with one click.
e) Provide infrastructure for Metaverse and Web3.0, such as; IPFs distributed storage network, distributed domain name system, edge accelerated streaming media and edge rendering system.
Of course it is important that you DYOR and you can access our whitepaper which shows why our technology is unique, and why we will be abe to suceed. https://www.caduceus.foundation/Caduceus_white_paperV1.1.pdf

Q4. Your project name seems to be very interesting. Does it have any story behind it? Can you share us with the inspiron for approaching to this name? @timb1234

Tim Bullman: Certainly, our name Caduceus is one we are very proud of. It comes from Greek Mythology. The messenger God Hermes had a staff named Caduceus and with his Caduceus, he was able to travel between worlds and realms instantly and seamlessly. We have a similar vision here at Caduceus, we believe the metaverse should be fast, seamless, easy and come at little to no cost.

Q5. Can you give an overview of your Tokenomics, and the UTILITY of Token?
Tim Bullman: The total supply of CMP is 1 Billion, 50% of which is generated by GPU mining. It is also the only medium of exchange for purchasing rendering resources. Therefore, with the development of the Metaverse, the demand for rendering and computing resources will inevitably increase in the future. price must be positively correlated. For the HAPE community, CMP can be used to purchase HAPE products and participate in HAPE governance. Compared with the pure hype of other projects, our energy is more focused on expanding more usage scenarios of CMP, and we have no plans for additional or increasing the supply of our tokens.
Q6. How many team members do you have? Do they have enough experience in the blockchain field? Do they have any experience on working in crypto and non-crypto project?
Tim Bullman: the project has a team of super professionals with deep experience in blockchain, DeFi, software development, finance, retail, music, art, media, and entertainment. We brought together all of these professionals from many fields to provide you with an experienced team with a deep passion for the emerging Metaverse.
Our Blockchain Architects have had experience working in blockchain since 2013, and all of our Caduceus team understand the fundamentals of Crypto, blockchain, project development for the Metaverse. We are extremely flexible and will be able to adapt to any upcoming trends and changes to the market.
Trying to find MEXC AMAs recaps?
It's easy! Explore them in a special section of our MEXC Global blog. Find insights for other recently listed projects at MEXC like CMP(Caduceus)
Start your travel on MEXC Global