In this Telegram AMA recap you'll find answers to the most anticipated questions about the Cloundname project. In an event hosted by Iris from MEXC Global, you will meet Davide Vicini, CEO and Co-founder of Cloudname.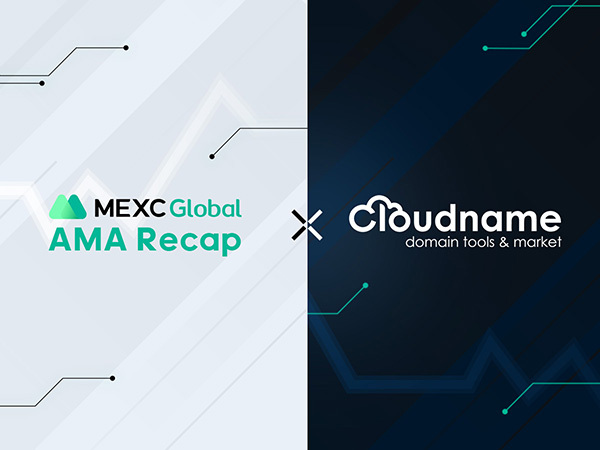 Introduction:
Davide: I'm Davide Vicini, CEO and co-founder of Cloudname! I come from Switzerland and have been in crypto since 2016 – someone perhaps knows me from Amun and 21Shares, I was there since the beginning and now launching Cloudname!
Francesco: Francesco, co-founder. leading community and marketing efforts! looking forward to answering your questions here. Come from IBM, Digital Asset and ConsenSys and now Cloudname!
Questions about the Cloudname project:
Question 1:
Iris: What is Cloudname? Can you share with us more in detail?
Davide: Ever wondered how much defi.io, crypto.com or blockchain.com domains are worth? Or if you were the owner what would have happened to your life?
Cloudname is the #1 platform for domain names trading and tokenization. With a user-friendly interface and innovative custom tools, Cloudname makes it easier than ever to tokenize, rent, trade domain names, as well as discover market trends. Check more at www.cloudname.com
Cloudname users can:
– Register new, or trade already owned domains, both traditional and blockchain domains
– Tokenize and fractionalise domain names with ERC-20 tokens
Receiving passive income from your domain portfolio
-Discover a huge plethora of analytics to spot future market trends
– Price accurately your domains thanks to our domain live price algorithm
– Win super cool domains in our lotteries
In the Cloudname platform, the native token CNAME is essential to scale up your account level and receive discounts and exclusive access to very cool platform features and rewards.
Francesco: With Cloudname you can also do these things.
Question 2:
Iris: What triggers you to launch Cloudname? What are Cloudname's unique selling points as compared to other similar projects in the industry?
Davide: I've actually invested or advised investment in tech and subsequently, as natural for all those curios in technologies back in 2016-2017, in crypto. I had the necessity of finding a couple of powerful domains and I've ended up paying quite a lot, in the 5-6 zeros.
At my own expense, I've realized how convenient it was to invest in good names, words. Naturally, I started buying different domains, checking what was trending and I did this as a noob back in the days I discovered that more than 440m domains are registered worth more than 100bln.
I've bought 4 letters, trending keyword domains, emoji domains. And then, crypto and ens domain arose.
To make the long story short, I still had the necessity to have a platform that could have helped in increasing Liquidity in the market, and so the tokenization and investment fractionalisation traditional or blockchain. Moreover, a platform in which to register a traditional or blockchain domain paying in crypto or fiat. On top of all of this, I also wanted a platform that could have helped me spot semantic, social and keyword trends so I could have bought the new meta.com or crypto.com or whatever. And why not also a market in which to rent the domains I already own?.… Basically to make smart choices, to have fun while investing in domain names. 
So with the other 2 co-founders, we decided to create a platform that could have helped us and so a lot of other domainers around the world.
Here you can see a preview:
Francesco: Also, make sure to join our group to be updated with news https://t.me/cloudnameofficial
Question 3:
Iris: What is the role of $CNAME in Cloudname? Would you tell us more about its tokenomics?
Davide: In the Cloudname platform the native token CNAME is essential to scale up your account level and receive discounts and exclusive access to very cool platform features and rewards, such as:
Advanced Domain Analytics
Platform Fees Discount
Free Lottery ticket
Live Domain Price
Predict the Future
Domain promotion
Predictive Analytics
The token will help in democratizing the platform, increasing the gamification possibilities and rewards.
There are a totally 380 000 000 CNAME tokens, with 1% released at public sale. 23% of the presale have 12 months lock-ups, and even stronger lockups for team and foundations. However, we haven't forgotten about our community and have conserved CNAME token for airdrops!!
Question 4:
Iris: Are there any exciting news or updates with regards to Cloudname that you would like to share with the users?
Davide: Absolutely yes
And this reply is very straight fwd too !!
Thanks for the opportunity to give this information!
We are proud to announce that the IDO will be in late January or early February, depending on market conditions.
But wait, even before the Public sale we will launch the Cloudname Platform in beta version between the 20th and 25th January! Stay tuned in our Twitter, Telegram, and or Discord!
Question 5:
Iris: If you were to summarize your project in ONE word, what would it be? Why?
Davide: Answer: Disruptive
Why? Most of the best domains are up for sale at a very high price, not allowing most people to buy them. This first problem leads us to the second one. Since most people can't afford to buy a cool domain, there is no trading volume. A good domain is sold once every 2 or 3 years, so there is no volatility on the market. The third problem is when you buy a domain the transaction settlement takes from 2 to 3 weeks because of technical reasons behind the domain property. 
So, Cloudname is bringing disruption in the domain market and is the #1 place to register, trade, rent, and tokenize both traditional and blockchain domain names
Francesco: Also join our chat!
Free-asking Session to Cloudname
Q1. Token Burn or BuyBack program plays an important role in increasing Token value  Do you have a token burn or buyback program plan to attract investors?
Davide:
Good question! We have plans to burn depending on token price in order to make the level step up in the platform accessible to all – check our account levels on our website.
Q2. What are the steps to become a part of your community, and start getting revenues? Where do we buy, where do we sign up? This looks like an amazing project!
Davide:
Thanks for this !! You can ore register for the launch of the platform on our website. If you do you'll be granted 3 months Ninja level account with incredible discounts. Moreover, connect to our TG and discord and Twitter to be updated about the incoming Public Sale.
Q3. PARTNERS are the most important that strengthen the ecosystems of all projects. Could you tell us about your project partners and the partnership strategy it has adopted?
Davide:
Another great one!! We partner with a lot of incredible funds that have joined our pre-sale also we have partners like today of the calibre of MEXC and on top of this, we partner with GoDaddy and Unstoppable Domains in order to create the first multi-book domain aftermarket !!!
Q4. Regarding the current market, the situation is too unstable, holding back investors. So can you give me some good reasons why I should buy your tokens in this market situation? And also why should your token holder keep holding?
Davide:
The market situation is now a bit funny, however, our token is pegged to the activities of domain names…which is every day increasing. I'll shoot you one q: do you know who owns DEFI.io?
Looking for more MEXC AMAs?
Explore recaps in a special section of our MEXC Global blog. Find insights for recently listed projects and helpful information for you!
Start your travel on MEXC Global