In this Telegram AMA recap you will find answers to the most anticipated questions about the Avocado DAO project. In an event hosted by Iris from MEXC Global, you will meet Brendan Wong, CEO and Co-founder of Avocado!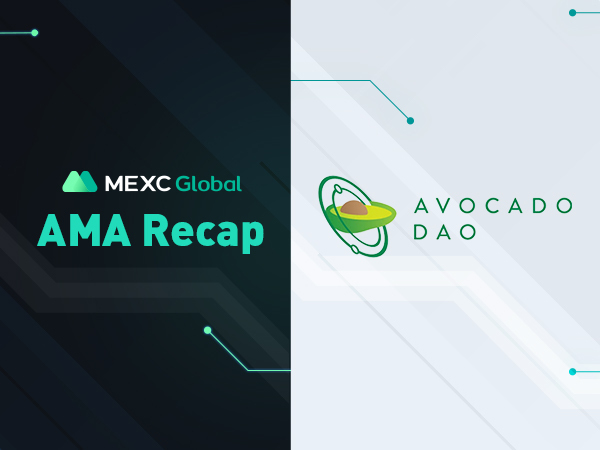 Introduction of Avocado DAO member:
Brendan: Hi guys, I'm Brendan Wong the CEO and Co founder of Avocado DAO. It's a pleasure to be here today with everyone, thank you for taking the time to tune in.
Questions about the Avocado DAO project:
Question 1:
Iris: What is Avocado? Can you share with us more in detail?
Brendan: Okies! Avocado DAO is a community of gamers and contributors that have come together to build out the ecosystem of blockchain play2earn games. We acquire and lend NFTs so our players whom we refer to as scholars don't need to pay for the upfront cost and can use our NFTs for yield farming. Our goal is to educate our community in web3 and contribute to building up the emerging ecosystem of blockchain games.
We are also the largest play2earn guild with over 10.7k+ scholars active in PH and Indonesia.
Question 2:
Iris: What triggers you to launch Avocado? What are Avocado's unique selling points as compared to other similar projects in the industry?
Brendan: I believe that there are many untapped opportunities made possible by crypto. Defi, play2earn, and it will change the way people understand finance and open the door to exciting markets and change the way people work and invest. Avocado wants to use blockchain gaming as a means of introducing new web3 users to this exciting and life changing technology. The value that Avocado DAO brings is the education, the community support for onboarding to web3, and opening the doors to what is possible and helping people support their local communities. Avocado brings opportunities where opportunities are difficult to come by.
I'm here! Avocado's unique selling point is – our ability to scale and improve the lives of many. We have over 10.7k + scholars that have had their lives changed. We built new communities around play2earn guilds and opened people's eyes to what is possible. Avocado is very humanitarian focused and we want to not just educate and provide opportunities, but to also show real life impact by supporting local communities and our Avocado DAO community in disaster relief and educational programs.
One more thing. I don't see Avocado DAO as a platform first, but a community first and a platform later to solve the issues that really require solving
Iris: Well said! Community is the top priority! now let's something more about the AVG token
Question 3:
Iris: What is the role of $AVG in Avocado DAO? Would you tell us more about its tokenomics?
Brendan: Yep! Putting it straight – $AVG is Avocado DAO's governance token. In future it can be used to vote on the direction and governance of Avocado DAO as well as launch proposals for minor to major DAO related activities. $AVG is also the key to future DeFi and yield farming activities which will allow for DAO operations revenue to pass back value to token holders.
We are also looking for ways to use AVG to bridge real-world use cases. These partnerships we are trying to form and develop as we integrate more with GameFi at the same time. Tokenized economies that allow holders to yield from our operations is the goal
The founders and investors are locked for an extended period of time because we are dedicated to our objectives and the team works tirelessly to build a future where crypto is embraced.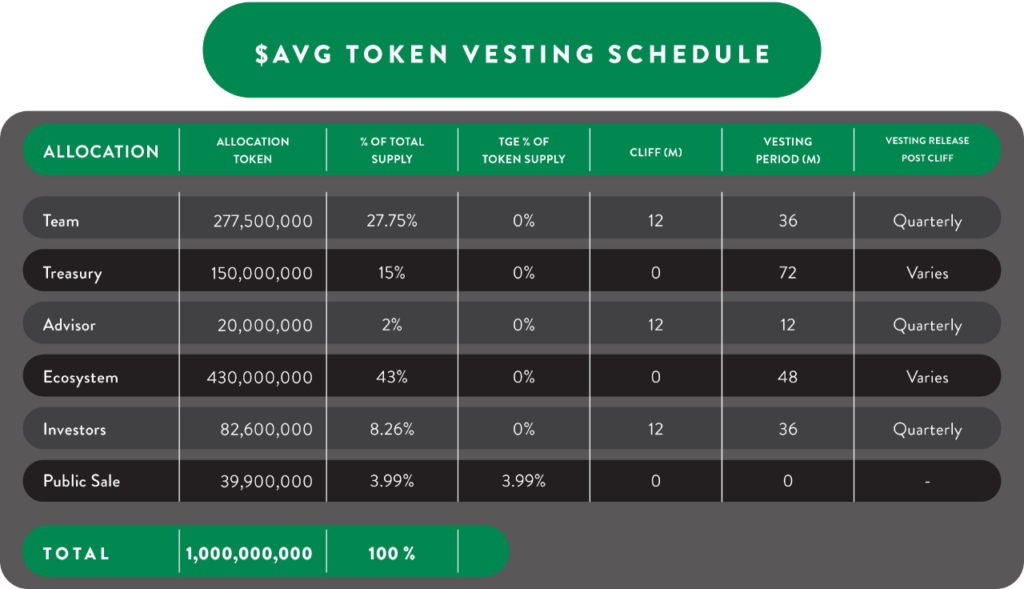 Iris: Are there any exciting news or updates with regards to Avocado that you would like to share with the users?
Brendan: We have recently completed our Copper Launch on 1/12022. That was a huge milestone for us, and now we can really build up the community and start to contribute more to the growth of the blockchain gaming space. We are still early and for those that believe in Play2Earn playing a big part of the future gaming space, I think you should definitely be aware of what Avocado DAO has planned. I can't say too much, but it will all come in due time.
It's been 5 days since the end of our auction. It's also new years. I know everyone is anticipating great things and we are working tirelessly to build out the future. We are not a pump and dump project, but good quality building takes time. I don't want to promise the world and not deliver. I'd rather get traction and show through our actions. Updates will come once we are more settled in. It's all going according to plan
Iris: Lots of exciting stuff coming!
Iris: If you were to summarize your project in ONE word, what would it be? Why?
Brendan: Future
After you've introduced everyone to mobile phones, people can't go back to sending letters anymore. Same with play2earn and blockchain games. As more games integrate with this emerging technology, it would be difficult to go back to playing a game with no digital ownership.
It's also life changing. You may think it's only life changing to some people but not you… but as a technology gets adopted, the impact exponentially increases
Free-asking Session
Q1. What are your plans in early 2022 sir? Indonesia is a country with a large population, are you going to promote projects in Indonesia?
Brendan:
We are focused on growing in Indonesia at the moment. We currently have over 10.7k + scholars in Philippines and Indonesia. This is not community member or user statistic, but actual scholars that we pay every month. I have Indonesian marketing plans as well which will be integrated
We will support staking. In more than one way as well. The goal is to build out multiple Vaults with our DeFi and GameFi partners as well as vaults that allow token holders to yield from Avocado DAO operations. Buyback is being considered as well, but that will require more thought at a later date.
Q2. Does your project support Staking & the burn or buyback token program?
Brendan:
We will support staking. In more than one way as well. The goal is to build out multiple Vaults with our DeFi and Gamefi partners as well as vaults that allow token holders to yield from DAO operations. Buyback is being considered as well, but that will require more thought at a later date.
Q3. Hello Sir! I have one question! Marketing is a central element for every project, so that everyone knows the potential that a project can bring is vital to achieve the goals set. What is your strategy to attract new users and Investor to your platform and keep them long term.
Brendan:
We will build use cases for the token both in real world and for digital staking (please see above response). New users can be attracted through marketing collabs with celebrities or marketing agencies. The issue at the moment is not so much as a lack of users, but more a lack of understanding of how the technology works. With time, we will build and investors as well as users can see our traction. This will ensure the long term success of Avocado DAO.
Looking for more MEXC AMAs?
Explore recaps in a special section of our MEXC Global blog. Find insights for newly listed projects and any other useful information for you!
Start your travel on MEXC Global