In this Telegram AMA recap, you'll find insights about the AndUsChain project. In an event hosted by Iris from MEXC Global, you will meet Park Sung Jun, CEO of AndUsChain.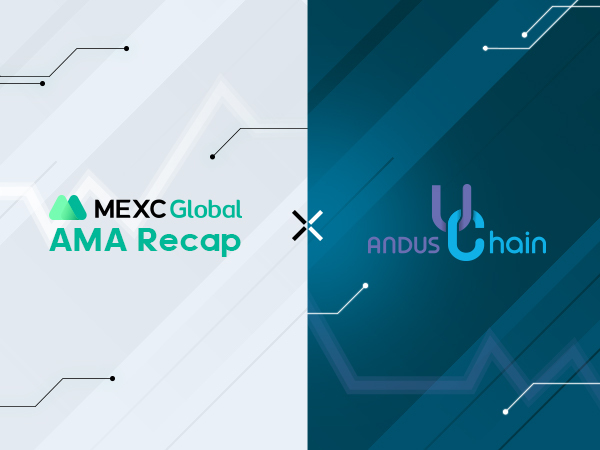 Introduction:
Hello everyone, my name is Park Sung Jun.
I am the CEO of ANDUS Co. and director of Blockchain Research Center, Graduate School of International Information Security, at DongguK University as well.
Questions about the AndUsChain project:
Question 1:
Iris: What is AndUsChain? Can you share with us more in detail?
Park: Andsuchain is the next-generation Ethereum that overcomes the shortcomings of Ethereum (performance, fees, inequity of mining, etc.).
The major feature is that anyone can mine at the same rate regardless of conditions such as computer power, stake, etc
Anduschain is a public blockchain platform that combines the deb consensus algorithm developed by improving the problems of the existing consensus algorithm to the Ethereum platform.
The deb consensus algorithm used by AndusChain is a consensus algorithm with fairness as its core value and allows nodes that want to mine to participate in mining without conditions
In addition, mining nodes participating in mining can get an equal chance of mining (we called it as "Fairness of Mining Algorithm").
Question 2:
Iris: What triggers you to launch AndUsChain? What are AndUsChain's unique selling points as compared to other similar projects in the industry?
Park: The philosophy and ideology of blockchain is decentralized world where we all live well together.
But looking at Bitcoin, I became skeptical about sustainable decentralization.
This triggered me to launch AndusChain to achieve sustainable decentralization by solving the problems of Bitcoin mining
AndusChain's mainet has the same goals as the Blockchain.
The goal is to transform the monopolistic economic ecosystem of the real world into an economic ecosystem in which we all share
Therefore, the main purpose is to give more new opportunities to future generations of young people and boost the low-cost startup ecosystem based on the AndusChain.
Our unique selling point is young people, for the goal of AndusChain is to boost the low-cost startup ecosystem based on AndusChain.
Thus, we continuously communicate with young people and create blockchain business with young people.
Question 3:
Iris: What is the role of the $DEB token in AndUsChain? Would you tell us more about its tokenomics?
Park: DEB is the trading(Ticker) unit of DAON, an underlying asset of AndusChain.
AndUsChain is also a public permissionless blockchain platform for decentralized P2P business ecosystem like Ethereum.
In other words, it has all the token issuing functions, smart contract functions, smart asset functions, and DAO functions Ethereum has.
In particular, AndUsChain is a blockchain based while enhanced the ability to support a convenient ecosystem for users to boost the decentralized P2P open ecosystem (DAPP ecosystem).
Question 4:
Iris: Are there any exciting news or updates with regards to AndusChain that you would like to share with the users?
Park: Yes, there are three exciting news we would like to share with the users.
First, which relates to Korea's cryptocurrency law, the actual real estate NFT business is illegal in Korea in principle.
However, we are developing a service by creating a legitimate actual real estate NFT business model, which will open in the second half of this year.
Second, we will also launch a blockchain-based virtual nation called Tamnaverse.
Third, we are making in-depth research on "blockchain artificial intelligence" that combines blockchain and artificial intelligence into one which we will announce to the world at a later stage.
Question 5:
Iris: If you were to summarize your project in ONE word, what would it be? Why?
Park: Fair, high-speed, next-generation Ethereum.
We Inherited the philosophy and ideas of Ethereum.
Maintaining sustainable decentralization characteristics, it is 20 times faster than Ethereum, and the fee is less than 1/100.
Free-asking Session
Q1. PARTNERS are the most important that strengthen the ecosystems of all projects. Could you tell us about your project partners and the partnership strategy it has adopted?
Park:
In terms of the external partnership, DAVICH Holdings Co., Ltd. is the most important partner. DAVICH Holdings Co., Ltd. is the holding company of DAVICH Glasses Chain Co., Ltd., which has the dominant glasses market share in Korea. Also, its main business is the real estate business.
DAVICH Holdings Co., Ltd. and ANDUS Co., Ltd. have completed the establishment of a joint Venture, Davius Co., Ltd. This joint venture will proceed Andus chain-based real estate NFT business. Actually, this joint venture has issued DASA token and these tokens will be used at DAVICH glasses branches as well.
Another partner is Sejong Telecom Co., Ltd. Sejong Telecom is the fourth-largest telecommunications company in Korea and Andus Chain has a strong relationship to vitalize the low-cost start-up ecosystem based on AndusChain.
Q2. How much is the total and circulation supply of your tokens?
Park:
1B , 150M
Q3. What are the advantages of AndUsChain network over other networks why should I use AndUsChain?
Park:
Andus chain is the unique fair, high-speed public permissionless blockchain.
Compared to Ethereum and it is 20 times faster than Ethereum, and the fee is less than 1/100.
Q4. When will your tokens be listed on the exchange and which exchanges do you plan to list in the future?
Park:
probit, probit global, MEXC global, cordax exchnges.
Q5. What is the meaning of the name of the project and why did you name it that way?
Park:
AndUS is a compound word for and+us thus meaning a blockchain where we all make together.
Trying to find MEXC AMAs recaps?
It's easy! Explore them in a special section of our MEXC Global blog. Find insights for other recently listed projects at MEXC like AndUsChain.
Start your travel on MEXC Global