In this Telegram AMA recap, you'll find insights about the Amara Finance(MARA) project. In an event hosted by Miranda from MEXC Global, you will meet Rachel, ambassador at Amara Finance.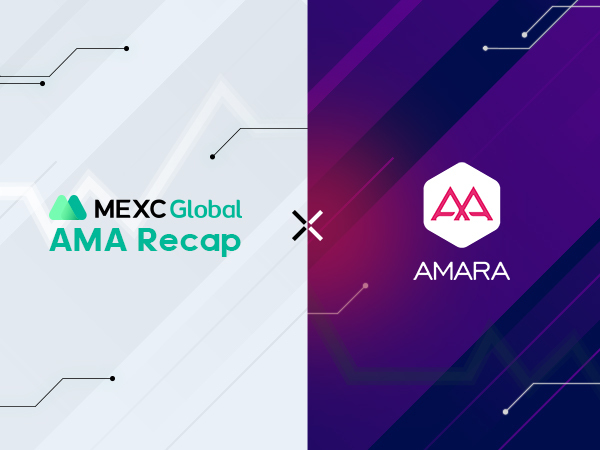 Introduction of Amara Finance AMA Member :
I am Rachel, an ambassador at Amara Finance. I am excited to be here to introduce Amara to you.
Questions from community to Amara Finance :
Question 1:
Miranda: What is Amara Finance? Can you share with us more in detail?
Rachel: Yes. Amara, or Amara Finance, is a cross-chain financial aggregator for NextDeFi aiming to be the DeFi collaboration centre.
Amara Finance has three core products, AmaraLend, AmaraLink and AmaraPay.
AmaraLend is a lending protocol about LP liquidity.
AmaraLink is a multisig cross-chain bridge based on Chainsafe.
AmaraPay is a global payment gateway protocol.
It is known that Amara Finance belongs to Polkadot ecosystem, but Amara also has the desire for multi-chain deployment.
Amara's aim is not only finding a position on Polkadot, but also introducing more assets and users into Polkadot and becoming a multi-chain DeFi collaboration centre.
Question 2:
Miranda: thanks for the details Rachel, next can you tell us what triggers Amara Finance to be launched? What are some of the real-world problems/ pain points that Amara Finance aims to solve?
Rachel: Good question. Amara is focus on DeFi. We noticed that LP is huge in scale but is called sleep asset. our aim is to release LP liquidity and improve the assets utilization. That's how Amara came out.
Of course Amara has faced many challenges during development, including technology, products and the team.
But we overcame them one by one and got higher achievements.
Personally, the biggest challenge is the consensus of the team. The team overturned the original product design once and again, just for a better Amara. The road is hard to go but is significant.
For example, our product is for DeFi 1.0, focusing on the lending of long tail assets.
But it's not enough, so we discussed within the team and came up with DeFi 2.0 or AmaraLend v2, focusing on LP's autocompound and staking for stablecoin, which will fully improve the asset utilization.
Question 3:
Miranda: What about the native token, the role of $MARA in Amara Finance? Would you tell us more about its tokenomics?
Rachel: Actually, MARA is the governance token of AmaraLend.
Users around the world can join the governance of AmaraLend by holding MARA.
Amara team seeks a decentralized governance method like DAO, aiming to build an excellent infrastructure for DeFi 2.0 with the efforts of all MARA holders.
MARA can be used for:
1) MARA holders can vote online about the LP lending market. After learning information of related assets, MARA holders can vote if the lending market of corresponding assets should be open.
2) Long-term supporters of Amara can be part of the platform governance. They will get a service reward which is from the profit of Amara.
Regarding the tokenomics, pls refer to our official website
https://www.amara.link/#tokensale-part
Question 4:
Miranda: Next do you have some exciting news or updates with regards to Defiato that you would like to share with the users?
Rachel: yes, just can't wait to share!
Our products AmaraLend and Amaralink will be launched, probably in one or two months.
And our new function Amara Stake will open for users soon, it has now finished the internal test.
And our project was selected for the KCC Unicorn Contest. The voting started one hour ago and it will last for 2 days. If you are interested and believe in us, vote for us please.
Question 5:
Miranda: If you were to summarize your project in ONE word, what would it be? Why?
Rachel: I think it would be DeFi2.0
It's the name of one of our DApps, AmaraLend v2.
Just as I said before, this product aims to release LP liquidity.
In the DeFi field, interest-bearing assets like LP are huge in scale, but are called sleeping assets because there is no suitable "place" for them.
For general mining users, LP principal will be locked on DEX after yield farming, which makes the capital utilization rate of LP assets not high.
In AmaraLend v2, Amara will help users gain higher APY by putting LP to DEX automatically, getting mining reward and autocompounding the reward.
After depositing LP, users can borrow stablecoin by staking LP besides autocompound, which creatively releases LP liquidity.
So the word also represents our ambition in DeFi.
Free-asking Session to Amara Finance
Q1. Have you being audited ? Have not heard you talk about that security of funds is what every investor craves for and plans to escape incase of insecurity if funds,scams and rug pulls ? How strongly built are your security put in place?
Rachel:
Yes, we have finished the autiding.
We all konw that security is indeed a key issue that all the projects in DeFi have to face. Once there is a problem with safety, projects can be disaster.
Amara attached great importance to security, and took many pragmatic measures to ensure the security of users' assets from the very beginning.
First of all, all external DeFi protocol partners involved in AmaraLend must be reliable and time-tested protocols, such as CRV. This is also the reason why AmaraLend v2 finally plans to be deployed on BSC.
Secondly, in terms of mechanism design, AmaraLend introduces an insurance program to prevent bad debts.
Finally, reliable auditing is essential. If necessary, several auditing agencies can be invited to cross-audit the code. All Amara products will be audited before launch.
Q2. What are the steps to become a part of your community, and start getting revenues? Where do we buy, where do we sign up? This looks like an amazing project!
Rachel:
Thanks. If you want to be part of us, please follow us on
Website:https://www.amara.link/
Discord:https://discord.com/invite/rhkyBmmCBf
Telegram:https://t.me/AmaraFinance
Twitter:https://twitter.com/AmaraFinance
Medium:https://amara-finance.medium.com
We also have ambassador program, you can apply via the link:
https://docs.google.com/forms/d/1Bgob61Nt1hvrV_qNVUqCfgphhcYU-I67iC2hdmP68YU/edit
Welcome to grow with us!
Q3. Do you have a coin burn / buyback system or do you plan to increase the value of those token burn tokens and attract investors to invest???
Rachel:
Many users may concern about the burning system of MARA.
In the program of AmaraLend v2, Amara will release its own stablecoin USDA which is minted by MARA burning. For example, the value of a MARA is 5 $u, then its burning will mint 5 USDA. Increasing demand of USDA will encourage more MARA burning. That's the deflation system of MARA.