Melos Studio is a decentralized meta+music web3 collaboration platform for musicians and music creators that was founded in 2020 in Taiwan. Melos Studio is a new unique create-to-earn music ecosystem on ETH, BSC and FLOW blockchain. Whether you are casual music fans or seasoned musicians/producers, the Melos platform provides tools and features to take not only music enjoyment but also NFTs to the next level.

DAO and Community
Melos Studio community aims to promote the development of the MusicBlock NFTs. Community members are responsible for the autonomous governance of the community, such as offering proposals, voting, seeking collaboration to expand the community, maintaining fair transactions of MusicBlock NFTs, motivating creators, collectors to create, mint and trade MusicBlock NFTs.
Key Features of Melos Studio
Melos AI Music Workshop – Music NFT Creation on web3
Music NFT Marketplace – Decentralized and Top 5 of Overall NFT Marketplace on BNB Chain (BSC)
SONUS NFT – Convert PFP NFT to Music NFT
Virtual Band – Co-create with favourite artists
Melos Launch – Drop your music to Melos Studio
Music Auction – Regular English & Dutch Auction for Music NFT
DNA Tree — A diagram to illustrate the DNA structure, so when a final music piece is sold all compositors will share its value thro the NFT chain. It provides a new solution to fulfill today's lost value extraction by community mixing the original music pieces.
Melos Token
Melos is the token of Melos Studio, and distribution is as follows: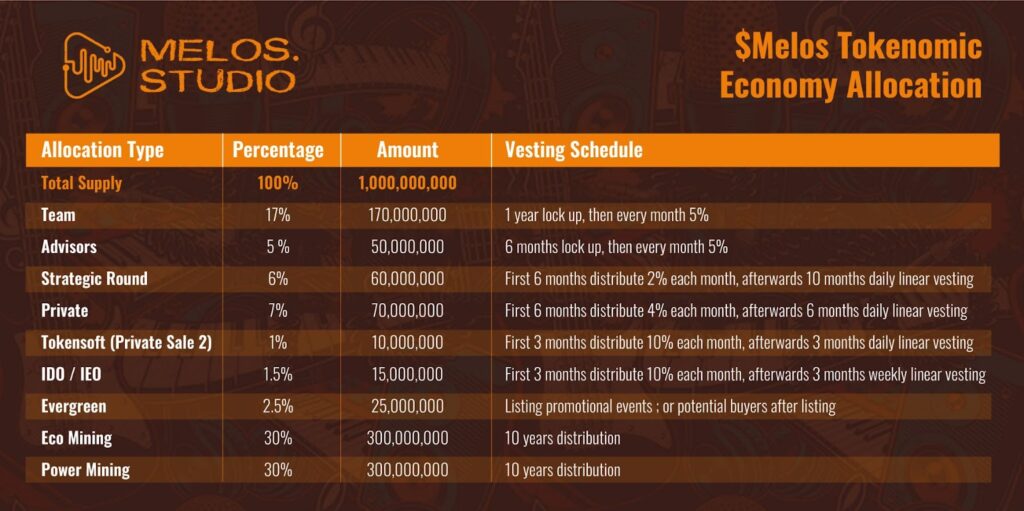 Melos token is going to be both DAO and utility token, The token has use cases such as tipping favourite artists by fans to get music NFT or other privileges in Melos Studio ecosystem, fundraising to start a new studio, and sharing of revenue generated from NFT releases. Melos Studio web3 content creation economy will revolve around Melos Tokens in the future, including filling the market niche of UGCFi. They will also be used to launch projects through only NFTs.
And for DAO community voting, there are 5 different membership levels and 3 different topics that we set for max and min voting weight and voting numbers.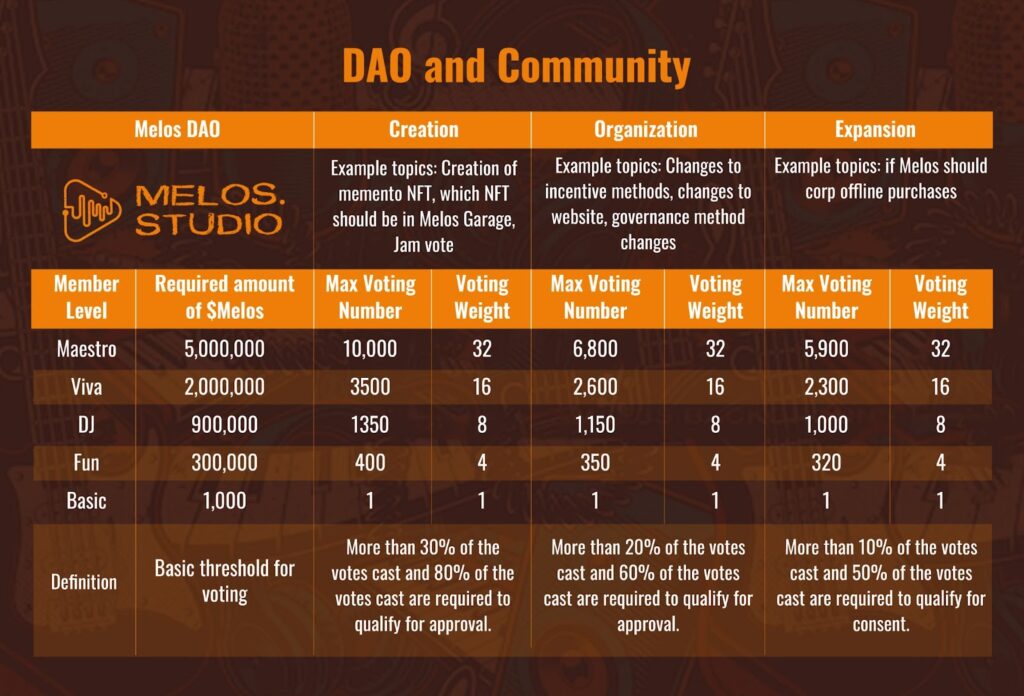 Project Highlights
Melos workshop was launched in November, where users can create music NFT by simple key inputs and Metis AI does the rest for You. The generated music NFT content can be sold on the official marketplace.
Functions on our platform are opening up, including "Workshop", "Marketplace", "Dutch Auction", "English Auction" etc. We maintain regular weekly updates to our products and platforms.
Without releasing our tokens yet, we can feel that we are receiving proof of our "create to earn" model by seeing people gaining interest in "playing with music by not just listening" on our platform.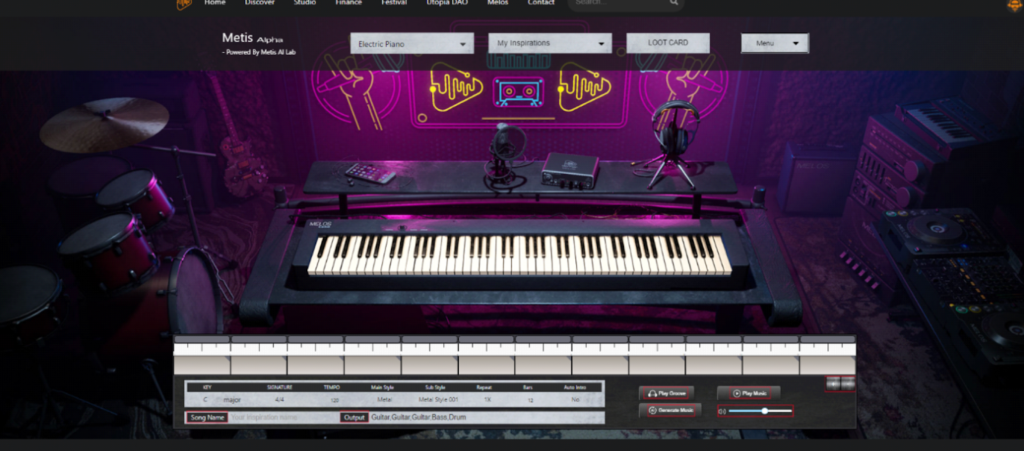 Melos Studio is the first music NFT platform to integrate the lazyminting function that allows users to create music NFTs with no gas fee until sales occur.
The team has wide resources in the music industry since it cooperated with many established artists such as Top Tiers Artists like Queen, TreySongz, MethodMan (WuTang Clan), David Bowie; besides well established artist it is also our core to support indie artist, and within last few weeks the following indie artist have signed up to the platform, such as The Same Persons, Obsidian Grey, Davis Jacob Cook,Lover Ground,Cut Rugs, YNG, Martyr, Moldova Gng, B.Smith, Caleb Brown,Composer Squad and more.

Melos is a new and unique create-to-earn music ecosystem on blockchain, The core vision of Melos is to create an ecosystem in which all fans of music can participate in the creation process and be rewarded for their efforts, From the casual music fan to the professional musician/producer, the Melos platform offers tools and features to take not only music enjoyment but NFTs to the next level.
The function of DNA Tree endows NFT recreating power and records forgers. The distribution of artists' income will be more reasonable, and the problem of all traditional companies' exclusive music copyright income could be solved. A diagram to illustrate the DNA structure, so when a final music piece is sold all compositors will share its value thro the NFT chain. It provides a new solution to fulfill today's lost value extraction by community mixing the original music pieces.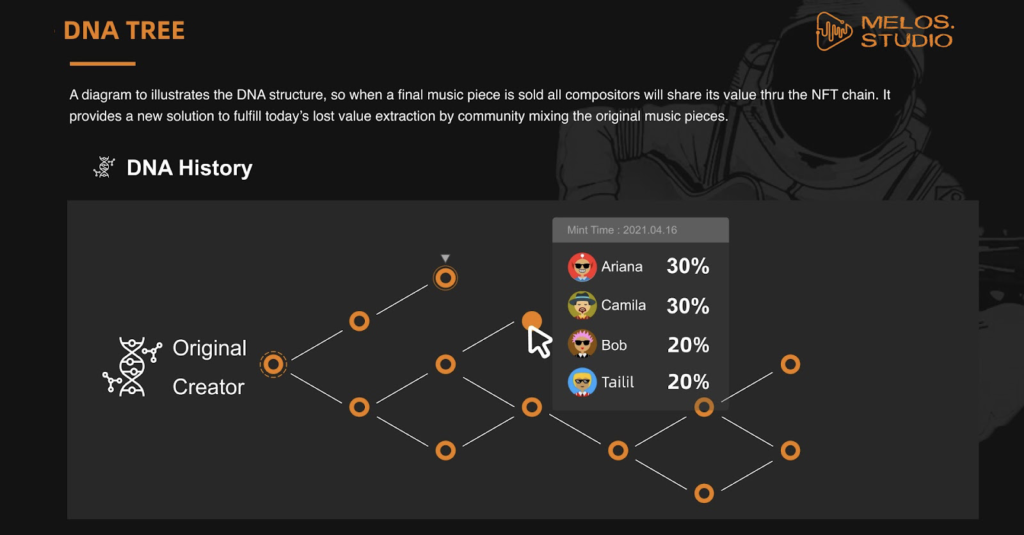 In this way, all co-creators are profit sharing, and you can see there is a new interaction between fans and creators, as the fan can also be the creator. People also see this as the github style for music creation process, this results, eventually, a democratic and transparent ecosystem between music artists and their fans.
4. Technologies and ecosystem of Melos
"NFT Forging", a new method to mix music artworks (JAM) – Unique music pieces are written into the DNA of the MusicBlock. Each DNA is carried by the MusicBlock. When the MusicBlock is forged, so does the DNA, and the scarcity and value will be inherited.
NFT + IPFS and the ongoing protocols are designed to make sure that the value of the MusicBlock NFT arts can be wide-spread and exist forever. Melos studio aims to become an incubator for music creators, virtual bands, and music studios. It supports musicians and holds music festivals, hoping to help more musicians to accomplish their dreams and create more valuable digital musical arts.
Operation "More Salt to Music": "NFT + Cash => Searching For The Sugarman". Melos plans to hide crypto assets inside MusicBlocks. It is similar to "hiding BTC in music works". Fans around the world can be part of the promotion of MusicBlock NFTs by mining BTC within MusicBlock NFTs.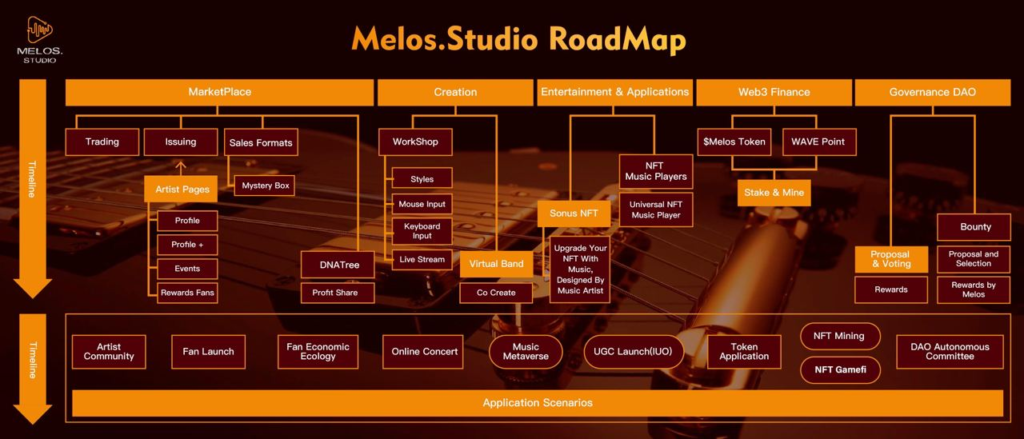 Investors of Melos
Melos Studio has attracted many strategic investments from institutional investors, such as Binance Labs, Dapper Labs, Coach K, Multichain Capital, G Crypto, Top 7 ICO, NGC Ventures, Crypto PHD etc. It sets up a Strategic Investor Program for firms, organizations, and groups that contribute strategic value to the MusicBlock ecosystem, such as technical knowledge, marketing assistance, or local connections in the crypto industry. These strategic investors also are actively helping all artists to retain and celebrate their inspiration, and to freely create, share and profit from this musical utopia.
Start your travel on MEXC Global