Kin Token (KIN/USDT – Trade it here) is a cryptocurrency built inside the social media network called Kik. It's designed as an incentive for developers to build products and services on the network.
What Is KIN?
KIN is a decentralized cryptocurrency purposely designed to integrate easily across Mobile and Web Apps, with a built-in incentive model that rewards developers for increased usage. Apps built with KIN get paid for creating compelling cryptocurrency-based user experiences, where greater engagement results in shared economic benefits for users and developers. It was initially launched in 2017 as an ERC20 token on the Ethereum blockchain, but has since migrated to the Solana blockchain, enabling consumer-scale apps to transact swiftly, with minimal-to-no fees. Today, the KIN ecosystem boasts 60+ million wallets, and has distributed over $70M in rewards across 60+ apps since its inception.
What Makes it Unique?
KIN offers the fastest and easiest path for developers to integrate cryptocurrency within their web & mobile apps, using out-of-the box OS tools & technologies along with a wide array of plug-and-play SDKs. KIN's SDKs remove the intricate complexities of cryptocurrency integration so all the developer has to focus on is creating awesome in-app experiences where users can earn and spend their KIN tokens. Designed for mainstream adoption, KIN removes the hurdles facing developers to provide a quick, easy & intuitive cryptocurrency development experience.
The distribution and algorithmic logic of the Kin Rewards Engine is overseen by the Kin Foundation, a non-profit organization based out of Ontario, Canada. Undistributed Kin is held in an institutional-grade treasury that is controlled via a series of vesting periods, inflation guidelines and fiduciary custody controls that ensure the safe transfer and proper use of funds. No more than 10 trillion Kin will ever exist in the Kin ecosystem by the end of the distribution period, the large supply meant to allow mass adoption by users around the world while still transacting in whole-number denominations, as opposed to decimal places.
KIN Token
KIN was initially launched as an ERC20 token running on top of the Ethereum blockchain and tasked with supporting all economic activities within the KIK ecosystem. This was followed by the incorporation of a custom Stellar for the purpose of ensuring easier scaling and the removal of fees from the transaction system. Finally, in March 2019, the KIN token was set for the migration from the ERC20 standard to its own native blockchain. The swap will take place until June 12th, with the users being eligible for the automatic swap if they have earned their tokens through the ecosystem apps. Otherwise, the swap will take place automatically once the apps migrate to a new platform.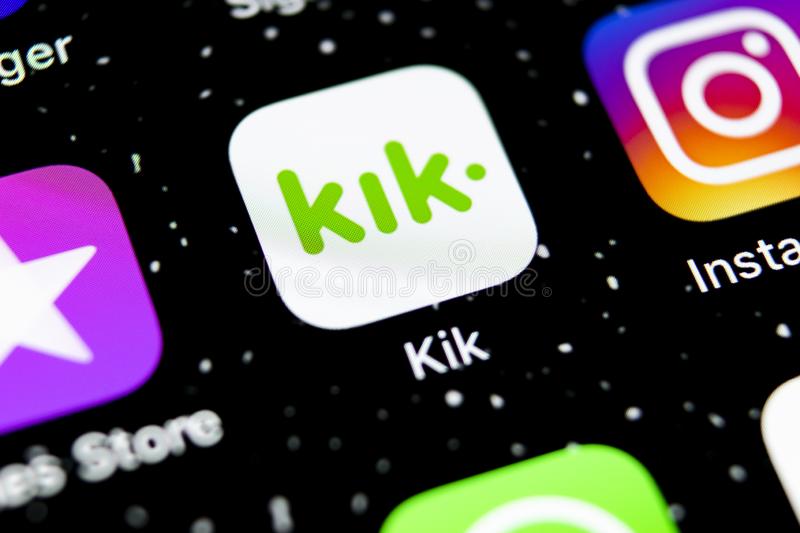 Earning KIN is mainly done by participating in the KIK network. The users can earn tokens by creating or curating content, as well by offering digital goods and services to other members of the Kim community. Once acquired, the tokens can be spent on the products and services and other valuables offered by the community members. Digital services include chat, payments and social media activities. Based on this, the KIN ecosystem hopes to establish itself as the solution of choice for the following groups of users:
Various top rated professionals, experts and celebrities can create exclusive groups on the Kik platform and charge KIN for being allowed to access these. Acquired tokens can be used as compensation for their time investment and participation.
Users are free to create premium content and put it behind the paywall involving the use of the KIN tokens. By being compensated in KIN, the users may be incentivized to go the extra mile in creating more quality content.
The same goes for brands – they can use KIN to provide compensation to the users in exchange for their participation in various surveys related to their products.
Users themselves can pay KIN to have their in-group messages receive special treatment in groups, in the form of shoutouts. There is also an option for the users to pay tips in KIN to their favored content creators in KIK.
Finally, bots can be monetized to perform services, such as food ordering, in exchange for payment in KIN.
Interested in GEMs like KIN?
MEXC lists new high-quality projects with speed of light, keep an eye on our listings – we have more great projects to come! Moreover, visit altcoins category to find more tokens that we listed already. If you would like to know more about crypto trading itself visit MEXC Academy.
Start your travel on MEXC