From MEXC's overall trading data of spot trading, ETF trading and futures trading, the most popular mainstream tokens are BTC, ETH, XRP; other popular tokens are JASMY, OLE, BNS, SKOLL, CAW, PTR, NXD, CENNZ, CEL, CULT, SHIT and MX.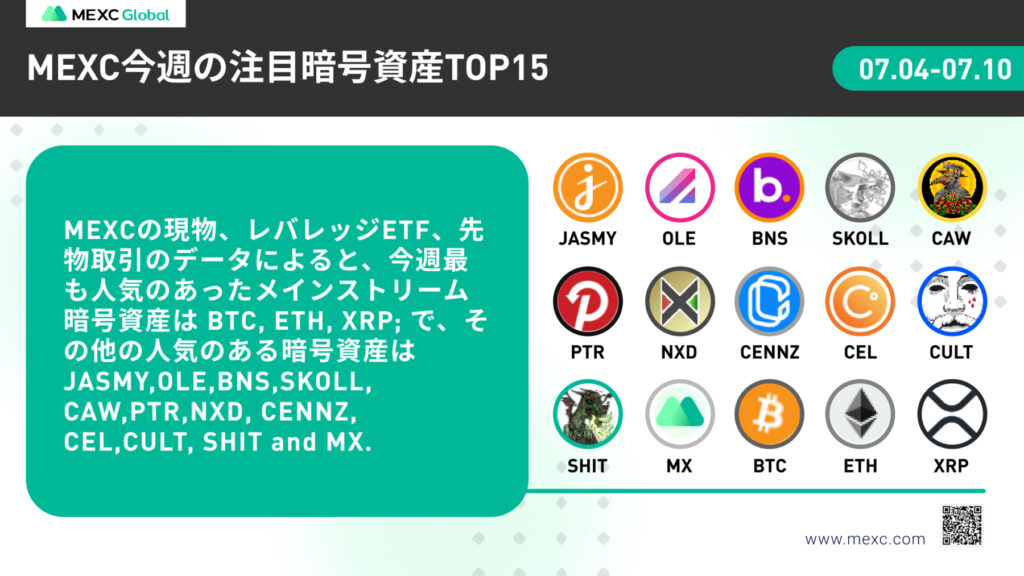 Jasmy(JASMY) is an IoT platform company on a mission to provide the infrastructure which allows anybody to use data safely and securely. In order to achieve this, we are currently developing and providing the "Jasmy Platform".
OpenLeverage(OLE) is a permissionless margin trading protocol that enables traders or other applications to long or short any trading pair on DEXs efficiently and securely. OLE is the utility and governance token for OpenLeverage. Users who hold and lock OLE will be eligible for a wide range of benefits including governance over protocol decisions, reduced trading fees, boosted lending rewards, and many other benefits.
Bitbns(BNS) is India's largest cryptocurrency trading platform. The brainchild of three founding partners, Bitbns quickly attracted over half a million users within a year, thanks to its ever-evolving innovative approach at making cryptocurrency trading in India, an easy job even for beginners.
BNS is an upcoming multi-protocol utility token by Bitbns, which aims at enabling general masses to use cryptocurrency just like they use FIAT currency in day-to-day transactions. Beyond founding the basic utility of a cryptocurrency as money, BNS would also be capable of being used in complex operations like Banking, Loan Disbursals, Cryptocurrency Investments, and more.
Hunters Dream (CAW) is a decentralized algorithmic stablecoin payment network. Currently, this project belongs to the meme track, and it neither has any official website, whitepaper nor social media. However, it had a rather high popularity in the community at that time, and its nature is somewhat similar to the early SHIB.
PayTurn(PTR) is a NFT property based metaverse platform which uses the blockchain technology. This takes on a positive role of lowering the entry wall by allowing users to easily experience the virtual reality and metaverse through self-developed advanced VR(Virtual reality). Furthermore establishes a metaverse ecosystem that leads a virtuous circle between ecosystem members such as various companies, developers, users and so on.
Nexus Dubai(NXD) is in partnership with various companies in the UAE, can be used in many retail stores, restaurants, etc., mainly in Dubai and Abu Dhabi. Stores can also become members without having to spend a large amount of money to install the system as is usually the case Nexus Token is a bridging multi-network token that supports various networks.
CENNZnet (CENNZ) is a public blockchain network that provides platforms for decentralized applications (dApps). It aims at being the user-friendly dApp platform that makes it possible for new developers and general end-users to have an easy blockchain experience. CENNZ is one of the native tokens of the network, which uses a unique dual token system. It serves as the staking token which works separately to block rewards. That is to say, the price of CENNZ may have the potential to increase and remain unrelated to the amount developers and users pay to use the dApps.
Cult Dao(CULT) seeks to fast forward the collapse of the global economic order and to fund the revolutionaries seeking the same goal. CULT is the tradable and liquid token of CULT DAO, transacting CULT will contribute to the protocol by filling the DAO treasury slowly, to fund investments into decentralised technologies. This is achieved due to a 0.4% collection on all CULT transactions.The top 50 CULT stakers are The Guardians.
Celsius (CEL) is a banking and financial services platform for cryptocurrency users. The network is an interest income and lending platform that hopes to outperform traditional banks and provide transparent financial services, quick transactions and equal access to users. Loans from Celsius are asset-backed to ensure the safety of the fund, while returns on savings and deposits are relatively higher. CEL, as the native token of Celsius platform, bring potential earning opportunities for holders and platform users through staking, loan payment discounts, etc.
ShitCoin (SHIT) is a community hotspot NFT with novel gameplay. It has been in the top 10 of Opensea's leaderboard for several consecutive days. Its content is a pile of shit. Its core concept is to challenge the previous BAYC and Azuki: everything is shit. ShitCoin expresses its dissatisfaction with the market in a sarcastic manner, and its launch has aroused great emotional resonance among the crypto market and users.
The ShitCoin team leveraged its excellent marketing and roadmap delivery strategies to rank among the top three NFTs on OpenSea in terms of price and transaction volume within a week. Its governance token SHIT has a total supply of 100 trillion, of which 39.05 trillion will be airdropped, 25 trillion will be transferred to the Vitalik wallet address. ShitCoin (SHIT) achieved its highest gain of 1488% within 3 days of its listing on MEXC, which gained itself a lot of attention in the market.
It is reported that ShitCoin first-generation NFTs include "I will poop it" NFT, Genesis ShitBeast and ShitBeast. Among them, "I will poop it" NFT has a total supply of 10,000. It was minted for free at first, and then its highest floor price exceeded 1.45ETH. Genesis ShitBeast has a total supply of 3,900, with its highest price exceeding 3.4ETH. Also, when every two "I will poop it" NFTs synthesize into one Genesis ShitBeast, 100 million SHITs will be generated at the same time. ShitBeast has a total supply of 6100, and it can be obtained by minting. Its highest price has exceeded 1.15ETH. Genesis ShitBeast and ShitBeast can not only be staked to obtain SHIT, but also upgrade into a phase-3 NFT through a bathroom cleaner (a synthetic potion).
ShitCoin's performance is relatively outstanding, as it only took a short time to complete a blue-chip NFT lifetime. From "shit", blue-chip to brand IP, and then to the mutual growth and success between its token and NFT, the planning of the third-generation NFT and X to earn still leaves a huge space for the market to imagine as it holds the network traffic and topic of interest.
About MEXC
Established in April 2018, MEXC Global is a digital asset trading platform with over 7 million users, which offers users one-stop services, including spot, margin, leveraged ETFs, derivatives trading and staking services. The core members of the team come from international enterprises and financial companies and have experience in blockchain and financial industries.
Start your travel on MEXC Global