From MEXC's overall trading data of spot trading, ETF trading and futures trading, the most popular mainstream tokens are BTC, ETH,XRP,MATIC and SOL; other popular tokens are SWP, S2K, RVLT,EVMOS,TSUKA,AZERO, SHIB, LUNC ,SHIT and MX.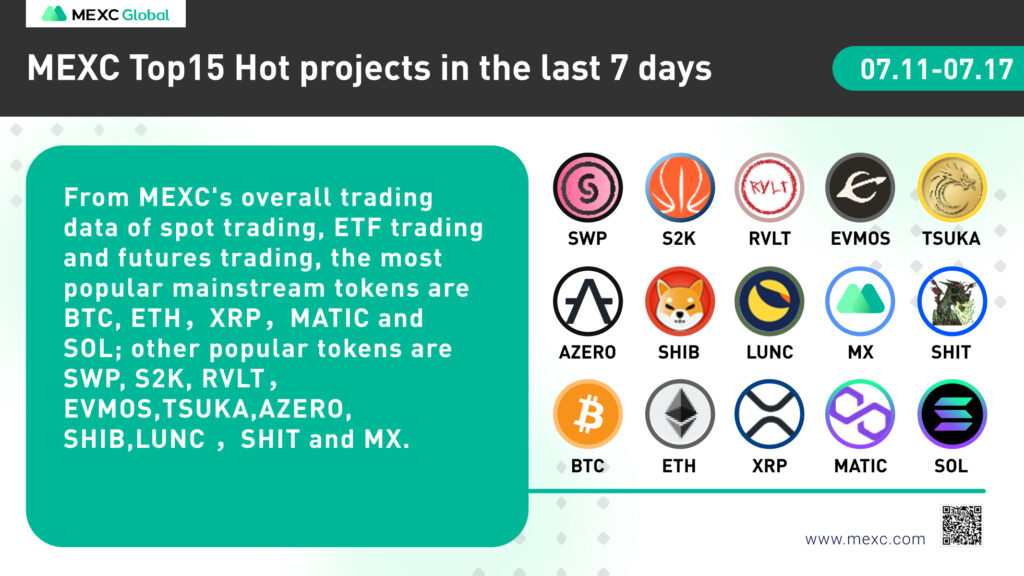 StepWatch(SWP) is a WEB3 fitness and health tracking mobile application that incorporates NFT Move-To-Earn and social networking elements. StepWatch launched on the 17th of May, 2022. It is a place where users can get rewards through walking, jogging and gym.Users need a free Watch to participate in the Platform, or to purchase an NFT watch first. Walking, running, and physical training can then enable them to obtain Cryptocurrency and other NFTs on the Platform. The earned items can be used for in-platform activities or traded on the platform.
StepWatch recently has built strategic partnerships with Sunmiya Club, Game Tree (Black Squad Classic NFT) , TOXIC APE and Polygon Studios.
Sports 2K75(S2K) is a Web-3 based Sport-Fi Metaverse, combined with NFTs, De-Fi and gaming platform, users stake sports matches like NBA, Soccer, Esports with B2E gaming platform.Sports 2K75 has five categories of sports to stake, NBA, Soccer, Football, Baseball and eSports,and two ways to play: Sport to Earn with stable odds, and PVP mode with real time odds.After listing on MEXC, S2K has reached the highest yield of 1700%, and has 850% yield yet.
Revolt 2 Earn(RVLT) is CULT DAOs first ecosystem token, and has been built on the Polygon network as a Polygon POS token with 0.4% taxation.Whereas CULT works to fund protocols furthering decentralization, RVLT seeks to support the individuals who are working towards the same goal.
Evmos(EVMOS) is an Inter-Blockchain Communication protocol, a.k.a. IBC; the IP layer for blockchains. IBC is currently the safest and most secure and decentralized way to move assets across different blockchains, unlocking interoperability across multiple chains.Evmos leverages the Cosmos SDK serves as the first IBC-compatible EVM-based chain, bringing composability, interoperability, and fast finality to Ethereum.
Dejitaru Tsuka (TSUKA) is a decentralized community that is centered around meditation, reflection, and research. Tsuka encourages positive community sentiment through the study of philosophical, meditative, and spiritual ideas.
Aleph Zero (AZERO) is a privacy-enhancing, Proof-of-Stake public blockchain with instant finality. Its enterprise-ready, high-performance network is built on a novel, Directed Acyclic Graph (DAG)-based consensus protocol that has been peer-reviewed and presented at an ACM conference. Aleph Zero uses the DAG as an intermediary data structure, but can still be categorized as a blockchain. To date, Aleph Zero raised $20 m for continued development, integrating with the Substrate stack, and expanding the team.
Shiba Inu(SHIB) is a meme token created anonymously in August 2020 under the pseudonym "Ryoshi." This meme coin quickly gained speed and value as a community of investors was drawn in by the cute charm of the coin paired with headlines and tweets from personalities like Elon Musk and Vitalik Buterin. Shiba Inu aims to be the Ethereum-based counterpart to Dogecoin's Srypt-based mining algorithm.
Terra Classic(LUNC)Terra Classic is a blockchain protocol that uses fiat-pegged stablecoins to power price-stable global payments systems. Terra stablecoins offer instant settlements, low fees, and seamless cross-border exchange – loved by millions of users and merchants. Terra aims to make its stablecoins available to every developer on every blockchain.
ShitCoin (SHIT) is a community hotspot NFT with novel gameplay. It has been in the top 10 of Opensea's leaderboard for several consecutive days. Its content is a pile of shit. Its core concept is to challenge the previous BAYC and Azuki: everything is shit. ShitCoin expresses its dissatisfaction with the market in a sarcastic manner, and its launch has aroused great emotional resonance among the crypto market and users.
The ShitCoin team leveraged its excellent marketing and roadmap delivery strategies to rank among the top three NFTs on OpenSea in terms of price and transaction volume within a week. Its governance token SHIT has a total supply of 100 trillion, of which 39.05 trillion will be airdropped, 25 trillion will be transferred to the Vitalik wallet address. ShitCoin (SHIT) achieved its highest gain of 1488% within 3 days of its listing on MEXC, which gained itself a lot of attention in the market.
Ethereum(ETH)is a decentralized open-source blockchain system build by Vitalik Buterin. It allows the operation of smart contracts and Dapps. As the second high market value asset, ETH2.0 network upgrade has become the focus in 2022.Ethereum will switch to proof-of-stake(PoS) with its Ethereum 2.0 update.This will not only change the infrastructure but also improve the efficiency a lot.It is reported that Ethereum developers plan to merge ETH 2.0 on September 19.
About MEXC Global
Established in April 2018, MEXC Global is a digital asset trading platform with over 7 million users, which offers users one-stop services, including spot, margin, leveraged ETFs, derivatives trading and staking services. The core members of the team come from international enterprises and financial companies and have experience in blockchain and financial industries.
For more information, please visit our website and blog. Follow MEXC Global at Twitter.
Start your travel on MEXC Global