Our champion Bitcoin skyrockets back up to $26,000. It was a sight last seen almost a year ago before it came crashing down to $17,000. What was the cause? Why did Bitcoin rise back up to almost 30% in the past few days?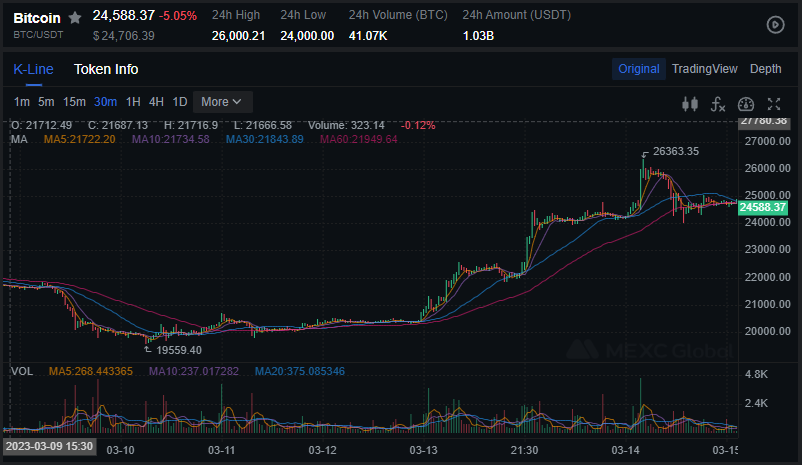 On Saturday, BTC/USDT hit yet another low. It went down to $19,000, causing worries to many traders and investors. However, we saw an amazing rebound in the past few days all the way up to $26,363.35 before cooling down. At the time of writing, it was hovering above the $24,000 range. Here are a few factors that could explain why Bitcoin skyrockets.
The Silicon Valley Bank's Fiasco
Last week, Bitcoin encountered price uncertainty due to the potential collapse of its major banking partners in the crypto industry. They are Silvergate, Signature Bank, and Silicon Valley Bank. Unfortunately, on Thursday, Silicon Valley Bank was seized by the FDIC following a massive $42 billion bank run. This became the fuel for Bitcoin's decline and the destabilization of USDC.
However, the Federal Reserve stepped in and provided a major relief to crypto firms on Sunday. This includes Circle, BlockFi, Ripple, Pantera Capital, and Yuga Labs, which had exposure to Silicon Valley Bank. The Feds also assured the public that it would fully bail out all of the bank's depositors without any expense to taxpayers. After the announcement and President Biden's speech, BTC began moving upwards. This move symbolizes Federal Reserve's plans to inject more money into the economy. Ultimately, it leads to higher prices for risk assets such as stocks and crypto.
Binance Converting $1 Billion BUSD into BTC and ETH
It is suspected that Binance, the world's largest crypto exchange, may have contributed to Bitcoin's recent surge. CEO Changpeng Zhao recently announced that Binance would convert $1 billion from its industry recovery fund. The conversion will churn into Bitcoin, Ethereum, and BUSD. He further explains that this will shield Binance from the instability of stablecoins and the banking system.
Following his announcement, Glassnode data revealed a significant influx of tens of thousands of Bitcoin being deposited into Binance. It suggests that the exchange's actions were contributing to the recent volatility of Bitcoin, in addition to macro factors.
Closing Thoughts
Bitcoin skyrockets to a new high after 9 months. We are also witnessing a lot of new traders coming into the market. As banks are failing the public, cryptocurrency might ultimately become the tool that everyone needs.
Therefore, it is high time you check out our MEXC trading page and find out what we have to offer! You can learn more about crypto industry news and interesting articles to get you up to speed with the crypto world. Happy trading!
Start your travel on MEXC Global