FTX's native token FTT is going down on a spiral and it is not stopping. On Tuesday, their price fell by 30% from $22 to a mere $15. They are now rallying at $16 USD but the overall situation is not looking good for them. You can check the live price of FTT Token right here. What exactly is happening to them?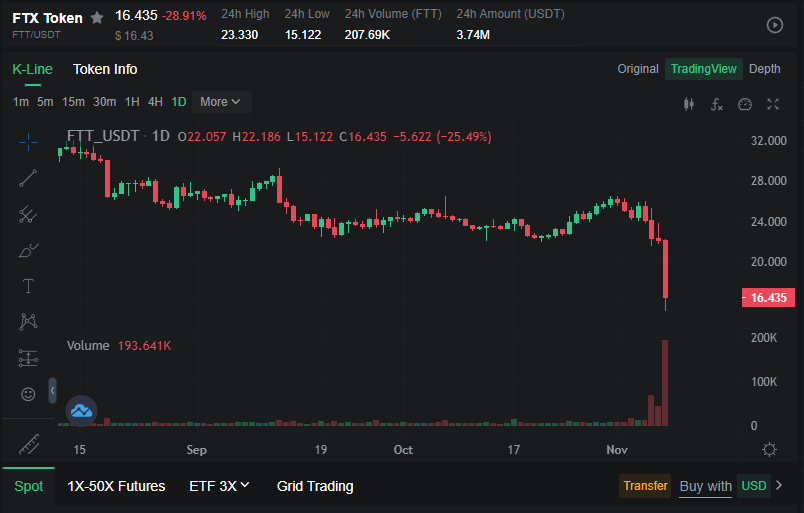 More than a year ago, FTT was sitting at $84.18 per unit. In comparison with today's price, they fell hard. It was almost 80% drop from the all-time-high, losing around 600 million in a span of 3 hours. Unfortunately, this huge drop started from a report by Coindesk. According to the report, Alameda Research is holding a huge sum of FTT Tokens. Alemeda is a giant trading firm founded by Bankman-Fried.
Of course, there is nothing wrong or illegal with it. However, it does show that Alameda is built mainly on their sister firm's coin instead of fiat or other cryptos. The company's assets were worth $14.6 billion as of June 30. Its single most valuable asset is $3.66 billion in unlocked FTT. Furthermore, their third-largest asset on their ledger is a mound of FTT collateral worth $2.16 billion. More FTX tokens can be found amid its $8 billion in liabilities. $292 million in frozen FTT and loans totaling $7.4 billion dominate the liabilities. For context, Alemeda is basically running on money printed out of thin air by their sister company.
Binance Began to Liquidate FTT
After the release of this report, Binance CEO Changpeng Zhao took it to twitter and announced that they will liquidate their remaining FTT tokens. This announcement came as a surprise, causing panic and massive FTT dump towards the market. He mentioned that it would take months to sell the FTT tokens owing to market circumstances and liquidity. However, CZ clarifies that this is not a move against their competitor. He said in his recent tweet that:
"Funny memes, media & some people tried to color this as a "fight." Sorry to disappoint, but I spend my energy building, not fighting."
In an attempt to reduce liquidation impact to the market, Alemeda CEO Caroline Elison contacted Binance on Twitter hoping to buy off FTT at $22. CZ ultimately declined, stating that they will remain in the free market. At the moment, FTT is looking grim and the community is not stopping their tracks to dump FTT tokens.
Closing Thoughts
FTX was on the path of becoming yet another giant exchange platform. This news has definitely impacted their credibility and future standings. However, nothing is certain at the moment and we shall see how they handle this crisis in the coming few days. In the meantime, stay tuned on the industry news with MEXC and check out our recent articles. We believe that an educated audience is the best audience. So what are you waiting for? Start your crypto journey with MEXC today!