The FIFA World Cup 2022 is on fire! We will be looking at the knockout stage in just a few more days. In three more weeks, fans from all over the world will gather at Lusail Stadium and witness the finals. Are you one of them? If not, are you one of the fans holding fan tokens? If you are not even holding then I suggest you quickly grab some before it is too late! Check out the best fan tokens right now!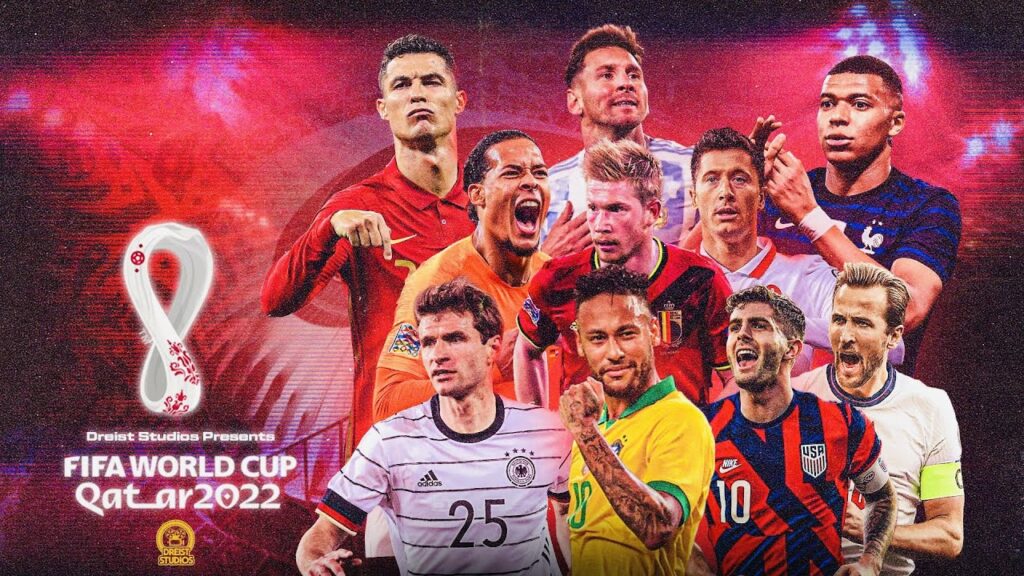 What are Fan Tokens
These fan tokens are utility tokens that your favorite sports team created. These tokens, like many other cryptocurrencies, are found on crypto exchanges such as MEXC. Typically, the organization will establish a price for the token, and its value will change based on market conditions or noteworthy occurrences. For example, if Brazil wins the World Cup, the value of their token will most likely increase as well!
You're in luck if you have a fan token! Token holders get a variety of privileges, including voting rights, special products, and VIP access to particular events. Typically, you can vote for Tour Bus designs, merchandising designs, or game venues. They may even gift you with autographed jerseys as a mark of their appreciation.
Football Fan Tokens are Dominating the Charts
Today, we will talk about the big boy football fan tokens in MEXC. Don't get me wrong, they are giants in the football world as well! They are respectively:
Spain National Football Team Fan Token (SNFT)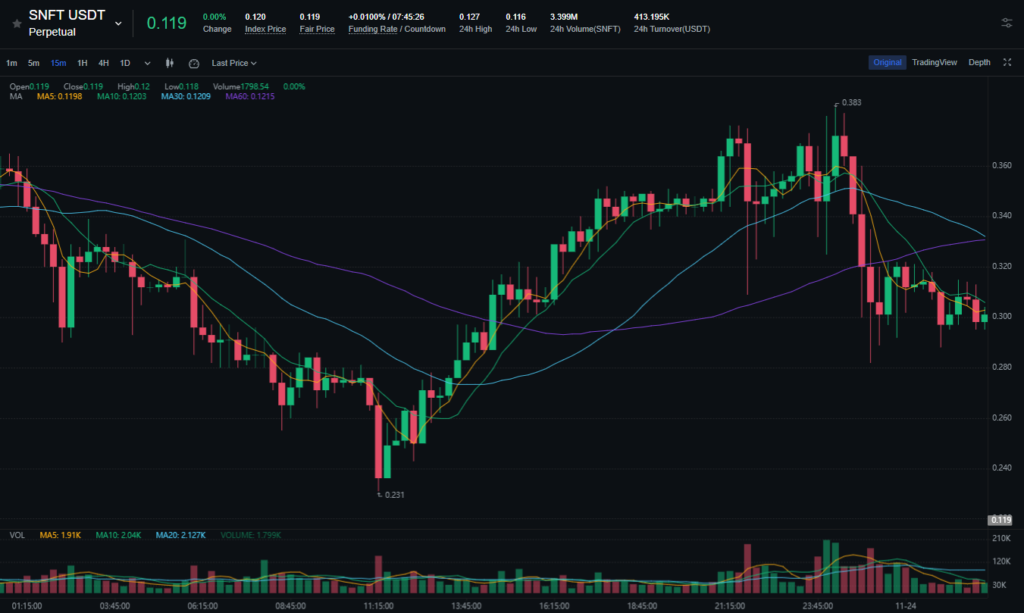 The star of the article today is the world ranking number 7, Spain. On November 23, 2022, Spain fought against Costa Rica. As you may already know, it was a landslide 6-0 victory for Spain. Additionally, it was a fantastic win for SNFT holders as well! The token price reached an all-time high (ATH) of $0.383.
It was a 35% gain with a $679,735 trading volume in just a short few hours. Furthermore, the token saw another 17.24% growth when Spain draw their match with Germany before settling down. The only obstacle left before Spain qualifies for the knockout stage is Japan, Asia's favorite team. Football analytics are in favor of Spain, and crypto analytics are in favor of SNFT. We cannot wait to see how much more will their fan token grow as the match begins!
Check out their live price and buy SNFT now!
Brazilian National Football Team Fan Token (BFT)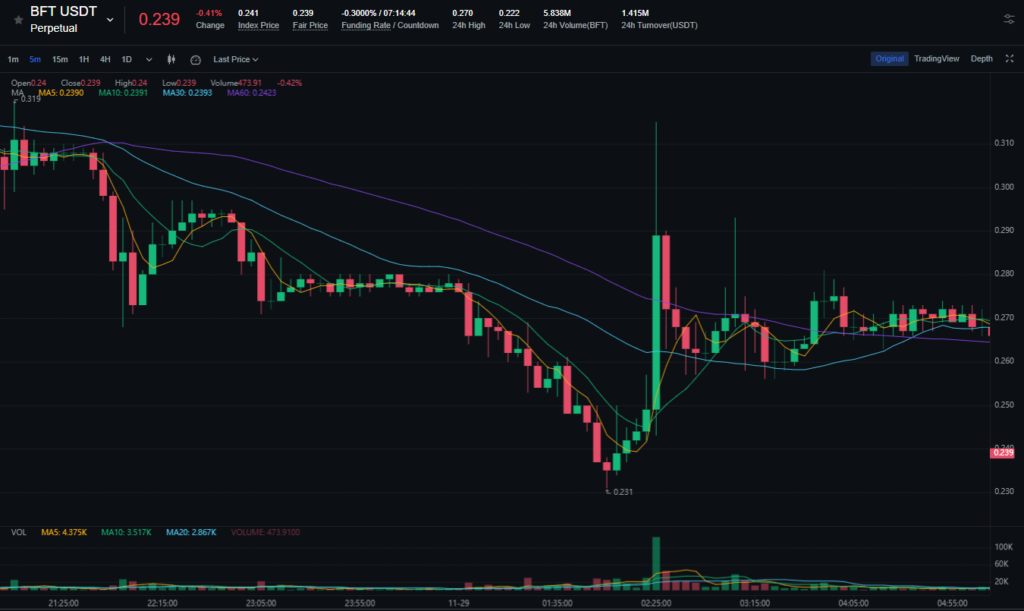 Let us address the elephant in the room. Brazil is currently ranked number 1 in the world! They are also having an undefeated streak at the World Cup group stage. With a 2-0 victory against Serbia and a 1-0 victory against Switzerland, Brazil is already set for the knockout stage.
After their victory against Serbia on November 29, 2022, their token grew by 21.9%. Brazil will fight against Cameroon soon and most believe that it will be another easy victory for them. If they manage to score a huge number of goals, we will expect to see a change in their fan token price as well.
Check out their live price and buy BFT now!
Portugal National Team Fan Token (POR)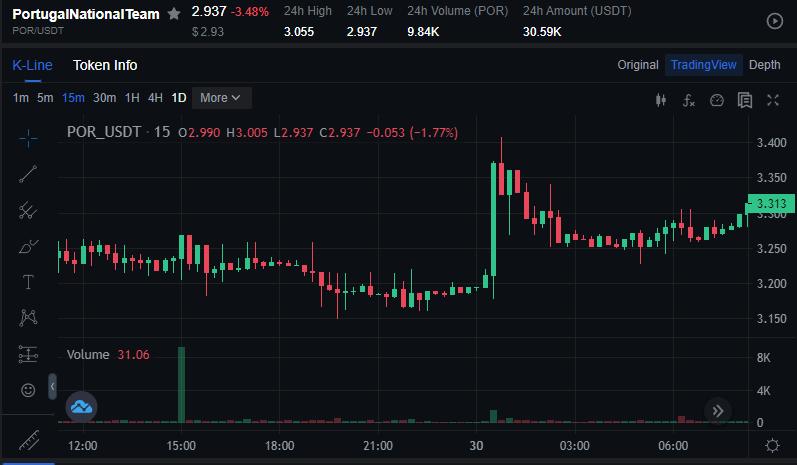 Portugal is number 9 in the FIFA world ranking. Cristiano Ronaldo, he is the number 1 fan favorite across the world. They are also dominating their group stage without a single defeat. This feat ensures their spot in the knockout stage similar to Brazil. Furthermore, their POR tokens are equally knocking out many other tokens on our MEXC trading page.
As soon as they secured their spot in the knockout stage, their fan tokens shot up to $3.373, an instant 6% growth. Currently, their price is holding at $3.313, and are one of the very stable fan tokens with lesser volatility. Of course, the reason for their stability stems from their amazing performance during the FIFA World Cup and their star player. If you are not sure which token to hold, POR might be a good choice to start.
Check out their live price and buy POR now!
Argentine Football Association Fan Token (ARG)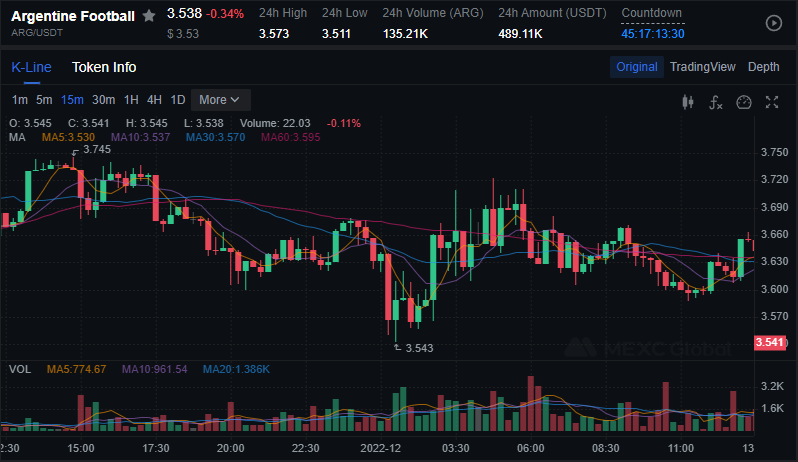 Undeniably, Argentina's lost to Saudi Arabia shocked the fans and partically crippled their token price. Before their match, ARG was trading at $7.629. After the full time score of 1-2 in favor of Saudi, their price plummet to $4.6 per unit. That was a 34.81% dip in the market. Thankfully, their swift victory against Mexico and Poland manage to calm the fan's mind and ultimately secure them a slot in the top 16.
Football critics has high hopes on Argentina. Adding on the pressure of Messi's last World Cup participation, Argentina has a lot to prove in the upcoming matches. Similary, their fan tokens have a lot to prove. Their win could not generate the much needed boost for fan tokens as they maintain on a mediocre preformance. As they qualify for the knockout stage, their token price saw a 2.6% growth, capping at $3.662 per unit. However, that is not the end for them. We will soon see them take on Australia on December 4, with hopes that there will be more matches to come.
Check out their live price and buy ARG now!
Closing Thoughts
This year, FIFA brought us many surprises. There are a lot of unexpected victory and strong teams dropping out at the group stage. For example, world ranking number 2, Belgium failed to qualify for top 16 and has to head home. 2014 World Cup winner Germany is also struggling in their group stage. They lost to Japan and drawed with Spain, placing them dead last in their group stage. Who will win the World Cup? Will Spain's fan token SNFT continue dominating the crypto market? Start trading fan tokens immediately and stay tuned to MEXC Blog and find out! We provide the latest industry news and interesting articles for your daily crypto knowledge!
Start your travel on MEXC Global