Ethereum Name Service or ENS (ENS/USDT – Trade it here) is leading the NFT market in total volume traded over the last 7 days with $7.88 million, up 201.67%. Accumulated across 23.38K total sales, up 240.01%. On July 3, the trading volume of ENS domains exceeded $3.26 million, making it the highest trading volume in the past month, and became the top of the NFT market trading volume.
For the comprehensive guide on buying ENS and other available tokens, please visit special MEXC How to Buy Guides Section.
More than 12.34K unique owners have purchased an Ethereum Name Service name, which has been popularized via top cryptocurrency and NFT figureheads and influencers adding their ENS (.eth) names on Twitter.


To date, the new registered ENS domains in July are 110,642, the total registered domains for June are 122,327.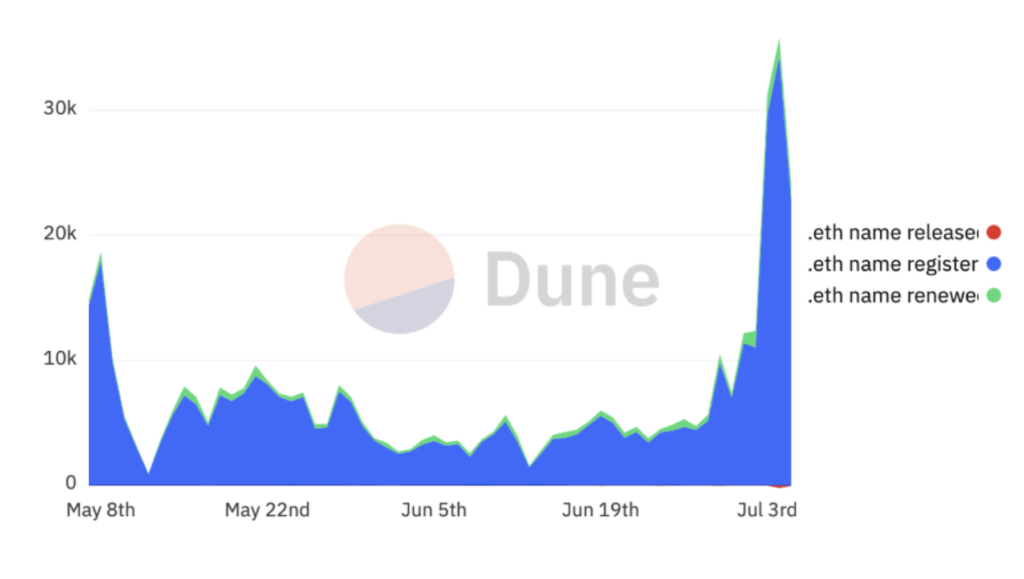 The Skyrocketing 3 to 5 Digit ENS Game
Among the tradings, the most popular domains are 3 to 5 digits domains.Some 3-digit domains sold for more than 30 ETH, the price of 5-digit domain name is around 0.045 ETH.
'000.eth' was traded with 300ETH in the last 7 days, making the second-expensive ENS domain trading record.The most expensive domain in the history is 'paradigm.eth', with a traded price of 420 ETH.
Other three to five digit domains also caused a significant spike in trading volume.Since the minimum length of the ENS domain is 3 digits, it is more expensive.'218.eth'was sold for 39 ETH,'933.eth' was sold for 35 ETH.In contrast, 5-digit domains are much cheaper and have higher volumes.'77451.eth' and '32840.eth' were sold for 0.045 ETH.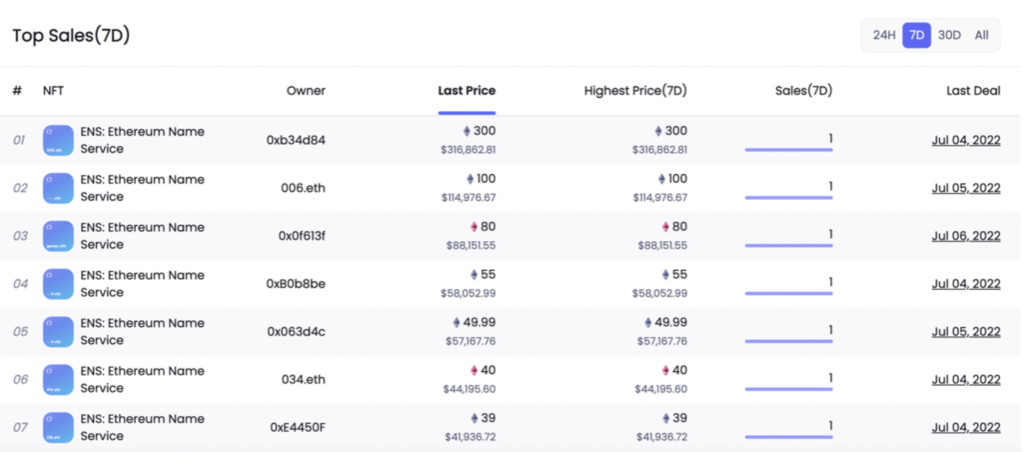 Why Ethereum Name Service (ENS) is so hot?
The total number of 3 and 4-digit END domains are 11k. The scarcity clubbed with the hype of collecting a number set stimulated a sense of FOMO in the market. Even since the fad around 3 and 4-digit END domains started, the collectors have rushed to own one of the 10,000 probable combinations. This has resulted in ENS domain sales hitting an all-time high record with floor prices of 1.2 ETH for 4 digit ENS. This resulted in the minting of all possible 3-digit and 4-digit ENS in the past week. While the floor price of ENS continues to increase, it is time to tell how long the craze will maintain its spot in the space.  
Unlike other NFTs, the supply is locked. If the best time to enter the market is missed, users can either buy with a high price or only wait. The digit ENS domain has great scalability. If users miss 3 digits, there are 4 digits, and even 5 digits. Besides, it can also be extended to 3 or 4 letters. This kind of gameplay can maximize FOMO emotion, so it will continue to attract attention.
Gas fee on ETH is only for 13 Gwei recently, therefore, it is cheaper to create new domains.Many giant whales create ENS domains and sell them.As an alternative to blockchain address, ENS domains become a cost-effective tool in a bearish market.
From web2 to web3, the value that Ethereum Name Service brings
In the early days of Web2, the URL was always a long series of numbers ,like 132.583.23.7.
In order to promote the website , an easy-to-remember domain name was developed, just like ENS domain in Web3. The ENS domain name is to solve the needs of Web3 users, the easier to remember and more distinctive domains would have higher value.
Compared with traditional domain names in the past, Ethereum Name Service domain names also have a variety of applications:
A receiving address, ENS domains are capable of receiving various crypto assets
Empower NFT. ENS domains are not only able to prove identity, but also are able to DIY. People can create and trade their own names, which makes ENS domains have the attributes of NFT creation and trading.

Identity representative. ENS domains can not only store your personal data, but can also be a business card for all digital resources.
Build communities. People with the same attributes form community DAOs, such as 10k Club.
Where will the price go, as the one most successful Ethereum application?
Like Vitalik Buterin said in an interview: "The Ethereum domain name service ENS is by far the most successful non-financial Ethereum application, and it can basically be compared to a decentralized phone book."
With the ENS domain spike, the price of ENS token also increased, up 28% in the last 7 days. Compared with NFT, the token price only had a small increase. The FOMO of ENS domains does not affect the token price that much. However, with the development of the ENS domain and its using scenarios, the ENS token will reflect the value sooner or later.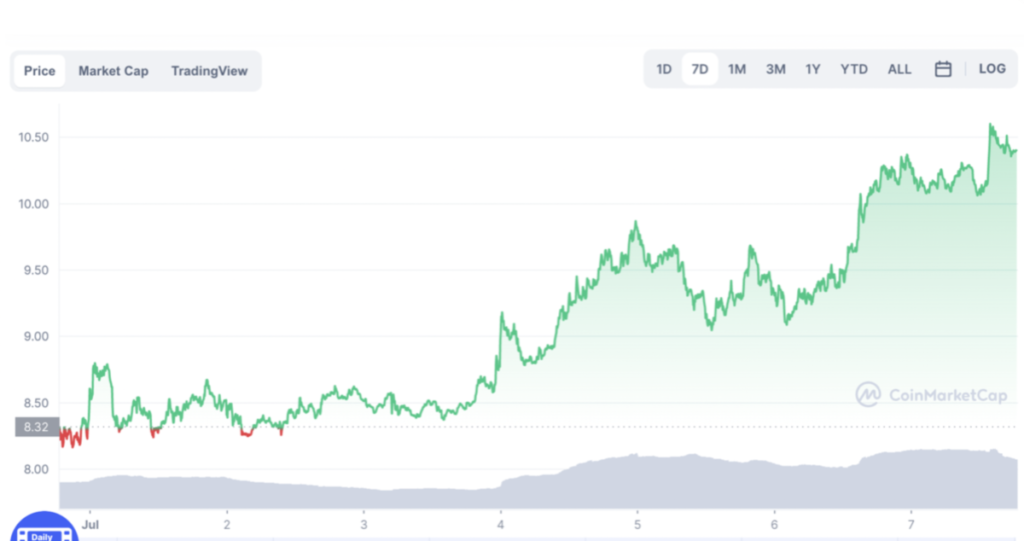 Conclusion
Ethereum Name Service is supported by the Ethereum Foundation. Long Ethereum addresses are difficult to remember and trade. However, an ENS domain can provide a better experience in the Web3 world. Additionally, ENS domain does not charge royalty fees, it is not fully controlled by a centralized entity. Eventhough, these ENS tokens are in low price, the future value depends on its mainnet development.
As of the development of Web3, some 'must need' products are gradually being noticed, like ENS domain. People start to pay attention to things that can create 'uniqueness' in a Web3 world. Uniqueness and identity are of the most important attributes in the NFT world. Many BAYC holders believe it is necessary to have a domain which is the same as their BAYC number. Therefore, they all registered ENS domains, which causes huge trading volume.We should treat it rationally and understand the trend behind it.
Start your travel on MEXC Global