We might be seeing a new CEO for Twitter very soon! On December 20, 2022, many Twitter users voted for Elon Musk to step down as the CEO of the company. Furthermore, it was Musk himself that instigated the poll.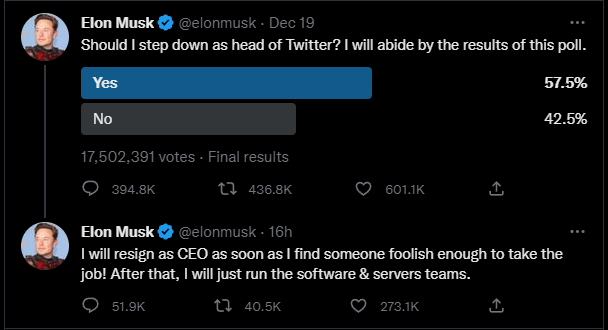 Elon Musk, the new owner of Twitter Inc was spending a huge amount of time and effort on the social media platform. However, everything will eventually end and his time as CEO will, unfortunately, end earlier. On December 19, he created a poll asking Twitter users if he should step down as the head of Twitter. He also added that he will abide by the results of this poll.
Surprisingly, 57.5% out of almost 18 million votes think that he should step down. Final results showed that more than 10 million users wanted him gone. From the looks of it, Musk was not feeling salty at the results. In fact, he is sticking to his promise and announced that he resign as CEO. Instead, he will focus on running the software and servers team. Meanwhile, he will maintain his CEO position until he found someone "Foolish Enough" to continue the head role for Twitter.
After informing his resignation, many big-name users came to share a piece of their opinion. For example, Binance's CZ hopes that Musk could stay his course and continue what he is doing. Ethereum's Vitalik Buterin also chimed in saying that he respects Musk for staying true to his promises. Meanwhile, Dogecoin's price immediately saw a decline of 5% and is now trading at $0.0731533.
Closing Thoughts
Some people are glad that Musk will no longer be the CEO while some are sad that he is leaving. However, let's keep in mind that he is only resigning as the CEO. Ultimately, he is still the owner of Twitter and he is not going anywhere. It is most likely not a big issue as he can still tweet excessively and make changes to policies. We are already looking at big changes in Twitter in his two months tenure as CEO. He fought with Apple Inc, reinstated Donald Trump, and many other changes. What will happen after he leaves the CEO position?
We shall find out soon. In the meantime, check out our MEXC trading page and find out what we have to offer! You can learn more about crypto industry news and interesting articles to get you up to speed with the crypto world. Happy trading!