DeGods is a deflationary Solana NFT project featuring a digital art collection of 10,000 colorful, virtual gods, each one creatively attired. Born in March 2021, it first appeared on Twitter. The concept introduced was that of a deflationary NFT, innovatively using game theory to provide a unique experience. It's a collaborative project that has been supported by developers, artists, athletes, and an eclectic assortment of others. This article explores the core features of DeGods and how one can purchase DeGods NFTs by first purchasing SOL as a base token on the MEXC Exchange.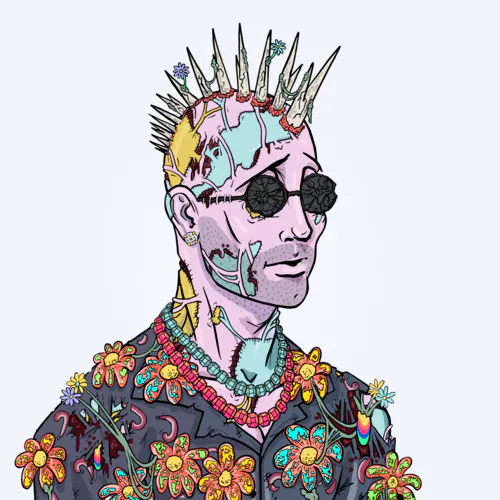 What is DeGods?
DeGods is an NFT brand on the Solana blockchain powered by a deflationary collection of 10,000 DeGods and the DUST Protocol ecosystem. As the core of the DeGods project, on top of being the genesis collection, DeGod NFTS will likely grow in value and bring the highest rewards compared to other DeDAO assets over time.
While there were exactly 10,000 DeGods initially, the total number in circulation is now lower due to the burning mechanism, which makes it deflationary. This is because holders can burn a DeGod to earn $DUST.
What is DUST Protocol?
DUST Protocol is the fuel that powers the entire DeGods ecosystem through $DUST, a Solana-based (SPL) token, which can be generated by either staking a DeGod or burning it. $DUST is intended to have no economic value, per se, but it will have a wide array of utilities not only within DeGods but also in other projects across the Solana ecosystem.
The existing utilities of $DUST include:
Enable a DeGod to transcend (mutate) into a DeadGod.
Participate in DeDAO raffles and auctions for exclusive whitelist spots, NFTs held in the vault, and others (see DUST Store).
The token will have a maximum supply of 33,300,000 and undergo three halving periods, each of which will reduce the emissions (AKA, the staking rewards of holders) by 50%.
DUST tokens enable DeGods NFT holders to generate income from their collections. Specifically, holders can receive up to 10 tokens daily, supporting a passive income stream.
What is DeadGods, and how to turn DeGod into a DeadGod?
DeadGods are the mutated versions of DeGods, having their artworks enhanced while retaining exactly the same traits, so rarity is unaffected. Holders can acquire a DeadGod by either buying it from secondary marketplaces or transcending their DeGod.
When holders burn these NFTs through a special process, the NFTs don't disappear. Instead, they're converted into DeadGods. The conversion of DeGods into DeadGods is completed with StarDust, which is available for 1,000 DUST tokens. Remember that DeGods holders can accumulate 10 DUST tokens daily.
DeadGods have a one-to-one ratio with DeGods, which means that there's one DeadGod for every DeGod. Only 10,000 DeGods are in existence. Once NFTs are burned by their owners, the rarity of these NFTs increases — and in turn, their value. It's important to note that DeadGods are upgraded DeGods, rather than part of a new NFT collection. The benefit of burning these NFTs and turning them into DeadGods is the ability to obtain double DUST tokens. The holder then has access to both the DeGod and DeadGod images.
How to buy DeGods?
To purchase DeGods, users should first purchase SOL on MEXC Exchange following the steps listed below:
Log in to your MEXC account and click [Trade]. Click on [Spot].
Search "SOL" using the search bar to see the available trading pairs. Take SOL/USDT as an example.
Scroll down and go to the [Spot] box. Enter the amount of SOL you want to buy. You can choose from opening a Limit order, a Market order, or a Stop-limit order. Take Market order as an example. Click [Buy SOL] to confirm your order. You will find the purchased SOL in your Spot Wallet.
After purchasing your desired amount of SOL, you can send them to your Solana-based wallet and then purchase DeGods on OpenSea.
Recent DeGods Price & Performance
Over the last 90 days, the collection DeGods has had an average price of 9.4735 SOL and an average transaction volume of 7,114.6226. In September 2022, DeGods accumulated a total transaction volume of 955,500 SOL.
Interested in buying NFTs? We have more!
MEXC not only provides access to the world's most popular tokens and new GEMs but also offers unique assets & tools! Visit the hot projects section to find more hot tokens that were listed already. If you would like to know more about crypto trading itself, visit MEXC Academy.