On November 20, independent crypto data provider CoinGecko released a report on what countries are impacted by the failure of FTX. In case you don't know, FTX International is the one exchange that filed bankruptcy, not FTX US. Most of the users of FTX International are located in Asian countries, therefore they are impacted the most compared to other countries.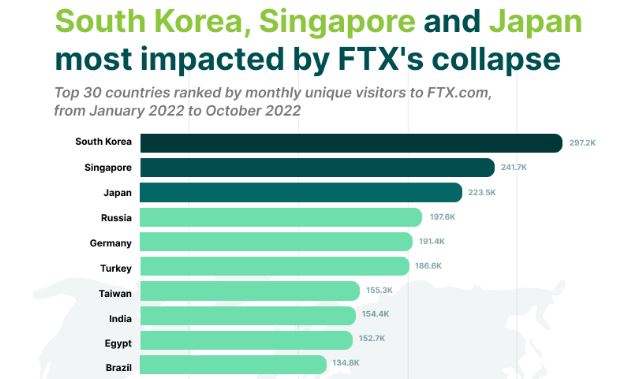 The CoinGecko report ranked the top 30 countries most impacted by FTX by monthly users instead of the amount of money users lost in each country. The research shows that South Korea, Singapore, and Japan were the most impacted countries, with a combined 15.7% traffic share to the exchange.
According to CoinGecko, South Korea had the greatest monthly user count, with the largest traffic share of 6.1%, or an average of 297,229 unique monthly visitors to the exchange. The Digital Asset Basic Act, a project that the South Korean government is planning to roll out for crypto regulation.
Singapore came in second on that list, with 241,675 monthly users, or 5% of FTX's total traffic. The article stated that a switch to FTX occurred as a result of Binance's closure in Singapore in December 2021. Japan had the third-largest user base, with 223,513 unique customers from that nation accessing FTX on a monthly average. SoftBank, a major Japanese FTX investor, committed a $100 million investment earlier this year. Taiwan and India were also among the top ten, and more than 25% of FTX users came from the top 15 Asian nations.
Closing Thoughts
As the fear of FTX contagion continues, the crypto market today has been in the red zone. At the time of writing, Bitcoin price is at $15602.4, 3.22% down in 24 hours. Additionally, the price of Ether is at $1082.6, which is a 4.25% decrease in a day. Along with that, many other altcoins are in the red zone as well. The bear market may have just started as we are getting close to the end of 2022.
Interested in staying tuned in the crypto market? Do check out our daily industry news! Don't forget to do your own research before trading. MEXC Global is here for you to provide a smooth trading experience with low fees!