Cloudname (CNAME Token) allows its users to trade in webpage domains and build up a passive income stream. CNAME was listed at MEXC Global.
Domain Trading
Domain trading is the exchange of website domains, usually with the clear purpose of earning a profit or holding domains as part of an investment portfolio. Domain trading as an investment falls into two broad categories:
Short-term trading: this is also called 'flipping'. It involves trading domains like any other commodity or assets like shares or a house. The investor buys a domain for a low price, builds it up through SEO methods and then sell it for a profit. Some popular domains have sold for millions of dollars.
Long-term trading is for investors with a long-term plan in mind. Such investors buy domains with a target of selling them after a year or 5 or 10 years at a significantly higher price. This strategy allows investors to build their investment portfolios with a perspective of creating a passive income stream, developing an income or having assets as an emergency fund.
Domains for cryptocurrencies are also NFTs as they are unique and non-fungible. They also have a lot of value as they mark the digital real estate where crypto businesses carry out their operations.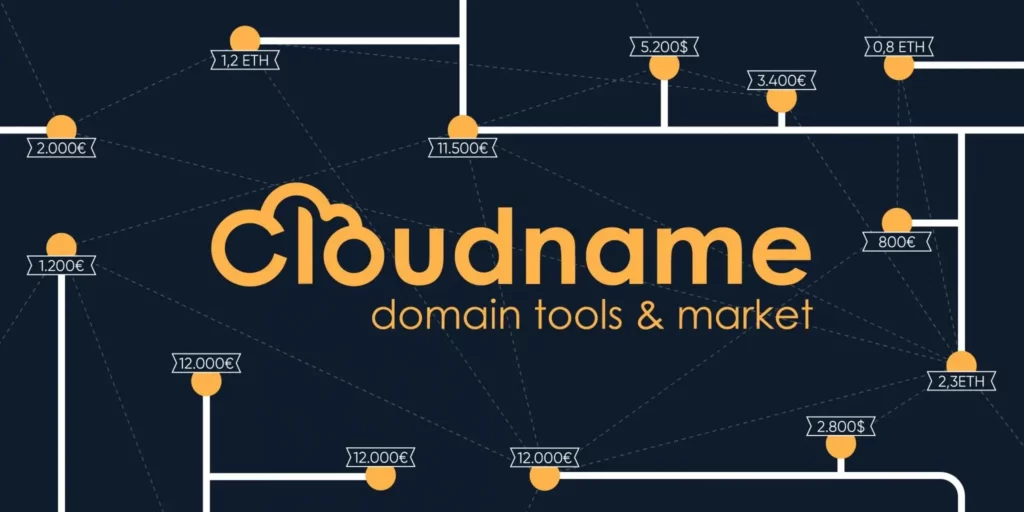 Advantages of Domain Trading
For Domain traders, crypto domains have some advantages compared to traditional website domains:
The cryptocurrency domains are also used as payment gateways for the crypto tokens.
The domains for cryptocurrencies don't require ICANN approval.
Government authorities or conventional domain providers cannot control websites that use crypto-domains.
Since the domain is an NFT, the owner has access to the domain and is the only one with ownership rights. No one else can move or seize the data.
There is no need for annual renewals. The domain is its owner forever, with no renewals needed.
Quick transfers, as blockchain domains, do not need an agent to securely exchange the domain or process the payment securely. Ownership transfer can take place in less than 1 minute.
How CloudName Helps Domain Traders
Cloudname Token Project offers the most comprehensive features and analytic tools in the domain trading market. It offers traders the facility to tokenize domain names, increase earnings, build up passive income streams and analyze market trends.
CloudName Project Token offers its members the options to:
Monitor live prices of domains to invest in, letting traders step in at the right price point.
Cloudname applies over 20 application programming interfaces (API) to assess key pricing factors of a domain.
Cloundame helps traders identify potential trends and worthwhile domains to invest in to increase return on investment.
Cloudname also offers its users the facility to build a domain portfolio by helping them
manage investments actively. Users can find domains sorted according to type, budget and earning potential in their Cloudname portfolio,
The CNAME token is an in-platform utility token that opens up a range of functions across the Cloudname platform. Users can increase their facilities based on the number of CNAME tokens in their wallets.
The CloudName Token Mission
Cloudname wants to make domain investing easy and common while bringing various services to the process. They also want to gamify the process. Some unique features offered are:
CloudName facilitates registration of all domains with zero documentation anonymously and through crypto payment
Traders can tokenize every domain without geographical limitations.
Members can identify emerging trends through CloudName's AI-based algorithms
Users can play lotteries with their domains
Investors can earn passive income from their domain investment.
CloudName Tokens (CNAME)
CloudName offers tokens through the fractionalization of any physical or digital asset into one or more tokens. Fractionalization is made possible by using blockchain technology. Cloudname lets its users tokenize (or fractionalize) domain names by using ERC-20 tokens.
This allows CloudName members to trade in domains in real-time by trading their domain tokens. If a domain is expensive, it can be fractionalized by splitting it into more tokens, and traders can buy parts of it. Advanced trading can also be done like cryptocurrencies or other financial instruments.
Cloudname secures the domain by placing it in a vault (where it be only withdrawn if all the owners agree or a single person owns all tokens). Vaulted domains are under Cloudname trustee ownership.
Looking for new crypto GEMs? Find them at MEXC Global!
Interested in altcoins or native tokens? Looking for the next GEMs after the CNAME token? You can check articles tagged with alts. New to blockchain and trading? If you want to know more about MEXC products and crypto trading, visit our Academy to learn how to start trading on MEXC Global.
Start your travel on MEXC Global