–Follow M-Research to discover early-stage projects and learn the latest dynamics of the crypto market.
*The dollar sign in this article refers to US dollars.
According to M-Research, from November 28 to December 04, 2022, 31 projects in the Web3 space raised a total of $302.1 million. Among them, Metaverse, NFT and GameFi projects have raised $29.1million; DeFi and Web 3 projects have raised $62million; The infrastructure projects raised $80 million financing.
Last week, there were several events worth noting:
MEXC is the 1st exchange to launch a zero maker fee event for futures orders to give back to MEXC's futures users.Due to recently,MEXC announced the growth of its contract business, and its average daily trading volume has reached an increase of 1,200%.
MEXC listed Across Protocol(ACX/USDT),a cross-chain bridge which supports round-trip transactions from Ethereum L1 to Ethereum L2,with the highest gain of 800%.
MEXC listed Hooked Protocol(HOOK/USDT),which provides tailored Learn and Earn products and onboarding infrastructures for users and businesses to enter the new world of web3, with the highest gain of 2400%.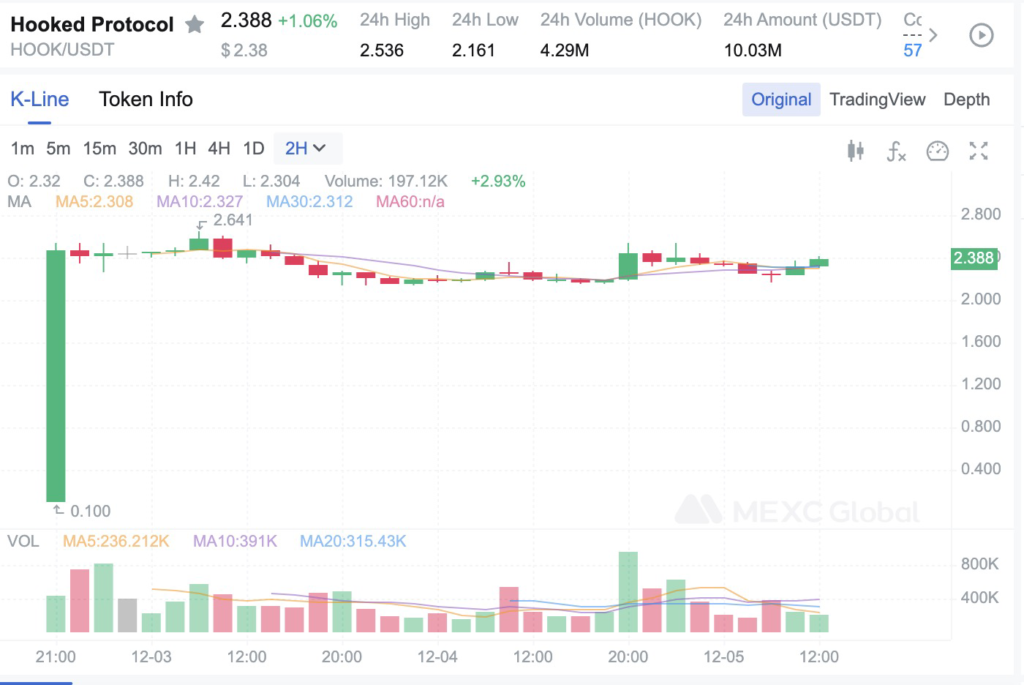 I. Metaverse & NFT & GameFi
NFT lending agreement UnUniFi Protocol completes $1.5 million in seed round, led by Gumi Cryptos Capital
Cosmos ecological NFT lending agreement UnUniFi Protocol completed a $1.5 million seed round of financing, led by gumi Cryptos Capital, with participation from Coincheck, Hyperithm, MZ Web3fund, Arriba Studio and gumi group.
The funds raised by UnUniFi Protocol will be used for continuous development and further scalability. It is planned to launch the NFTFi service with NFT mortgage function in Q4, and release the inter-chain income aggregator for automatic DeFi income, and enable the Cosmos IBC function at the same time.
A16z leads $15M round for game studio roboto games
Roboto Games, a new game studio aiming to bridge Web2 experience and accessible Web3 in-game elements, has raised $15 million in a Series A funding round led by noted venture capital firm Andreessen Horowitz (a16z), which launched its first game-focused fund in May with a $600 million commitment. The round shows that funding continues to trickle into crypto sectors despite the global bear market and the recent implosion of crypto exchange FTX and its continuing aftermath.
Web3 game development company HitBox Games completes USD 1.6 million financing, Gate.io Labs participated
Web3 game development company HitBox Games announced the completion of a new round of financing of US$1.6 million, Fundamental Labs, Gate io Labs, Master Ventures, etc. participated in the investment, aiming to support its latest Web3 role-playing game "Swords of Blood" on the Polygon blockchain.
II. DeFi & Web 3
Kraken and ConsenSys back staking platform Kiln in $17 million round
ConsenSys and the venture arm of crypto exchange Kraken have backed institutional staking platform Kiln in a €17 million ($17.6 million) round. Illuminate Financial led the equity round, which closed in October and featured participation from GSR, LeadBlock Partners, Sparkle Ventures, Alven and Blue Yard Capital.
Kiln is part of a group of service providers that has garnered investor interest by enabling institutions to tap into staking, a process of locking up crypto for rewards in return for securing the blockchain.
Finery Markets raises $5.5 million seed round,co-led by G1 Ventures, gumi Cryptos and Shima Capital
Finery Markets, a leading multi-dealer electronic marketplace for institutional participants and a trading solutions provider for crypto markets, announced a $5.5 million seed funding round today. The funding round was the first time the company received outside funding.
The round was co-led by G1 Ventures, gumi Cryptos and Shima Capital. Investors including Communitas Capital, DV Chain, GravityX, Unlimint, Daedalus Angels, oneAlpha, Floating Point Group and other industry leaders also joined the round.
Lyra Raises $3m Strategic Round led by Framework Ventures & GSR,
Lyra has raised $3m from Framework Ventures and GSR in a strategic round. Lyra will continue to work with respected and capable venture capital partners as the protocol continues building towards the vision of becoming the volatility engine that powers DeFi.
Liqwid Labs completes $2.7 million in financing,led by cFund
Liqwid Labs, the decentralized finance (DeFi) startup building the Liqwid algorithmic lending & borrowing protocol has raised $2.7 million in a seed round led by cFund, an early-stage sector-agnostic venture capital firm in the blockchain industry that is anchored by Cardano founding entity IOG and managed by Wave Financial.
Liqwid Labs is a software development firm that contributes to a set of open source libraries and products that enables lending and liquidity provision of cryptocurrency on the Cardano blockchain.
Web3 information aggregation platform Daylight completes $3 Million financing led by Framework Ventures
Daylight, a Web3 information aggregation platform, completed a US$3 million seed round of financing in May this year. This round of financing was co-led by Framework Ventures and Chapter One, with participation from 6th Man Ventures, Spice Capital and OpenSea.
Daylight allows its users to quickly and easily understand the benefits and activity information of various Web3 projects (such as airdrops, etc.) without having to keep an eye on the progress of each project.
Wanderers, a Web3 entertainment media brand, completes a $2 million seed round, led by Animoca Brands
Wanderers, a Web3 entertainment media brand, completed a $2 million seed round, led by Animoca Brands.Wanderers will use the funding to develop a video game with Blowfish Studios, due for release in 2024.
III. Infrastructure
Digital asset fraud detection platform FrankieOne completes round A financing of $30 million, with participation from Binance Labs
FrankieOne, a Melbourne-based startup that provides an API platform for identity verification and fraud detection, said it has added $23 million AUD (about $15.4 million USD) in a Series A+, taking its Series A's total to $45 million AUD (about $30 million USD)..
The funding included a group of returning investors, including lead backers AirTree Ventures and Greycroft, and participants Reinventure (financial services company Westpac's venture arm), Tidal Ventures and Apex Capital Partners, which are all also existing investors. New strategic investors include Binance Labs and Kraken Ventures.
Web3 developer platform Fleek completes US$25 million Series A financing led by Polychain Capital
Web3 developer platform Fleek has raised $25 million in Series A funding led by Polychain Capital, the company shared exclusively with TechCrunch.Additional investors in the round include Coinbase Ventures, Digital Currency Group, Protocol Labs, Arweave, North Island Ventures, Distributed Global, The LAO and Argonautic Ventures.
The startup is aiming to build an interface and protocol layer "to make the base layer of web 3 services" like storage, hosting and billing accessible to anyone, according to its website.
L2 cross-chain bridge Orbiter Finance completes the first round of financing, Tiger Global participated
Layer 2 cross-chain bridge Orbiter Finance announced the completion of the first round of financing, Tiger Global, Matrixport, A&T Capital, Starkware, Cobo Ventures, GGV, imToken, Mask Network, Zonff Partners, etc. participated in the investment.
Orbiter Maker is about to deploy the test network, and then the project will enter the second phase, focusing on building algorithm applications and inter-chain expansion solutions.
Blockchain Capital backs Catapult's $5 million raise
London-based Catapult raised $5 million in a seed round led by Blockchain Capital. Investors in the round also include Eden Block, Orange DAO and Reverie as well as several angel investors from leading crypto startups, including Aave's Stani Kulechov and Teller's Ryan Berkun, according to an announcement.
The startup, which was co-founded in 2021 by Rav Singh Sandhu and Greg Wilsenach as part of the Entrepreneur First program, aims to provide infrastructure that will enable better coordination in decentralized organizations by providing more context about their members in a pseudonymous manner.
IV. Hot News
StarkWare has now open-sourced Cairo 1.0, an upgraded version of its native smart contract language StarkWare Open Sources Cairo 1.0.Cairo 1.0 is an upgraded version of Cairo, StarkNet's current native smart contract language. The core is similar to Rust. Compared with the previous version, it has optimized and improved the grammar experience, compiler and transaction calculation provability.Currently, StarkNet does not support Cairo 1.0, it will have to wait until Q1 next year.
zkSync announces zkSync 2.0 integrates decentralized identity system RNS.ID for on-chain KYC
On December 1, zkSync announced that zkSync 2.0 integrates the decentralized identity system RNS.ID for on-chain KYC.RNS.ID was developed by the Cryptic Labs team and is currently in cooperation with the Republic of Palau. Holders of its Voyager Pass NFT will receive an ID card issued by the Palau government and can be used for KYC.
Ethereum L2 network activity hit another all-time high in November
According to Dune Analytics, the Ethereum L2 network activity hit a record high in November, and the gas used to settle L2 transactions reached 110,768,378,260, an increase of about 44% year-on-year.On November 8-9 and 19-22, the number of daily transactions on the L2 network exceeded the Ethereum mainnet for the first time in history. Among them, Arbitrum and Optimism were the largest contributors. Popular contract interactions include Galxe, SushiSwap, Uniswap, GMX, Zigzag, etc. The increase in L2 transaction count and gas spend indicates that L2 adoption is growing rapidly.
UniSwap has officially launched NFT transactions
On November 30, UniSwap has officially launched NFT transactions. The purchase interface shows that UniSwap may integrate 7 NFT trading markets including X2Y2, OpenSea, and LooKsRare.This follows Uniswap Labs' acquisition of NFT aggregator Genie in June.In addition, Uniswap Labs also announced that it will airdrop approximately US$5 million in USDC to historical Genie users, and return Gas fees to the first 22,000 users of the platform.
Sui Foundation announces SUI entrustment plan
On December 1, the Sui Foundation announced the SUI Delegation Program, which will enable community members seeking to run validators to apply for delegated SUI Tokens from the Sui Foundation to bootstrap their validator operations.The Sui Foundation will be the largest SUI Token holder when the mainnet goes live, and more details about Token distribution will be released soon.
Ankr was hacked and 10 trillion aBNBc were minted
The private key of Web3 infrastructure provider Ankr was suspected to be leaked, 10 trillion aBNBc was minted, the liquidity of its transaction pool on Pancake was emptied, and the price of aBNBc has almost turned to zero.10 trillion aBNBc tokens were exchanged for USDC and WBNB. Subsequently, funds are transferred out via Tornado and cBridge.
EU Parliament to vote on 'MiCA bill' soon
The European Parliament said its members will soon vote on the Market Regulation in Cryptoassets Act (MiCA), with the vote scheduled to take place during the legislature's plenary session.Adoption of the MiCA bill would create "harmonized rules for cryptoassets at EU level," the parliament said, with harmonized cryptocurrency rules expected to provide "legal certainty for cryptoassets not covered by existing EU legislation."In the statement, the EU Parliament also said that the rules would not only enhance consumer and investor protection, but also "promote innovation and use of crypto assets."
Telegram will build a decentralized exchange and non-custodial wallet
On December 1, Telegram CEO Durov said that the previously launched user name auction platform Fragment completed a transaction volume of 50 million US dollars in less than a month.The next step for the company is to build a decentralized exchange and non-custodial wallet that can reach millions of users.
About MEXC:
MEXC is the world's leading cryptocurrency trading platform, providing one-stop cryptocurrency trading services for spot, ETF, futures, Staking, NFT Index, etc.,and serving more than 10 million users worldwide. The core team has a solid background in traditional finance, and has professional financial product logic and technical security guarantees in terms of cryptocurrency products and services. In October 2021, MEXC Global won the title of "Best Cryptocurrency Exchange in Asia". Currently, it supports the trading of more than 1,400 cryptocurrency, and is the trading platform with the fastest launch speed for new projects and the most tradable categories. Visit the website and blog for more information, and follow MEXC Global and M-Ventures & Labs.
Start your travel on MEXC Global