As part of its mission to launch new high-quality projects, MEXC Global has recently launched Blocksport tokens (BSPT) through its Kickstarter listing campaign. Users can stake tokens to vote towards a preset goal through this campaign before a token is formally launched. Once the target is reached, the listing process on the exchange is started, and participating users win free token airdrops before the token is listed.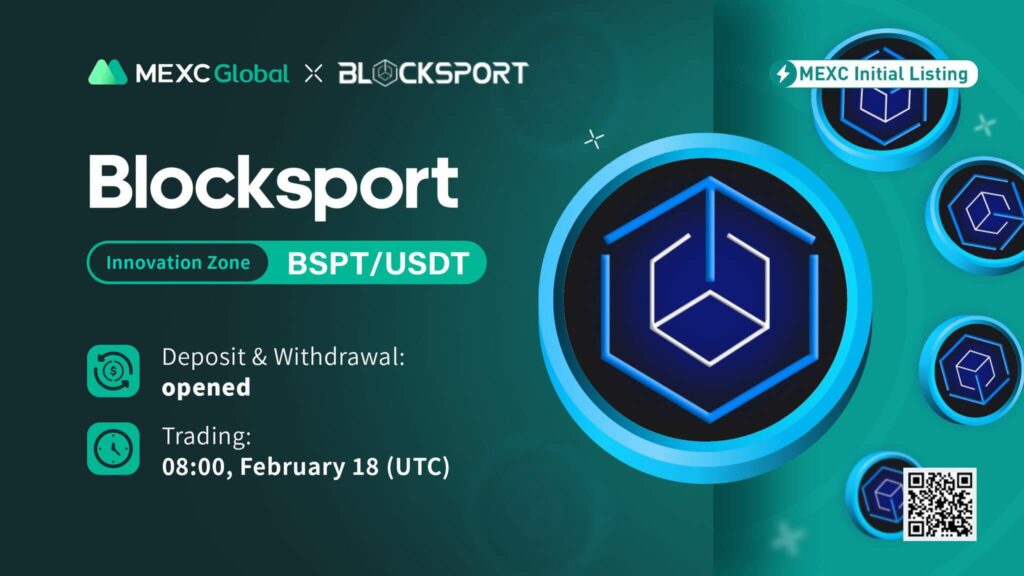 All About Blocksport
Blocksport has designed an NFT platform designed on blockchain technology. The primary focus is on Sports and Esport fans. Blocksport facilitates fans in minting or trading their sports assets or cany copyrighted material of their favorite sportsperson. Blocksport is different from the other sports ecosystems and platforms as it will be managed through smart contracts.
NFT is the short form of 'non-fungible token', which represents a unique piece of data on the blockchain. Each NFT on a blockchain guarantees that the digital asset it shows is unique and can't be substituted with another asset, which helps to prevent copyright issues.
Non-Fungible Tokens are a great revolution for the Sporting industry. It has expanded the boundaries of asset ownership and changed sports ownership's asset and rights model.
Blocksport Solves Problems with Sport Ownership
Sports fans spend hours daily viewing sports on TV, through online media, live matches, and many travels when they can watch sporting matches in real-time. The global sports market is forecasted to expand up to $441 billion in 2021 at a compounded yearly rate (CAGR) of 13.5%. With this development and expansion, some prevalent problems have become highlighted. Some of these are:
Lack of liquidity and supply:
Sports asset transactions often cross-national and other geographical boundaries. These transactions could be higher but are hampered due to the complicated payment and settlement process. Due to problems with different regions and their market development, global asset
Transactions are delayed due to payment processing. For instance, when French fans want to get the merchandise of Real Madrid, they will need to search for purchase channels in France. If there aren't any, the buyer will need to access an overseas website. This transaction will then involve complex issues like cross-border transactions, settlement, and intermediary charges.
Unfair pricing mechanism without Blocksport:
Existing commercial systems don't have an efficient market-based pricing process for trading sports assets. A few vendors monopolize the trading process, and fans cannot trade in sports assets and profit through the products they have and want to trade
Lack of trust and transparency:
Centralized intermediary institutes do not share all their information. Due to a lack of clear communication, buyers are never sure about the products being true, as there is a significant risk of counterfeits.
Imperfect pricing system solved by Blocksport:
The worth of sports assets primarily depends on its demand by fans and is affected by a shortage of interconnectivity. Fans cannot freely enjoy the sports assets they want to buy.
Blocksport addresses all these problems and offers a platform to connect fans, sports stars, and clubs.
Blocksport's Solution
The sports industry is not solely based on matches, player passes, and all other (physical) aspects of watching sports. Instead, it is now based on digital information and assets. With help from the token economy, anyone connected to the blockchain can perform transactions with digital information.
This business model innovation helps break the issues of value transmission and benefits in a groundbreaking upgrade of the sports industry. Fans can now earn from their love for sports stars and teams. The passion for sports can now help fans make and create value and transmit it via blockchain technology.
Blocksport builds an NFT platform where members will mint, share, collect, bid, and trade without any intermediary control. But the absence of control does not affect copyright security or ownership. This secure ownership is established and guaranteed through NFTs, granting every asset a unique and immutable blockchain identifier.
Blocksport's founding team aren't newbies to the NFT sports field. They hold wide-ranging understanding and exposure of the sporting industry as well as of NFTs. They are available to guide sportspeople, sports teams, and entrepreneurs on the way to successful NFT ventures.
Start your travel on MEXC Global