BitHotel is now available on MEXC Global Trading Review. Team of MEXC Official Blog prepared the detailed review of the new P2E Game project on the market.
As part of its mission to launch new and happening platforms and cryptocurrency, MEXC has recently launched a Trading Contest for Bit Hotel token holders with a maximum award of 400,000 BTH. 
MEXC Global is one of the most reliable and globally trusted crypto exchanges. Spread over 70 countries and with over 6 million users, MEXC Global is established as a preferred platform for both new traders and experienced crypto investors.  Its high-performance trading engine has been serving satisfied members since 2018.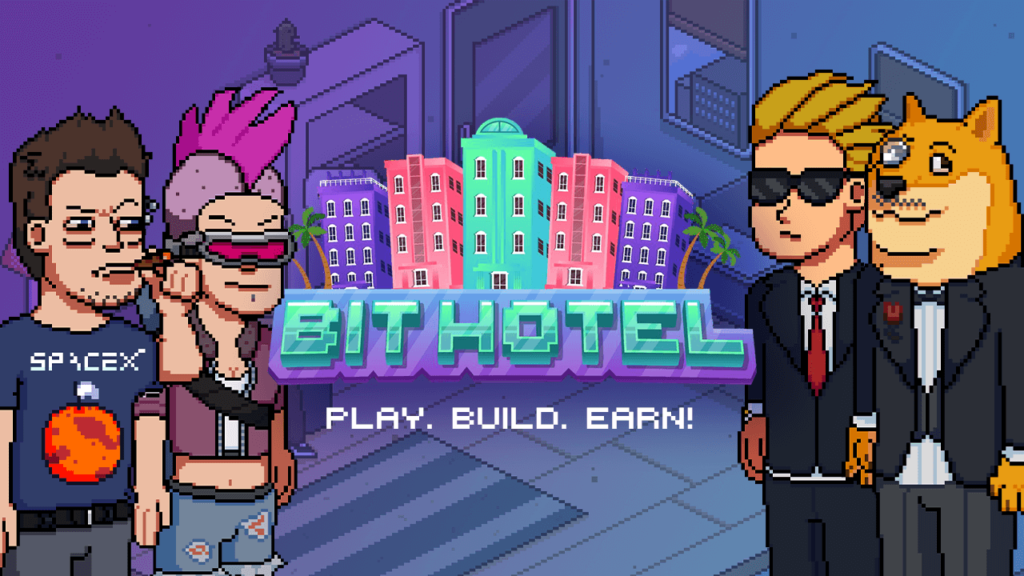 What is Bit Hotel (BTH)?
Bit Hotel is an emerging NFT based play-to-earn game that focuses on changing the blockchain gaming industry. A retro 8-bit design and tradeable in-game assets like characters, rooms, and furniture, it relies on NFTs to impact the space.
The Game
For those tired of looking to have fun and make money at the same time? Not a fantasy anymore! Play-to-earn games have made this reality. The Bit Hotel game is both fun and challenging as it relies on social interactions
Bit Hotel is designed as a social NFT game. A significant feature for players is chatting, meeting, and competing with other Hotel Guests (Players). Players can buy different NFT linked hotel rooms on various hotel floors. These rooms can be studio apartments or penthouse condos, and much more. All selections are customizable according to player preferences, with customizations possible through personal NFT collections.
Possibilities in The Bit Hotel Metaverse
Players can link their wallets and play with friends or socialize while making money. New playable character designs and rare items, and collectibles will be developed and shared with the community on an ongoing basis. These will help differentiate players from other players.
Residences can be bought and sold in the Bithotel Marketplace, and players can show off their design skills by designing custom rooms and furnishings. Bit hotel holds a marketplace with various NFTs, ornaments, and furniture to select from. Players can create the virtual home of their dream and have guests over to enjoy the company and show off your NFT collection.
Bit Hotel is designed to be ever-changing. Players can travel through the hotel via elevator and visit their friends. There are also minigames available to play alone or with friends. These minigames let players earn additional features.
Bit Hotel Features
Bit Hotel is available for playing on any device of the player's choice. Traveling, waiting, or even lunchtime are convenient to play the game on either a smartphone or laptop. Players can keep beating their friends in mini-games and chat with other hotel guests wherever they are.
All of the Bit Hotel gameplay every game asset is on the blockchain. This means that the players can buy new NFTs as they are launched. Players can place bids, ask for prices, trade NFTs, and sort their requirements and wish lists from the marketplace. Bit Hotel will charge a small percentage on the transaction.

What is different in Bit Hotel is that its rooms to be sold as digital real estate and are not for rent. The developers have made Bit Hotel distributed and governed by multiple owners through voting rights in-game.
This makes rooms in Bit Hotel a personal piece of real estate in the Bit Hotel Metaverse. The hotel has five separate categories of floorplans and 50 floors. Players can start from a Starter Studio with 45 tiles and move up to the Grandiose Stately Penthouse with 110 tiles over time.
Bit Hotel Staking Process
Crypto investors can stake their tokens in any Bit Hotel token (BTH) pool. To take advantage of the token boosts, investors should ensure that they stake against the collection that matches the NFT owned by the wallet linked to the BTH dashboard. This is a simple process as the BTH trading platform will highlight all matching pools.
Staking conditions are standard and are as follows:
The amount staked and any tokens received as rewards will open for withdrawal after the specified lock end date has passed.
Token stokers will only get their NFT boost if they have the NFT in their listed wallet at the moment of staking.
Players can only earn and apply NFT boosts to Bit Hotel rooms.
Investors or players will only get to stake once for each wallet (they own) on each pool they want to stake against.
Start your travel on MEXC Global