Biometric Financial (Trade it here) was listed on MEXC via Kickstarter Event on April 20. After voting session of Kickstarter for BioFi Token concluded, users have contributed a total of  28,116,779.07921287 MX for BioFi listing on MEXC Exchange! Since listed in Innovation Zone with an opening price of 0.0022 USDT, the highest price hit 0.031 USDT, growing 1409%.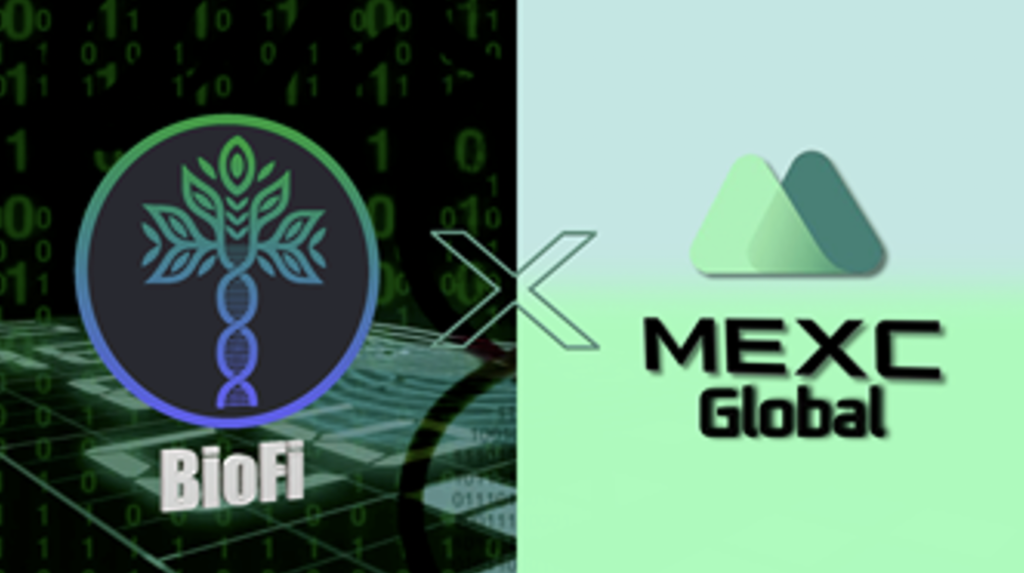 What is Biometric Financial?
The BioFi project addresses the concerns many people have about safeguarding their personal data while being safe from exploitation by fraudsters. With data breaches and hacks on the rise, consumers in the 21st century are losing faith in the ability of service providers to protect their identity and other sensitive information. BioFi helps solve this problem by bringing the speed, security, and anonymity of biometric identity to the blockchain and the DeFi space.
The BioFi ecosystem contains several high profile products operating in global markets and is well positioned to deliver popular utility features to people in every community. Usage of the BioFi ecosystem only requires 1 BioFi token. Partners of the BioFi ecosystem can integrate easily with the biometric API's, highlighting the unique utility advantage that the entire service can bring. The Biometric Financial website showcases the many products currently available or in development, while providing services to tens of thousands of users globally.
BioFi is truly global in nature, not bound by a single language or territory, and designed to be user friendly with the added benefit of helping people feel more secure as access is tied to them individually. BioFi's use cases are practically limitless, from covering the basic elements of authentication for logins, password resets, and payments to updating sensitive information, and providing access to IoT device functions. BioFi will never sell your personal data or intrude upon anyone's privacy. There is unlimited potential for every company to join the BioFi ecosystem while leveraging the BioFi token in their solutions.
What makes it unique?
Provider Opportunity: The BioFi ecosystem is easy to use from the perspective of the Providers that will integrate Say-Tec through a common API. Once Say-Tec has been integrated into their systems, the Provider will create a Provider Access Pool of BioFi that is held and used to provide market liquidity in that vertical. Providers may earn rewards on their held BioFi, and with that provide access to their products and services to Users of the network.
User Opportunity: Users who buy and hold BioFi into their chosen Provider Access Pools will earn rewards while at the same time paying the Provider for access to their products and services. Say-Tec is a core technology that protects the User through voice and facial authentication, and BioFi is the oil in the network to allow rewards and payments to take place.
Ecosystem Integrator Opportunity:The BioFi ecosystem also includes the opportunity for other industry integrators and platforms to participate. Integrators may provide the ability for BioFi to be launched, exchanged, and swapped for other crypto currencies. This includes the opportunity for Users and Providers to onboard and offboard from/to fiat currencies.
BioFi Token
BioFi has been conceived to foster an open and easily accessible financial ecosystem that encourages active participation of both Users (consumers) and Providers (companies and partners) who recognize the importance of letting Users protect and control their identity within the financial decision-making process. Providers can independently create their own solutions by easily integrating with BioFi ecosystem through common API interfaces. Sample solutions may deliver ability to:
Secure sensitive information with biometric access
Access and pay for ecosystem utility solutions
Earn utility rewards
Store utility value and accumulate rewards
Finance health utility savings and coverages
Deliver biometrically secure solutions/products for enterprise utility
Interested in tokens like BioFi?
MEXC constantly searches for new moonshots, keep an eye on our Kickstarter and other listing events – we have more GEMs to come! Moreover, visit altcoins section to find more hot tokes that were listed already. If you would like to know more about crypto trading itself visit MEXC Academy.
Start your travel on MEXC Global