What are ApolloX and APX Token?
APX – native token of ApolloX system was listed on December 22 on MEXC Global. Let's find out what is APX Token (Apollo X Token) Project is and what price APX token has reached on it's listing.
ApolloX (APX – Trade it here) is the first CEX-DEX hybrid crypto derivatives exchange.
On ApolloX, users can trade a wide selection of perpetual contracts with up to 100x leverage. ApolloX Finance is a decentralized derivatives trading protocol. Through "off-chain matching + on-chain settlement" model, Apollox Finance achieves high transaction performance and fast response speeds while ensuring the safety and transparency of users' funds. Furthermore, ApolloX Finance has excellent market depth since it shares liquidity with ApolloX CEX. Users can enjoy a smooth trading experience while connecting to ApolloX Finance with just one click through their decentralized wallets.

Architecture and Implementation of Apollo X
The main architecture of ApolloX Finance is the on-chain fund settlement and custody + off-chain transaction matching. Users connect their decentralized wallets to the exchange before signing and verifying the connection through a Web3 interface. They can then transfer (ERC-20/BEP-20) tokens into the smart contract for fund custody and settlement. Once the off-chain ledger is recorded, users can use the funds to trade derivatives off-chain and the PnL will be accounted for in the ledger. After settlement, users can withdraw the funds by calling the smart contract (except for the margin occupied by open positions and pending orders).
Benefits of trading on ApolloX Finance
Highly Intuitive: Experience speed on our DEX. Trade quickly on an easy-to-use platform.
Increased Privacy: No sign-ups required. Simply connect to your own wallet and you are all set.
Save Gas Fees: Users can save gas fees paying to miners for each transaction.
More Security: Trade directly with no intermediaries. More autonomy in a decentralized environment
APX Token
Launched on 21 December 2021,APX is ApolloX's native token. Users can earn APX tokens in the form of trading rewards on ApolloX. A total supply of 10 billion APX will be minted. The first listing DEX for APX is PancakeSwap, for a listing price of $0.0004. The bulk of the tokens will be minted via trading rewards on ApolloX.
The genesis allocation of APX is as follows:
45% (4,500,000,000 APX) to Community Treasury;
44% (4,400,000,000 APX) to Users as trading rewards;
5% (500,000,000 APX) to Marketing & Partnerships;
3.5% (350,000,000 APX) to Retroactive Mining Rewards;
2.5% (250,000,000 APX) to list on PancakeSwap.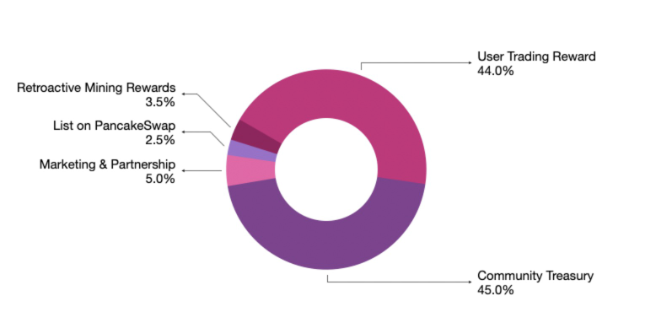 There is a 1% tax on every transaction. All tax, save for special use cases like staking, will be burned.
APX Token price on MEXC Listing
Since issued on December 22 with an opening price of 0.02 USDT ApolloX Token achieved the highest price of 0.26 USDT. APX made a growth of 1300%! APX Token Price has become one of the best gainers for the past 2 weeks on the MEXC platform.
Looking for potential GEMs? Find them MEXC Global!
Interested in altcoins or memecoins? Looking for next GEMs after APX token? You can check articles tagged with alts. New to blockchain and trading? If you want to know more about MEXC products and crypto trading, visit our Academy to learn how to start trading on MEXC Global.
Start your travel on MEXC Global