Sweatcoin (SWEAT/USDT – Trade it here) is a free exercise app that tracks users' steps and pays you in 'Sweatcoins'- a type of quasi-cryptocurrency – each time the user walks 1,000 steps. Unfortunately, users can't actually cash out Sweatcoins to their bank or PayPal account. Instead, Sweatcoins can be used to buy goods, services, and experiences from partnering companies via an in-app marketplace. It rewards users' daily steps with new-generation currency users can spend on cool products, donate to charity or convert into SWEAT.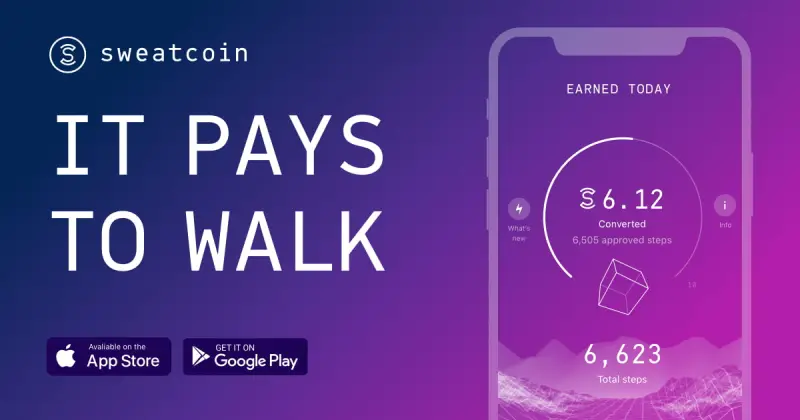 What is Sweatcoin Project about?
In April 2022, it was announced that Sweatcoin would have its own cryptocurrency, named sweat economy but better known as simply Sweatcoin or also by its ticker handle SWEAT. The idea is that people who had the original Sweatcoin rewards would be able to get one SWEAT per reward token. People would be able to generate SWEAT for every 10,000 steps they took, although, in the future, that number would go up.
The Sweatcoin crypto will use people called movement validator, who will confirm that people are taking the required number of steps in order to issue the crypto. The token will be used to collect revenue from NFT sellers, as well as being used to buy NFTs and to take out a subscription to Sweatcoin's premium services.
It will also be used to collect advertising fees, and movement validators will have to stake SWEAT in order to take up their positions. The SWEAT crypto will also have its own crypto wallet, called the SWEAT wallet. SWEAT will also be able to be bought, sold, and traded on exchanges.
It is worth pointing out that SWEAT is based on the Ethereum (ETH) and Near Protocol (NEAR) blockchains, which means that, technically speaking, Sweatcoin is not really a coin but a token. Don't worry, though, if you see a reference to a coin price prediction for Sweatcoin because it is referring to the same thing.
Tokenomics of SWEAT
There is an uncapped supply of SWEAT to incentivize movement in perpetuity. However…
This is balanced with a controlled, exponentially decreasing rate of inflation – SWEAT minting difficulty is exponential – such that inflation becomes asymptotic to zero.
This encourages adoption and movement, as a movement today generates higher rewards than a movement tomorrow.
Supply of new SWEAT depends only on physical activity already submitted, meaning that minted tokens are backed by the value of physical activity and nothing else. Uncapped supply with exponentially-decreasing inflation will ensure motivation to be physically active in perpetuity while consistently increasing the value perception of SWEAT.
SWEAT is a new cryptocurrency user mint with users' movement. Holding SWEAT has many benefits: it can be staked for yield and amazing rewards, applied to NFTs, and grants access to improved features in the Sweat Wallet App.
The revenue generated by the activities listed below will at first go to the Sweat Foundation and be used to buy and burn. Thereafter, it will go to the Sweat DAO, which will be governed by veSWEAT (locked SWEAT for governance).
About the team
The Sweatcoin app itself was founded by the London-based tech entrepreneur Oleg Formenko, venture capital worker Anton Derlyatka, developer Egor Khmelev, and self-described crypto assets enthusiast Henry Child. The platform has been in existence since 2015.
How to buy SWEAT Token?
You can buy SWEAT on MEXC following the steps:
Log in to your MEXC account and click [Trade]. Click on [Spot].
Search "SWEAT" using the search bar to see the available trading pairs. Take SWEAT/USDT as an example.
Scroll down and go to the [Spot] box. Enter the amount of SWEAT you want to buy. You can choose from opening a Limit order, a Market order, or a Stop-limit order. Take Market order as an example. Click [Buy SWEAT] to confirm your order. You will find the purchased SWEAT in your Spot Wallet.
Recent SWEAT Token Price & Performance
Since listed on MEXC last week in 2022, SWEAT reached the highest price (ATH) of 0.113806 USDT with the lowest price for SWEAT being 0.050205 USDT.
Interested in crypto like SWEAT?
MEXC lists moonshot and provides access to trading of major crypto coins like SWEAT. Keep an eye on our listings in Innovation and Assessment zones, as well as major tokens in the Main Zone – we have more great projects to come! Also, visit the hot projects section to find more hot tokens that were listed already. If you would like to know more about crypto trading itself, visit MEXC Academy.