Revolt 2 Earn or RVLT (RVLT/USDT – Trade it here) is a tradable and liquid token from Cult DAO. It was built on the Polygon blockchain as a proof-of-stake (POS) token with 0.4% taxation. Different from its sibling token CULT, which works to fund decentralized protocols, RVLT aims at supporting individuals in this industry who share the goal of enhancing decentralization.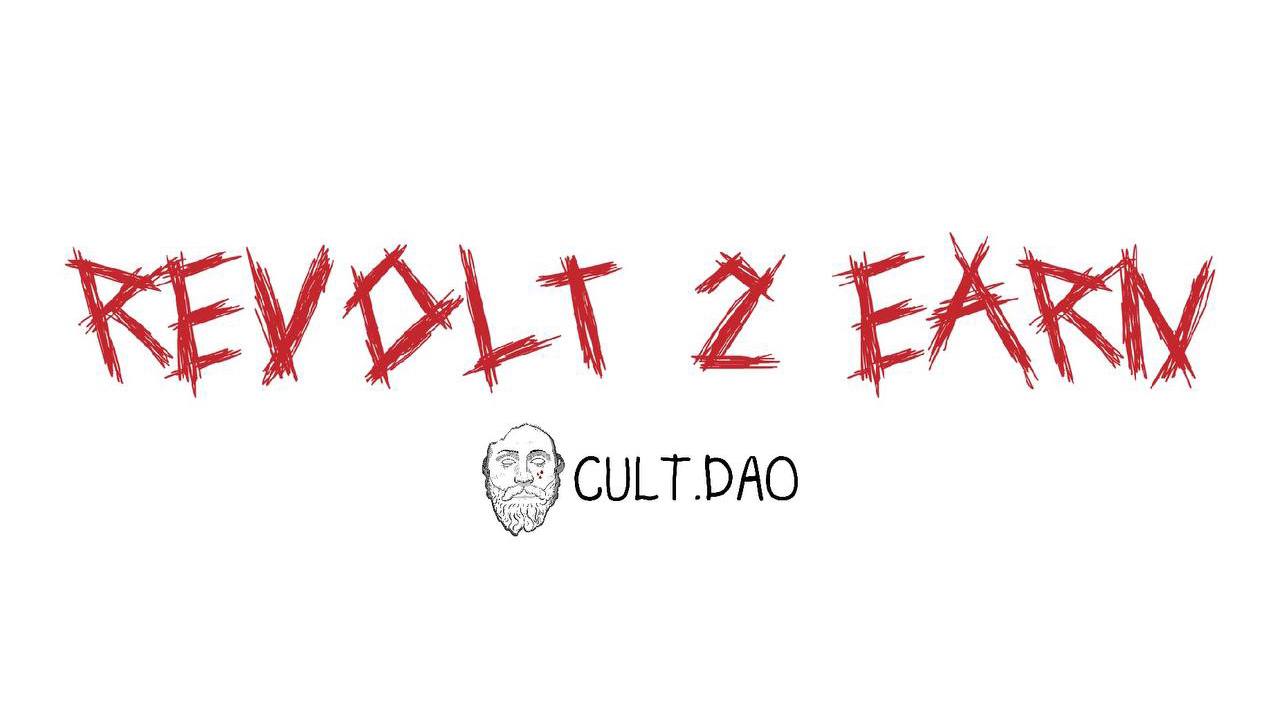 Core Features of Revolt 2 Earn
Funding Individuals 
While CULT focuses more on sponsoring and funding protocols with larger amounts of funds, RVLT lays more emphasis on individuals and shares a belief that a small group of people or individuals can have a large impact and shape the vision of the future.
Sustainable Tokenomics
The RVLT model allows for the revolutionary to earn 405 whilst also providing a 25% deflationary aspect. In addition, the other 25% incentivises users to stake their tokens, putting more pressure on the supply due to staked tokens out of general circulation, combined with a full reduction in total supply from the deflation. More of the RVLT tokenomics are explained in the following paragraph.
RVLT Tokenomics
Each month 490 stakers (+10 consistent NFT owners) are picked randomly from all RVLT stakers (uRVLT owners, while uRVLT refers to the staked RVLT). These 500 have the job of approving or disapproving submissions by the users of the actions they have taken to help the CULT ecosystem, and support the revolution. This could be as simple as stickering, leafleting, shilling or civil disobedience.
Users can select which reward they feel they deserve for their action, based on task difficulty, risk and how much they feel it has contributed towards the revolution. Since it is based on mostly individual actions, this is reflected in the funding amounts worth of RVLT which are: 0.1, 0.25, 0.5, 0.75, 1 and 1.5 WETH.
If the revolutionary action is approved by the CULTmanders, those who participated in the vote keep and share 5% as an incentive for being active, while 40% of the RVLT amount goes to the revolutionary, 25% is burned, 25% is sent to stakers who owns uRVLT, and the remaining 5% is sent to the CULT multisig address where it will be used to buyback and burn CULT.
How to buy RVLT?
You can buy RVLT on MEXC following the steps: 
1. Log in to your MEXC account and click [Trade]. Click on [Spot].
2. Search "RVLT" using the search bar to see the available trading pairs. Take RVLT/USDT as an example.
3. Scroll down and go to the [Spot] box. Enter the amount of RVLT you want to buy. You can choose from opening a Limit order, a Market order or a Stop-limit order. Take Market order as an example. Click [Buy RVLT] to confirm your order. You will find the purchased RVLT in your Spot Wallet.
Start your travel on MEXC Global