Bonk Inu or BONK (BONK/USDT – Trade it here) is the people's dog coin. It is the first Solana Dog Coin by the people for the people. MEXC will list BONK coin in our assessment zone very soon, check it out now! Basic information for their token is available on the MEXC Digital asset introduction page.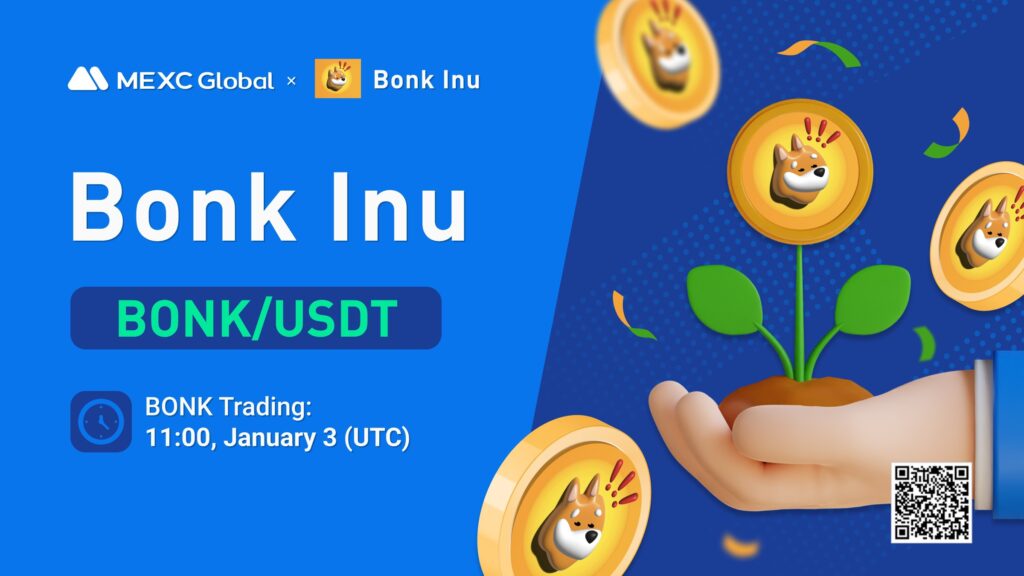 What Does Bonk Inu Do?
Have a Bonkin' New Year! It is a fun new meme coin running on the Solana blockchain. It is also the first Solana Dog coin created by the community for the community. Furthermore, BONK will airdrop 50% of the entire supply to the Solana Community.
The developers are fed up with 'Alameda's poisonous tokenomics and they wanted to have some fun. Bonk Inu is a fun meme coin where everyone has an equal chance to participate and potentially build something amazing! Following Openbook's introduction, they want to restore liquidity to Solana DEXes, with their Openbonk Project.
Among the 50% airdrops, 20% will go to Solana NFT collections. This includes 297,000 individual NFTs. Meanwhile, Solana artists and collectors will receive 10%. Early Openbook traders will also receive a 15% BONK airdrop. The remaining 5% is allocated to the developers.
Is Bonk Inu a Good Investment?
All and all, Bonk Inu is a meme coin. Early speculations show that it is only good as a short-term investment. It is also crucial to have a proper exit strategy. Long-term hold, on the other hand, might be risky. However, every meme coin has the opportunity to grow as big as DogeCoin. If you think that it has potential on the Solana blockchain, you can definitely support it all the way.
Where to buy Bonk Inu (BONK)
You can find Bonk Inu here at MEXC Global! We are listing BONK/USDT in our assessment zone on January 3, 2023. You can check the live price of their token right here!
How to buy Bonk Inu (BONK)
You can buy Bonk Inu (BONK) on MEXC by following the steps:
Log in to your MEXC account and click [Trade]. Click on [Spot].
Search "BONK" using the search bar to see the available trading pairs. Take BONK/USDT as an example.
Scroll down and go to the [Spot] box. Enter the amount of BONK you want to buy. You can choose from opening a Limit order, a Market order, or a Stop-limit order. Take Market order as an example. Click [Buy BONK] to confirm your order. You will find the purchased BONK in your Spot Wallet.
You can find a detailed guide on how to buy BONK coin here.
Keep Yourself Updated With The Crypto Trend
Check out all of the listings in the Innovation and Assessment zones as well as the major tokens in the Main Zone – we have more amazing projects to come! What's more, MEXC lists moonshots and offers access to trade major cryptocurrencies. Visit the Hot Projects section as well to uncover more featured popular tokens. Lastly, feel free to visit MEXC Academy to learn more about cryptocurrency!
Start your travel on MEXC Global