–Follow MEXC Research to discover early-stage projects and learn the latest dynamics of the crypto market.
*The dollar sign in this article refers to US dollars.
According to MEXC Research, from August 22 to August 28, 2022, 23 projects in the Web3 space raised a total of $310 million. Among them, Metaverse, NFT and GameFi projects have raised $ 71.2million; DeFi and Web 3 projects have raised $46.25million; The infrastructure projects raised $ 33.1 million financing; Blockchain fund completed financing of US $159.45 million.
Last week, there are several events worth noting:
MEXC launched trade mining with regards to PHCHA/USDT and ARCADE/USDT.
DogeChain(DC),a community driven token by DogeCoin holders, was listed on MEXC.
Fan tokens had incredible increase due to the coming World Cup . The top five gainers from August to date are POR (397.62%), SANTOS(226.15%), PORTO (174.09%), LAZIO (146.52%) and OG (85.68%).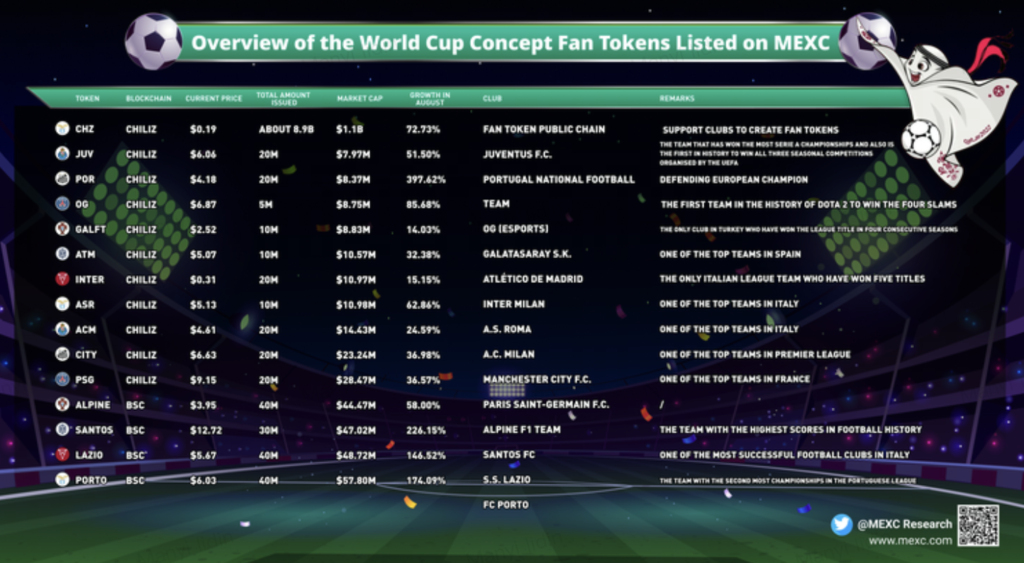 Metaverse & NFT & GameFi
NFT Genius Raises $10.5M Series A Funding at $150M Valuation,led by Dapper Labs,Spartan Labs,Commonwealth Asset Management and Fundamental Labs
NFT Genius, a company that delivers NFT projects and marketplace technology, today announced that it has raised $10.5 million in Series A funding at a valuation of $150 million.
The round was led by Dapper Labs, Spartan Capital, Commonwealth Asset Management (CWAM), and Fundamental Labs, with participation from One Football, and Unibanco.
In June 2021, NFT Genius raised a seed round of $4 million backed by Dapper Labs CEO Roham Gharegozlou, Mark Cuban, Ashton Kutcher and bitcoin advocate Anthony Pompliano.
SK Networks invested $3 million in metaverse developer Com2Verse
SK Networks has invested 4 billion won ($3 million) in Com2Verse, a metaverse-specialized subsidiary of South Korean game developer Com2uS, to explore business opportunities in the world of metaverse, officials said last Tuesday.
SK Networks will install business zones in Com2Verse's metaverse platform to provide various services for customers. SK Networks' business areas include car and water purifier rentals, as well as hotels.
Ready Player Me x Andreessen Horowitz Announced a $56M Series B, led by a16z
Ready Player Meannounced a $56M Series B funding round led by a16z GAMES FUND ONE and a16z crypto, with participation from Plural, David Baszucki, co-founder of Roblox, Justin Kan, co-founder of Twitch and Fractal, Robin Chan, co-founder of Fractal, Henry Ault, co-founder of Eco, Sebastian Knutsson & Riccardo Zacconi, King Games co-founders, Collab Currency, Endeavor, Kevin Hart's Hartbeat Ventures, D'Amelio family, Punk6529, Snowfro, Nordic Ninja, Konvoy and more.
INDEX GAME announced a US$1.7 million investment from The Sandbox
INDEX GAME has recently entered into an investment agreement with Sandbox! The Sandbox is investing up to US$1.7 Million to continuously support INDEX GAME's exceptional development in the metaverse, NFTs, GameFi and Web 3.0 to create play-to-earn content that expands the possibilities of the interconnected virtual realm.
DeFi & Web3
Money Streaming Protocol Zebec Raises An Additional $8.5M,invested by Circle Ventures, Shima, and Resolute
Zebec, the first programmable cash flow protocol on the Solana network, has raised $8.5M USD at a fully diluted valuation of $1 Billion. The investors include Circle Ventures, Shima, and Resolute. Earlier this year, the protocol successfully raised $28M USD through its token sale from private and public investors.
Web3 Startup Comm Raises $5M in Bid to Compete With Discord,led by CoinFund
Web 3 messaging app Comm has raised a $5 million seed round led by CoinFund, funds the startup hopes will set it up to compete with Discord.
The consumer privacy startup is working on scaling end-to-end (E2E) encryption that currently only works for chat apps such as Signal or Whatsapp, with a mind to eventually replace centralized backends.
Haun Ventures leads $24 million round into web3 developer platform Thirdweb
Katie Haun's Haun Ventures has led a $24 million round into Thirdweb, a platform that aims to make it easier for developers to create web3 apps, at a $160 million valuation.
Coinbase Ventures, Shopify, Protocol Labs, Polygon, Shrug VC and billionaire Joseph Lacob also participated in the round, which closed last month, according to an announcement Thursday. The company was founded by Bebo founder Furqan Rydhan and entrepreneur Steven Bartlett of Dragon's Den UK.
Mellow Protocol closed a $2.75 million seed round led by Robot Ventures, Arrington Capital, and ParaFi
Mellow Protocol announced a $2.75 million seed round led by Robot Ventures, Arrington Capital, and ParaFi.P2P Capital,Lemniscap,Focus Labs,Principle Ventures,Primitive Ventures and NEMO Ventures also participated.
The Mellow Protocol is an optimized solution for Uniswap V3 liquidity with the goal of building a robust ecosystem of automation tools. The core team has expanded to 12 people and is making final preparations for the official release of the protocol.
Saison Capital backs SG Web3 media startup's $2m pre-seed round
Avium, a Singapore-based Web3 media startup, has raised an oversubscribed US$2 million pre-seed round led by Saison Capital.
Founded earlier this year, Avium gathers creators and artists to create and produce animated content developed by SEA-based studios that have worked for organizations such as Marvel Comics, Valve, Netflix, Prime Video, and Tencent.
Growfitter raised an additional USD 500K in extended pre- series A round led by Venture Catalysts & Singapore based Baksh Capital
India's biggest incentivised wellness platform Growfitter raises additional USD 500K in extend pre- series A round led by Venture Catalysts & Singapore based Baksh Capital. The funds will be utilised in building technology infrastructure and expanding business operations, focusing the efforts on hiring and branding of the platform.
Quivr introduced that it has raised $3.55 million in a seed funding spherical,led by Infinity Ventures Crypto
Quivr, a decentralised social ID and verification platform, has raised $3.55 million in a bid to broaden its companies and attain extra customers.The funding spherical was led by Infinity Ventures Crypto, with participation from Jason Zeng (Co-Founding father of Tencent), C2 Ventures, Sfermion and FBG Capital.
Quivr will use the funds to launch the platform to the general public, permitting shoppers the chance to create their very personal social graph, serving as a "digital résumé" that verifies behaviors and pursuits by way of badges.
Infrastructure
Blockchain explorer SolanaFM raises $4.5 million,led by SBI Group
Solana blockchain explorer and indexing provider SolanaFM has raised $4.5 million in a seed funding round led by Japanese financial services company SBI Group's Digital Asset Opportunity Fund.
Spectral raises $23M to help create web3 credit scores, led by General Catalyst and Social Capital
Spectral, a credit risk assessment infrastructure web3 startup, has raised $23 million in a round led by General Catalyst and Social Capital, the company's co-founder and CEO Sishir Varghese exclusively told TechCrunch.
Other investors in the round include Samsung, Gradient Ventures, Section 32, Franklin Templeton, Circle Ventures and Jump Capital. To date, the company has raised about $30 million, Varghese shared.
Mural raised $5.6M to help brands deploy DAO treasuries
Mural, a crypto firm focused on DAOs infrastructure, has raised $5.6 million in seed funding, the company's co-founders Sinclair Toffa and Kevin Alvarez-Fung exclusively told TechCrunch.
This was the company's first outside capital raise through investors like Mike Novogratz's Galaxy Ventures, Barry Silbert's Digital Currency Group, Firstminute Capital, 186 Ventures and a handful of founders. The funds will be used to bring on new talent and work with brands globally that want to create and use DAOs, Alvarez-Fung said.
Blockchain Funds
Animoca Brands Raised $45 Million To Expand Web3 Business
Animoca Brands Japan, a subsidiary of Animoca Brands Corporation Limited, will expand its Web3 business. The company recently completed a $45 million funding round, setting its valuation at $500 million, with the MUFG Bank and Animoca Brands Corporation.
Ampverse, a growing Esports and Web3 company , launches 100 million pesos in the Philippines
Ampverse, a growing Esports and Web3 company in Asia, officially launches into the Philippines as its fifth market. To strengthen the local gaming and esports ecosystem, Ampverse will be investing north of 100 million pesos into the Philippines, with a core focus on four pillars: esports, talent, commerce, and Web3.
Y Combinator alumni raise $80 million for DAO to back crypto startups
Orange DAO just raised $80 million in funding, mainly from two strategic investors: layer-one blockchains Algorand and Near, general partner Ben Huh told TechCrunch in an interview.
"They wanted to support our mission of bringing more entrepreneurs into web3. For them, working with us and getting exposure in front of our entrepreneurs is really important, because if one of our members builds a billion-dollar DeFi protocol, the investment that they made in us is trivial compared to the amount of upside that they get from it," Huh said.
Distributed Finance announced a $2.5 million seed round and the acquisition of Algorand NFT marketplace Rand Gallery
Distributed Finance emerged from stealth this morning, announcing a $2.5 million seed round and the acquisition of Algorand NFT marketplace Rand Gallery.
The new venture aims to promote growth of non-fungible tokens (NFTs) and decentralized autonomous organizations (DAOs) in the Algorand ecosystem, according to a release on last Tuesday.
About MEXC
MEXC is the world's leading cryptocurrency trading platform, providing one-stop cryptocurrency trading services for spot, ETF, futures, Staking, NFT Index, etc.,and serving more than 7 million users worldwide. The core team has a solid background in traditional finance, and has professional financial product logic and technical security guarantees in terms of cryptocurrency products and services. In October 2021, MEXC Global won the title of "Best Cryptocurrency Exchange in Asia". Currently, it supports the trading of more than 1,400 cryptocurrency, and is the trading platform with the fastest launch speed for new projects and the most tradable categories. Visit the website and blog for more information, and follow MEXC Global and MEXC Research.
Start your travel on MEXC Global