The XEN project has been drawing attention from crypto communities because it became the NO.1 gas guzzler on Ethereum blockchain. The price of XEN reached its high at $0.01819 the first day listed on MEXC. However, XEN price plunged dramatically due to the incident of exploiter's attacks on FTX exchange. At the time of writing, the low of XEN is at $0.00002839, which decreased by 99.8% compared to the all-time high price. So what exactly happened? Let me walk you through.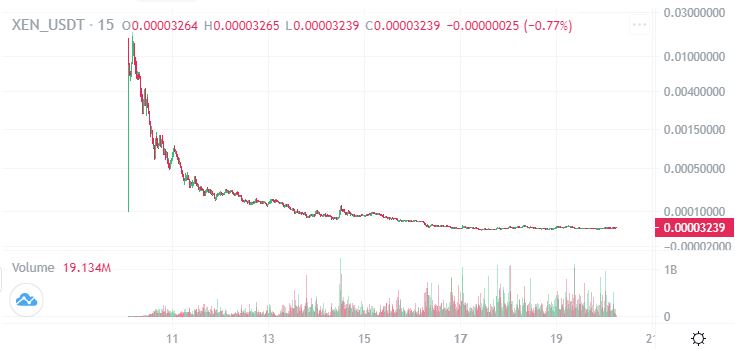 A report from X-explore was released a week ago, stating that by setting up an attack contract on the chain and transferring a small sum of ETH to the contract from FTX, the attacker took advantage of FTX. Each transaction generated one to three subcontracts that executed a MINT-XEN function before destroying themselves. All of these transactions were paid for through the FTX hot wallet. In other words, the exploiter got the chance to mint FREE XEN! This is because FTX permits withdrawals for free.
According to the report, the gas theft cost FTX more than 81 ETH, yet the exploiter made more than 100 million XEN tokens. Soon after the attack, the exploiter has swapped XEN tokens to 61 ETH on decentralized exchanges like Uniswap. The attack might continue.
Bad things come in pairs, XEN faces Sybil attacks besides the exploit. Another X-explore report claims that there were 67,685 Sybil attack addresses interacting on the platform, accounting for 80.54% of total participating addresses on October 12. Moreover, there are 335,000 Sybil addresses accumulated since the launch of XEN, accounting for 45% of total addresses by October 12.
Closing Thoughts
Although XEN aims to solve the problems of over-bought and sold cryptocurrencies and unfair coin launch, bad news like Sybil attacks are hurting the performance of XEN constantly. Safety is always the top priority of all investors, I am curious to see what XEN project will do in regards to this incident.
Some people gain and some people lose in the trading game. The trading volume of XEN increases while the price is crashing. MEXC is here with you no matter if the market is up or down. At the same time, don't forget to do your own research and make investing decisions carefully. Start your crypto journey with MEXC now!