STI token became No.1 of MEXC daily top 5 gainers recently, with 496.6% increase in current relative weak market.
What is Seek Tiger?
Seek Tiger, a decentralized chain game aggregation platform, is committed to creating a GameFi chain game aggregation platform based on the concept of Web 3.0, integrating smart contract constraints and Dao voting governance for global users, including a meta universe ecosystem of decentralized NFT trading and cross chain integration system. GameFi chain game aggregation platform is mainly responsible for providing players with a cross chain aggregation game environment. Decentralized NFT trading, in order to realize the circulation of game assets and virtual social networking of creators and investors. It assists potential chain game incubation.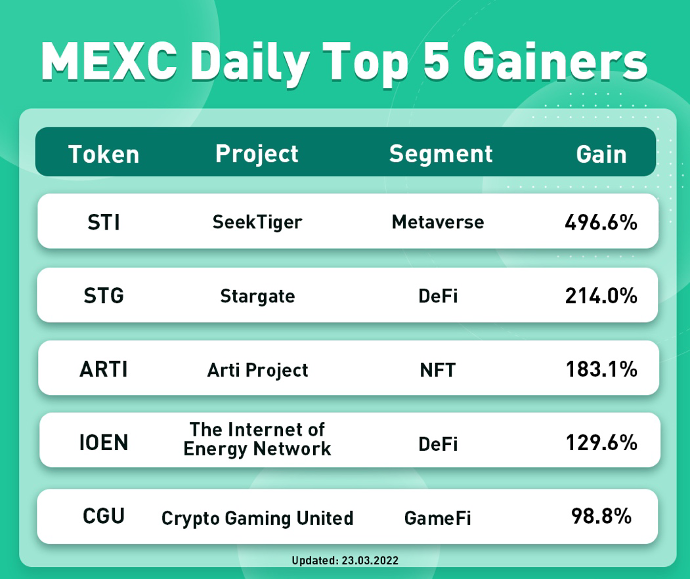 SEEK TIGER pioneered the combination of Mystery box, digital tiger and DAO, presenting users with an interesting meta universe ecology of NFT + DAO + GAMEFI. Anyone can own or start their own projects here; NFTs can be minted and traded in the ecosystem. Players can also elect game developers to raise funds by pre-selling unique in-game assets; At the same time, help the game development studio to provide all-round and multi-dimensional support from the financial support for game development to the release, publicity and network traffic of the game after the online aggregation platform, the game guild, and provide a complete GAMEFI system construction to ensure the game revenue.

SEEK TIGER provides both developers and gamers with an easy-to-use game aggregation platform that provides interesting experiences for all users. Promote the development of GAMEFI ecology, and SEEK TIGER DAO makes decisions and actions to promote development, and encourages everyone to build, govern and share.
What makes Seek Tiger unique?
Asset Security: After the user's game assets are chained, the operator cannot control and misappropriate them at will, and the assets will not disappear due to server failure or the operator running away.
Transparent Process and Clear Rules: The process and rules are more entrusted to the program implementation than manual operation to solve the problems of opacity and trust.
Higher Rate of Return: After the implementation of automated process, some intermediate links are omitted, which can effectively reduce the operation cost and provide users with higher rate of return.
Larger Market: The traditional game industry uses legal currency for participation and settlement. Due to the differences of regional legal currency and policies, the participation of users is limited, and the chain game has no borders. It can circulate all over the world and allow users in more regions to participate together.
DAO: To build web3.0-based DAO chain game aggregation platform, based on in-depth research and development of independent chain games, actively integrate individual or team game developers, introduce richer blockchain games, and provide diversified chain game services for DAO members.
Rich Playing Methods and Wealth Appreciation: Different from the single playing methods of other games, with the theme of SEEK TIGER, a number of games with rich playing methods have been launched, which can realize the continuous appreciation of wealth in the process of experiencing games and exploring unknown fields.
Seek Tiger Economic model
The virtual economic model in the meta universe is not a two-dimensional spatial mapping of traditional finance, but a three-dimensional upgrading. The innovation in the meta universe is endless, and has shown a diversified trend. People can do anything in real life in the virtual world through digital separation, and the actions of the virtual world will also affect the real world.
STI will connect virtual digital assets and real assets through technology to ensure the authenticity and consistency of digital assets and real assets, Chain ID and real identity. Explore the "Metaverse" owned and built by users in an immersive way through virtual reality. Ensure that everyone can get benefits and fun in the SEEK TIGER meta universe system.
Future development
At present, most of the content of the game is carried out in SEEK TIGER. The SEEK TIGER aggregation platform is the hub of the SEEK TIGER virtual world, where players can explore games. In the future, we hope to further expand the scale of SEEK TIGER so that users can buy, create and own virtual assets.
From the current form, all walks of life are embracing the meta universe and starting to build the meta universe ecology, the economic structure model of the whole society is also changing.
SEEK TIGER will be committed to building a decentralized financial meta universe and will develop into a comprehensive service platform integrating the creation, operation and management of meta universe in the future.
Start your travel on MEXC Global