Mutant Ape Yacht Club is a collection of up to 20,000 Mutant Apes that can only be created by exposing an existing Bored Ape to a vial of MUTANT SERUM or by minting a Mutant Ape in the public sale. MAYC is a project by Yuga Labs, the creators of Bored Ape Yacht Club, that rewards Bored Ape holders with an entirely new NFT, a "freak" variety of their primates while allowing novices to participate in the BAYC biological system at a reduced degree of engagement. This article explores the core features of Mutant Ape Yacht Club and how one can purchase (or create) MAYC by first purchasing ETH or APE as a base token on MEXC Exchange.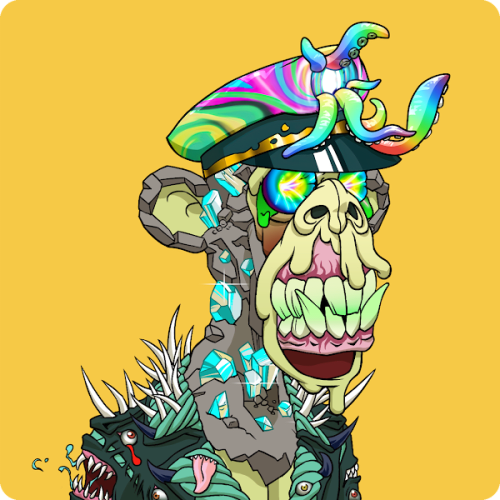 What is Mutant Ape Yacht Club?
Mutant Ape Yacht Club is a collection of up to 20,000 Mutant Apes that can only be created by exposing an existing Bored Ape to a vial of Mutant Serum or by directly purchasing a Mutant Ape in an NFT marketplace.
Every Bored Ape holder was airdropped 10,000 Mutant Serums when the project was first announced; holders might then produce freaks by exposing their Bored Apes to the Serum for the cost of the gas. The Mutant Serum vials were available in three sizes: M1, M2, or Mega Mutant (M3). If a Bored Ape is treated with an M1 or M2 Serum, the resulting Mutant Ape resembles the first gorilla. The M3 Serum is intended to increase the rarity level of the resulting NFT and subsequently its visual oddities. One primate can only consume a particular type of Serum. The Serum will be burnt at the moment of use. The Bored Ape itself remains unharmed.
How to buy Mutant Ape Yacht Club?
To purchase Mutant Ape Yacht Club, users should first purchase ETH on MEXC Exchange following the steps listed below:
Log in to your MEXC account and click [Trade]. Click on [Spot].
Search "ETH" using the search bar to see the available trading pairs. Take ETH/USDT as an example.
Scroll down and go to the [Spot] box. Enter the amount of ETH you want to buy. You can choose from opening a Limit order, a Market order or a Stop-limit order. Take Market order as an example. Click [Buy ETH] to confirm your order. You will find the purchased ETH in your Spot Wallet.
After purchasing your desired amount of ETH, you can send them to your Metamask wallet and then purchase Mutant Ape Yacht Club on OpenSea.
Additionally, current holders of BAYC can also choose to spend their ETH on Mutant Serums and expose their own Apes in order to create new Mutant Apes.
Recent Mutant Ape Yacht Club Price & Performance
Over the last 90 days, Mutant Ape Yacht Club has an average price of 18.8213 USD and an average transaction volume of 42,366.7686. Now, in August 2022, Mutant Ape Yacht Club has accumulated a total transaction volume of 442,0000 ETH.
Interested in buying NFTs? We have more!
MEXC not only provides access to the world's most popular tokens and new GEMs, but also offers unique assets & tools! Visit the hot projects section to find more hot tokes that were listed already. If you would like to know more about crypto trading itself visit MEXC Academy.