On October 27, the US Tesla CEO Elon Musk completed the acquisition of Twitter for $44 billion, and this half-year tug of war finally ended. According to the New York Stock Exchange, Twitter completed its delisting on October 28October 28. Musk, who has taken over as Twitter's CEO. Musk plans to cut about 3,700 jobs, almost half of the social media company's workforce, people familiar with the matter said.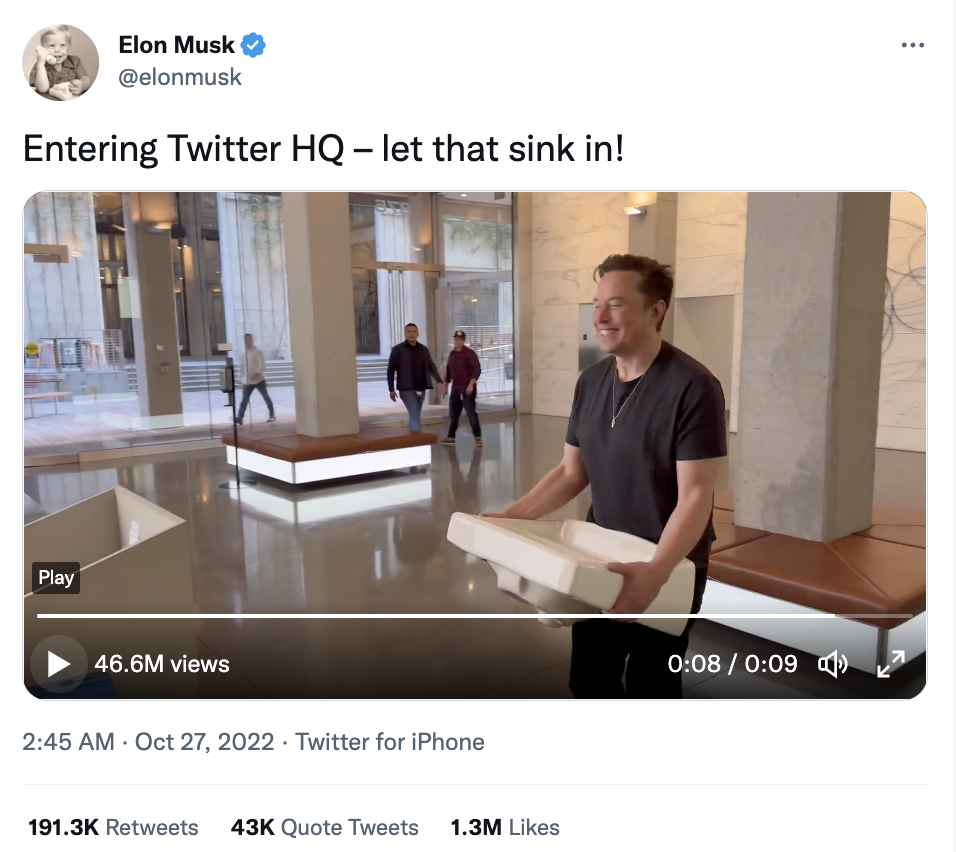 In fact, as early as October 26, Musk publicly swore sovereignty on his personal Twitter account and changed his profile to Chief Twit. He then tweeted a video of him entering the Twitter headquarters building with a hand sink in his hand, with the caption, "let that sink in!".
Surprisingly, just after Musk acquired Twitter, the cryptocurrency Dogecoin(DOGE) remarkably ushered in a jumping rise. According to data from the global top crypto asset exchange MEXC, the price of DOGE continued to rise from 0.055u before the news of the acquisition of Twitter to 0.158u. An increase of 187.27% in a few days.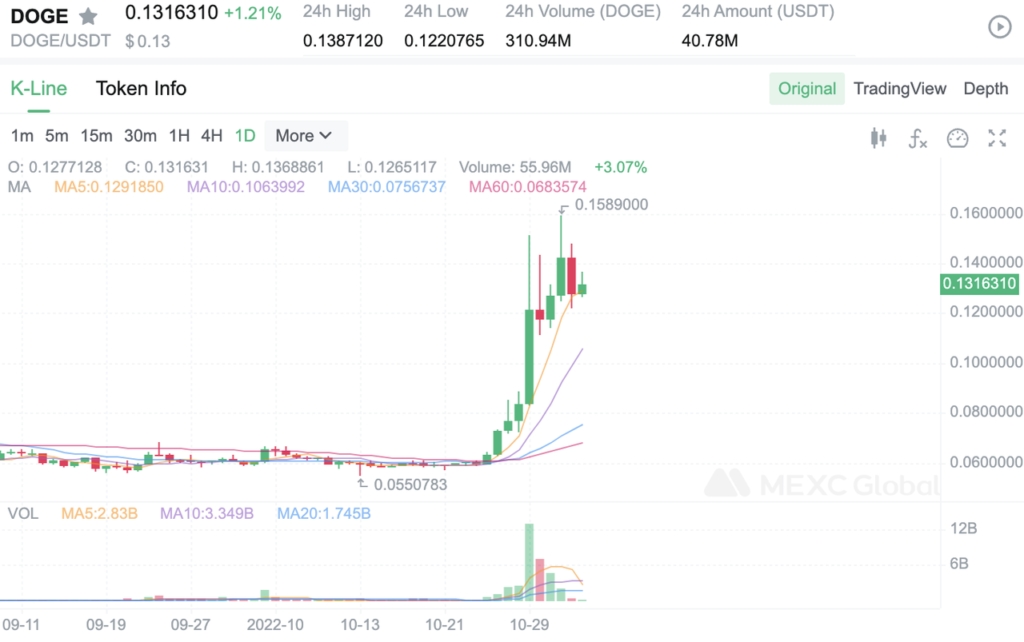 Musk's relationship with DOGE dates back to 2019 when he tweeted: "Dogecoin may be my favorite cryptocurrency." Since then, Musk has called himself the godfather of DOGE and started the road of DOGE publicity.
On November 1, Musk shared a photo of the Halloween celebration on Twitter of a Shiba Inu wearing the Twitter logo. Many users speculate that Twitter may be deeply integrated with DOGE coins in the future. This picture also led to the speculation that Twitter will be transformed into a blockchain. Shiba Inu(SHIB) jumped 28% shortly after the tweet, and Floki, the meme coin with the same name as Musk's Shiba Inu, jumped 19%.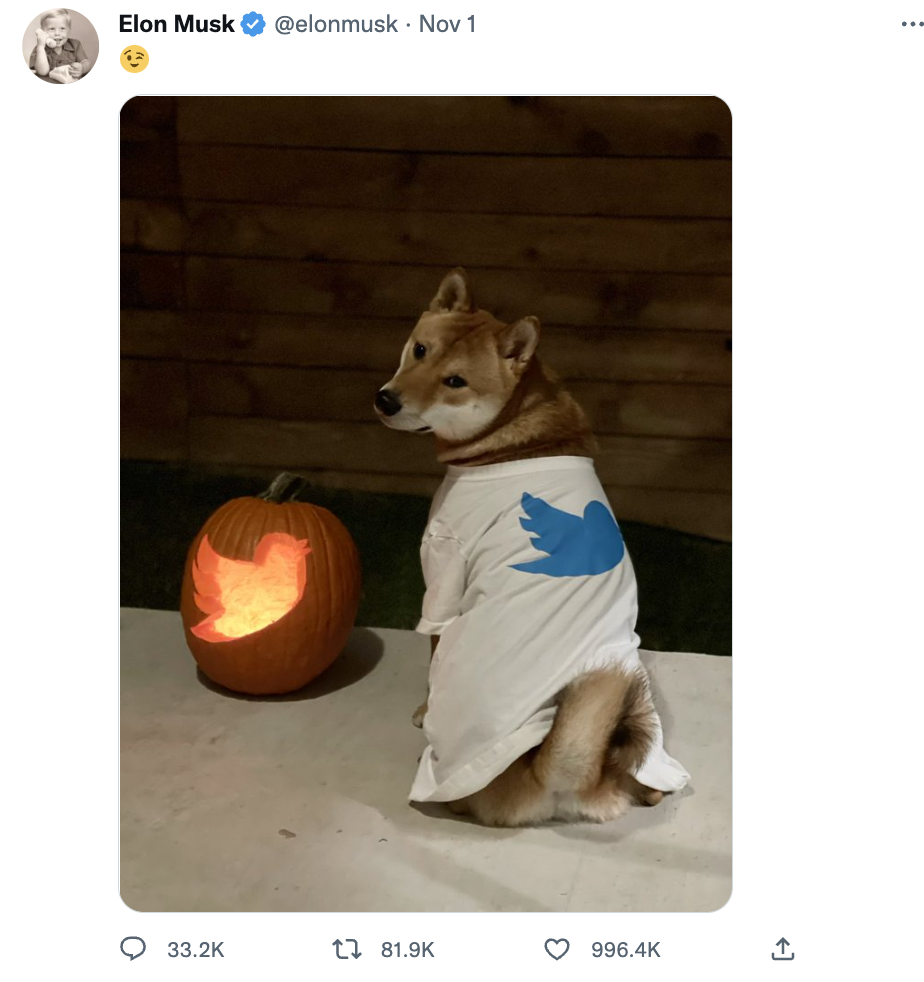 Musk has always wanted to create a super application like China's WeChat, which has not only comprehensive payment capabilities and can solve various life needs in one stop but also configures advanced communication functions, a dividend mechanism for content creators, and easy-to-enter interfaces. The acquisition of Twitter will make it a platform for free speech. It can also accelerate the development of Musk's envisioned application X-App, which will support a variety of digital currencies, including Bitcoin, Ripple, and DOGE. It is reported that Twitter has supported bitcoin and ether for tipping and has added support for NFTs.
Musk proposed using DOGE as a payment method for Twitter to subscribe to Blue as early as April this year. After the acquisition, the market speculated that Twitter would launch the DOGE reward function, which may use the DOGE as an incentive for content creators. It may further support the use of DOGE to purchase Tesla peripheral items and even use DOGE to buy Tesla. Musk's Starlink plans to launch more than 40,000 satellites. The market speculated that users might be allowed to use DOGE to pay for the Internet access of Starlink satellites and use DOGE to pay for Space X's aerospace costs.
This century's acquisition of Musk's privatization of Twitter has undoubtedly made the cryptocurrency market hit. It has also spawned the concept of Musk's Twitter section. Related tokens have gone out of the independent market one after another.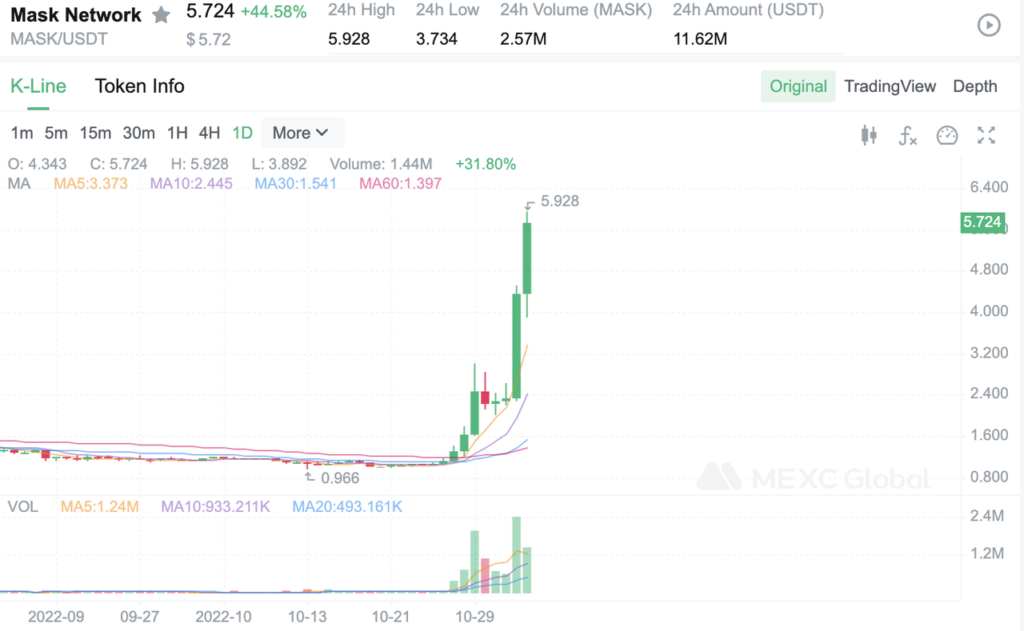 Mask Network is a protocol that allows users to share encrypted messages via Facebook and Twitter. It acts as a bridge between the internet and the decentralized web. Launched in July 2019, the protocol enables the sharing of encrypted information on Twitter and Facebook. As early as 2021, Mask Network announced the launch of the Twitter NFT Gallery function in its plugin v1.36.6, which can automatically identify ENS domain names and ERC20 addresses. With the Mask extension, users can view the price of NFTs directly on Twitter and bid on them instantly.
Mask Network allows users to fund Gitcoin campaigns directly from Twitter. It also plans to offer peer-to-peer payments and decentralized storage services.
Mask Network's native token, MASK, has risen by more than 516.67% in the past 15 trading days. Currently, the price is still sprinting to a new short-term high. The market attributed the explosive growth of MASK to two reasons: First, Elon Musk completed the acquisition of Twitter; Second, the community speculated that MEXC might add MASK to Musk's Twitter concept section and use it as the mainly prompted project.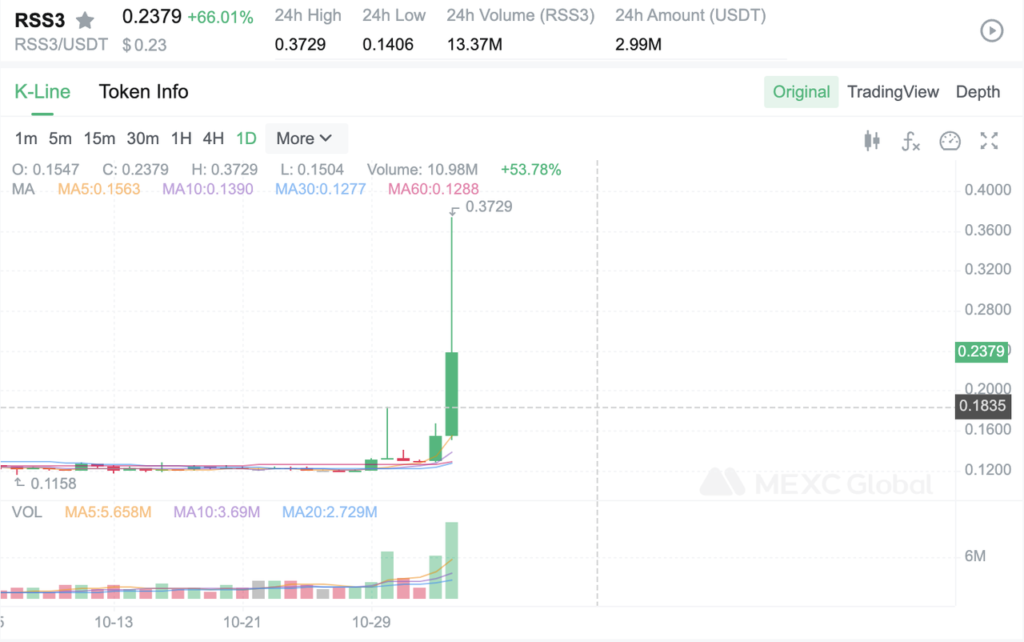 RSS3 is an open protocol for content and social network design in the Web3 era. RSS3 was born out of the famous RSS project RSSHub on Github. Inspired by the RSS protocol, the RSS3 team proposed a new design standard derived from the original RSS standard. By introducing cryptography-based authentication and links between files, the entire system achieves the decentralization of data ownership. It can support various networks, thus building a "can't be evil" content and social networking protocol.
RSS3 developed the Web3 Profile Card feature for Mask Network, which can automatically detect the ENS of a Twitter account and view its Web3 activity. As a Twitter plug-in, MASK has a unique advantage. According to market speculation, users who step into the air must turn their attention to RSS3. As of the publication date, RSS3 has recently increased by 236.33%.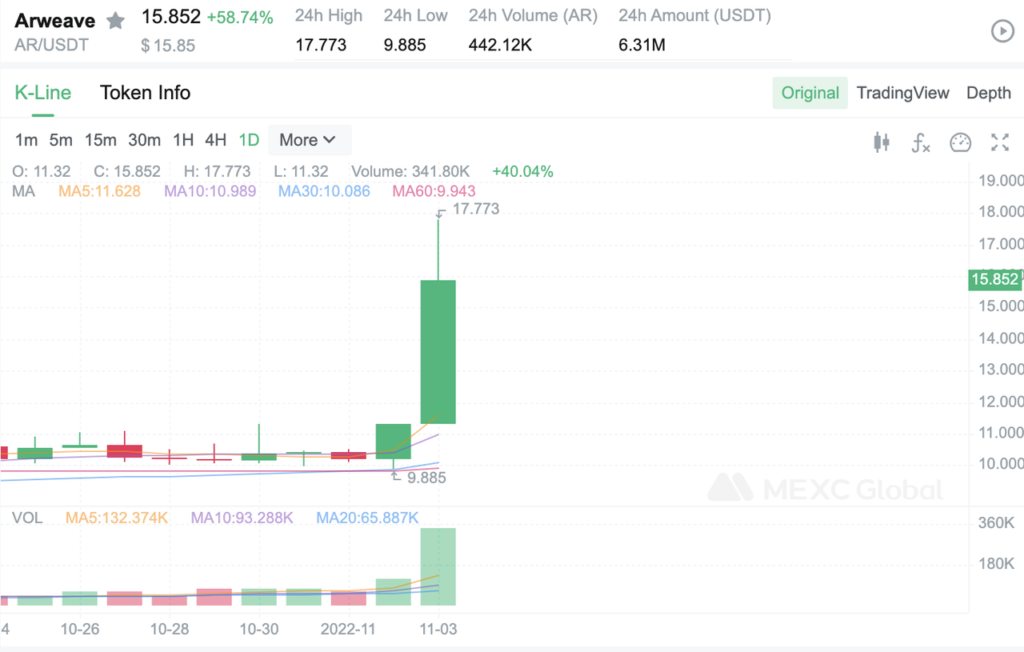 Arweave is a decentralized cloud storage solution that aims to disrupt the traditional storage market using blockchain. Unlike other cloud storage solutions, Arweave has the security advantages of decentralized storage. Its users can also choose a one-time payment to obtain permanent storage services.
According to Meta's official Twitter announcement, Instagram will launch a new function that supports NFT information display on Polygon. Arweave powers this function, and RSS3 announced it had started related adaptation work for Arweave. After the adaptation is completed, NFT information will be displayed across social platforms.
Celebrity effects are especially striking in the crypto market. With the completion of the Twitter acquisition, Musk-related projects have risen to varying degrees. The market seems to have reached a certain tacit understanding that projects related to Musk's Twitter concept board are expected to perform independently from the bear market.
Start your travel on MEXC Global