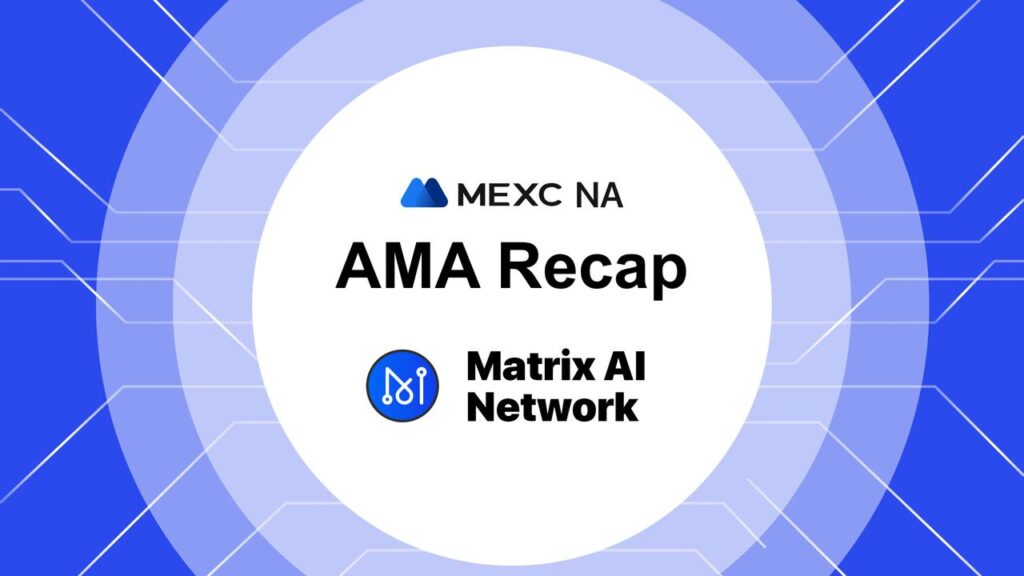 On March 17th, 2023, Sercan Muslu, head of the Matrix AI NetworkDAO community, sat down for a Telegram AMA with the MEXC NA. He answered a large variety of questions, including what Matrix AI Network is, the story of Matrix AI Network started, and the vision & mission of Matrix AI Network.
We'd like to say massive thanks to all of you who joined the Matrix AI Network AMA. And we appreciate all your support. This is a recap of the entire session, in case you missed it!
Effy:
In the blockchain industry, there are numerous projects, but not many AI-related projects. Today, we're honored to invite Sercan Muslu to our community to give us a more intuitive introduction to their unique project.
Sercan Muslu:
Hello everyone, it's a pleasure to be here! My name is Sercan and I currently serve as the head of the community at Matrix AI Network. I'm grateful for the opportunity to participate in this AMA hosted by MEXC and the NA community.
My passion for blockchain and artificial intelligence has led me down an exciting path, where I've gained a wealth of experience in community building and workforce management. Having worked in these areas previously, I was drawn to the Matrix AI community due to its focus on these innovative technologies.
Since joining the community, I've become increasingly involved and have had the honor of serving as the head of the community for the past two years. It's been an incredible journey, and I've gained invaluable insights into what it takes to build a thriving community. I'm continuously impressed by the dedication and passion of Matrix AI community members.
There are currently 22,943 cryptocurrencies on Coinmarketcap. There are only 14 AI projects with their own blockchain and Matrix has many advantages and differences compared to its competitors. The future of blockchain and artificial intelligence is a topic that I'm particularly excited about, and I'm thrilled to be a part of a community that's driving progress in these areas. I'm eager to see what the future holds and how we can continue to make a positive impact through our work.
Questions from the Community:
Effy:
1. What is Matrix AI Network? Could you please introduce your team and financial background to us? What's the story behind it?
Sercan Muslu:
Matrix AI Network is a cutting-edge blockchain project that brings together the power of artificial intelligence and blockchain technology. Our vision has not changed since the day we were founded. Inspired by the Matrix film, this project was founded in 2016, the team of young professionals set out to design a functional and reliable blockchain platform with the help of AI technology. The result was the Matrix 1.0 blockchain platform, the first AI-optimized blockchain platform, which solved key concerns in blockchain technology such as low transaction speeds, lack of security, complexity of usage, and squandered resources.
With the Matrix 2.0 blockchain-based AI economy, the platform is self-evolving with aggregated computing processing power, safe data management, transparent data sharing, and access to an ever-growing set of on-chain AI data, models, and applications. This allows for endless possibilities and a new era of innovation and growth in the world of technology.
The team is now working on the Matrix 3.0 project, a rare combination of neuroscience, AI, and blockchain technology. The project aims to use EEG or brain signals to create Avatar Intelligence (AvI), which will allow for the creation of digital avatars for each user on the Internet. These avatars can be used for various tasks in the Metaverse and Real-world under user authorization. The project covers four phases, and the team is currently working on the first phase.
At Matrix AI Network, we take great pride in the team we have assembled. Our CEO is Owen Tao, our Chief Scientist is Professor Steve Deng, our CMTO is Eric Choy, and other team members working in each department. Our talented professionals come from diverse backgrounds and possess a wide range of skills and expertise. We believe that collaboration and teamwork are essential to the success of our project, and we recognize the crucial role that each team member plays in achieving our goals.
You can review our website to get more detailed information about our team.
Effy:
2. What is the Matrix Al Network's (MAN) long-term strategy for ensuring the project's health, and what are their plans for community engagement and investor security? Additionally, what can we expect from MAN in the next 1-3 years?
Sercan Muslu:
The long-term strategy for the Matrix AI Network is to integrate neuroscience, artificial intelligence, and blockchain technology to create a self-evolving AI platform with Avatar Intelligence (AvI). We believe that this unique approach will set us apart from other blockchain projects and position us for success in the growing AI market.
Over the next 1-3 years, our team will continue to focus on developing our platform and working towards our goal of creating a platform that will empower developers and users to build and explore Metaverse in new and innovative ways. Our Avatar Intelligence technology will be a key focus area, as we believe that it has the potential to revolutionize the way that users interact with Metaverse.
Investor security is a top priority for us, and we will take measures such as audits, transparency, and compliance with regulations to protect our investors and ensure the long-term sustainability of the project. We will also engage with the community through events, forums, and social media to build a strong and supportive network of users and developers.
In terms of market value, we are optimistic about the potential of our project.
It is important to note that according to research, the market size for the global digital human avatar is expected to reach 527 billion dollars by 2030, and Matrix AI Network is well-positioned to tap into this potential. As the pioneer in combining artificial intelligence and neuroscience with blockchain technology, Matrix AI Network has a unique value proposition, which is expected to set it apart from other projects in the space. And we are pioneers and it seems we are the only one with BANG.
Effy:
3. So what are your goals for the second and third quarters of 2023?
Sercan Muslu:
Our primary objective for the second and third quarters of 2023 is to achieve Phase 1 Roadmap Milestone 1, which involves several tasks such as upgrading our blockchain platform, developing a customized Smart Contract Module, and establishing a distributed storage structure for brain wave data. Additionally, we plan to create a minting and authentication system for brain wave data NFTs and provide access to upload brain wave data.
As we approach the third quarter, we will start preparing for Phase 1 Roadmap Milestone 2, which is expected to be completed by December 1, 2023. Our goals for this quarter include connecting with a third-party semantic recognition module, transitioning phonetic and semantic recognition to standard languages, and testing open access to computing power. We are also developing a cross-chain settlement and access system, creating ports for cross-chain use of computing power, and planning to launch the first application for brain wave data analysis and preliminary modeling.
We are excited about the progress we are making towards achieving our goals and confidence that by upgrading our blockchain platform and developing new modules and systems, we can transform the way brain wave data is stored, analyzed, and utilized. Furthermore, we remain committed to ensuring that our platform is accessible, reliable, and secure for all users. As we continue to work towards our objectives, we look forward to sharing more updates and insights.
You can access our entire roadmap from this link.
Effy:
4. Same field AI, ChatGPT has been a hot topic in recent times. Do you have a project or partnership related to this?
Sercan Muslu:
Our project, Morpheus, is an Alpha initiative similar to ChatGPT, which showcases the remarkable infrastructure of the MANTA platform for large-scale language model training. Morpheus aims to provide robust support for high-capacity training and computing, pushing the boundaries of what's possible with AI and creating exciting new opportunities in the field.
However, as an Alpha project, there are many areas for improvement, including training models, resources, data sets, user experience, and more. Responses may be inadequate or incorrect at times, but this is expected, and we are working to address these issues.
ChatGPT hot topic in the field of AI at the moment, but Morpheus was not created to directly compete with ChatGPT but to demonstrate the MATRIX infrastructure's capabilities for training complex systems and its ecosystem. This is the project's most crucial aspect.
The time it took from conceptualization to internal testing of Morpheus is a testament to our team's vision and technical capabilities in building a challenging platform. Our goal is to push the boundaries of what's possible with AI and continue to create exciting new opportunities in the field.
Morpheus, will be available for community testing in the near future. To stay informed about the latest updates and announcements regarding Morpheus, we recommend joining our news channel.
Effy:
5. Please tell us what is the function of the $MAN token in the Matrix AI Network.
Sercan Muslu:
The Matrix AI Network utilizes MAN coin to facilitate various functions within its ecosystem. The primary token is the $MAN token, which serves as the native cryptocurrency and payment method for transaction fees, incentives, governance, staking, and avatar storage fees.
in Matrix 3.0 Users will need to pay $MAN for storing, accessing, and transferring their avatars, and they must stake a certain amount of $MAN or pay a verification fee to ensure that their avatars can serve or interact with others.
Overall, the integration of these tokens and fees allows the Matrix AI Network to provide a decentralized, AI-powered infrastructure that can support a variety of applications and use cases, from brain wave data analysis to avatar training and deployment.
The MAN token has a vital role in the network's ecosystem, serving as a payment method, incentivizing participants, facilitating governance, and enabling users to stake tokens for consensus participation and network security rewards. Additionally, the process of transforming computing power, algorithmic models, or AI artwork into digital assets requires burning a specific amount of MAN tokens in the forging of NFTs.
The value of the $MAN token is closely tied to the adoption and success of the Matrix AI Network, making it an important factor for network participants and investors alike.
Effy:
6. Which country is the Matrix AI Network project centered on?
Sercan Muslu:
As a project with a global vision, the Matrix AI Network community is composed of individuals from all countries in the world who are interested in blockchain, artificial intelligence, and cryptocurrencies. The number of members in the community varies according to the usage rates of blockchain and cryptocurrencies in different regions.
However, The Matrix AI Network is headquartered in Hong Kong. In Hong Kong, there has been good news in the cryptocurrency space recently, which could help the project further develop its operations. Nevertheless, our goal is always to reach new crypto communities in new countries, and we are constantly striving to expand our reach.
Currently, we are focused on our valuable community in North America, and we are committed to providing them with the support they need to fully realize the potential of blockchain technology. Regardless of where our community members are located, we are dedicated to building a decentralized, secure, and efficient artificial intelligence ecosystem for everyone.
We invite everyone who is interested in this project to become a Matrixian in our official global telegram group. Your support will enable our project to be discovered and disseminated by more people, and it will also give us great strength to have the NA community involved in this project.
Effy:
7. Do you have experts within your team capable of achieving the goals set forth by Matrix 3.0? It seems like a challenging undertaking, so have you considered collaborating with scientists to accomplish this task?
Sercan Muslu:
Certainly. The Matrix 3.0 project is a complex and ambitious undertaking that involves a multidisciplinary team of experts. The team includes AI experts, who will be responsible for developing the algorithms and machine learning models necessary to interpret and process the brain signals captured by the EEG. Additionally, the team will also include experts in neuroscience, who will be responsible for designing and conducting experiments to capture the brain signals and validate the AvI models.
Collaboration with scientists will also be a key part of the project, as it will require a deep understanding of brain function, as well as the development of new technologies for capturing brain signals. Overall, the Matrix 3.0 project is a highly challenging task that requires expertise across multiple fields, but the team behind it is well-equipped to handle the job.
Also, Jackson, a neuroscientist from NeuraMatrix, a high-tech company founded at Tsinghua University. We conducted an AMA with Jackson, an expert on this subject.
Free-asking Segment: Answer Questions from the Community
Q1. Have you launched any local community groups for those who don't understand English? How important is the local community to you?
Sercan Muslu:
Matrix AI Network is a Global project. We take great care that everyone follows our project in their own language. We offer multi-language support on Twitter, Youtube, telegram, and Medium. You can access local telegram groups here.
Q2. Since NFT is popular nowadays, is there a plan for NFT integration?
Sercan Muslu:
Definitely. NFTs are very popular. We have very valuable work in this field and much more is on the way!
MANIA is a platform that facilitates the trading of AI algorithm models as NFTs in mainstream markets. It provides a secure and trustworthy marketplace for developers and clients and supports Ethereum and BSC. To protect the privacy of algorithms, MANIA employs privacy-preserving computation (PPC) and a high privacy layer structure.
You will also be able to NFT print brain wave data for use in the metaverse on the Matrix blockchain, which we have planned for matrix 3.0. and we are working to make it compatible with the MANIA platform that I just mentioned.
Q3. Many projects have problems with UI / UX and this one turns off new users. How do you plan to improve interaction with new users and with users outside the crypto space?
Sercan Muslu:
I agree. We have an amazing design concept. In general, we make improvements in line with the requests of the community. We've recently refreshed our website and aligned it with our massive Matrix 3.0 roadmap. We also have work for our existing Dapps. stay tuned.
Trying to find MEXC AMA recaps?
It's easy! Explore them in a special section of our MEXC blog. Find insights for other recently listed projects at MEXC.