Key Takeaways
Clicking the "Quick Commit" button allows you to join all current events immediately.
Three Different Stages of Event: In Progress, Pre-Hype, and In Settlement.
In Progress events are sorted based on their end time. (Earlier end times appear first in the list)
Multiple-token prize pools. (For example, a prize pool consisting of both new coins and USDT)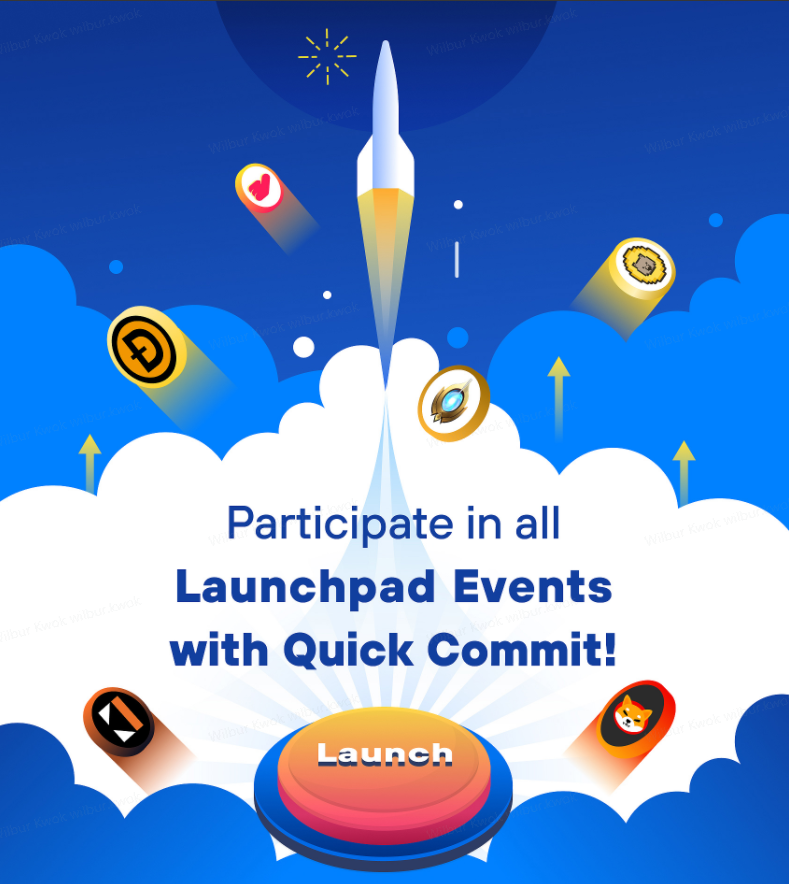 Maximize Your Gains With MEXC Launchpad's Quick Commit
As our exchange grows bigger, the diversity of tokens continues to grow. This is well reflected on our increasing number of Launchpad and Kickstarter events. Currently, users can participate in more than 20 events per week, gaining more than 20+ airdrop rewards.
However, a new issue arises. There are too many events and it's hard to navigate them all. Here is where the Quick Commit Button comes into play! It allows users to join all current events with a single click. The system will automatically select all current activities that have not been invested in. No more missing out on the fun, am I right?
What are the Benefits of the Quick Commit Button?
The One-click Investment button offers several benefits to investors:
Simplifies the participation process for users, especially for those joining in multiple events at once.
Saves time by eliminating the need for manual searches for ongoing events on the platform.
Allows users to join all ongoing activities with a single click, ensuring that they do not miss out on any free airdrop opportunities.
More Minor Upgrades That you Will Enjoy
As the number of events increases, the ending date can be hard to remember. Fret not, our team came out with an ingenious way to sort it now. Starting May 8, 2023, there will be three stages of events. They are respectively "In Progress," "Pre-hype," and "In Settlement."
In Progress events are sorted based on their end time, with earlier end times appearing first in the list. Pre-hype activities are those that have not yet started but are generating hype among investors. Meanwhile, In Settlement refers to those that have already ended, and investors are waiting for settlement. A much clearer picture now right?
Furthermore, our Launchpad now supports multiple-token prize pools. For example, a prize pool will consist of both new coins and USDT. We believe that this will bring users even more value participating in our Launchpad and Kickstarter events! What are you waiting for? Participate immediately and get your share of free airdrops!
How To Participate in MEXC's Launchpad or Kickstarter Campaign?
Here is a simple guide for you to join in on the fun!
Purchase and hold MX Tokens in your spot wallet (Buy now!)
Hold at least 1,000 MX Tokens in your spot wallet for 15 consecutive days (Kickstarter) or 30 consecutive days (Launchpad).
Once 15 days have passed, you can commit the MX Tokens to a Non-lockup Event.
Click on the Quick Commit Button to join all events simultaneously.
After the event ends, the system will first divide the total prize pool.
Then, it will distribute the airdrops based on the user's proportion of valid commitment.
The more MX Tokens you commit, the more airdrops you receive!
After the airdrop reward distribution, head on to the (Reward History Page) to learn of the airdrop details!
Quite a simple process right? What are you waiting for? Join now at MX Zone!
Personal Note From MEXC Team
Don't forget to check out our MEXC trading page and find out what we have to offer! Do not miss out on the golden window. You can learn more about crypto industry news and interesting articles to get you up to speed with the crypto world. Happy trading!
Start your travel on MEXC