In this Telegram AMA recap, you'll find answers to all questions about the ZukiMoba project. In an event hosted by Iris from MEXC Global, you will meet Lionel from the ZukiMoba Protocol.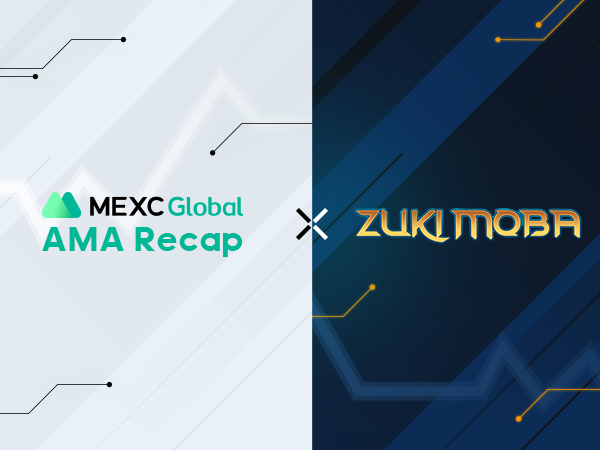 Introduction
Jayz: Good evening from Vietnam and ZukiMoba! It's my pleasure to be here today with you guys. I'm Jayz, Co-Founder and CMO of ZukiMoba project. I'm appreciate this opportunity for us to get closer to MEXC community!
Questions about the ZukiMoba project
Question 1:
Iris: What is ZukiMoba? Can you share with us more in detail?
Jayz: Zuki Moba is a MOBA Esport Game (Multiplayer Online Battle Arena) which is built with a Decentralized Economy application community-oriented
In-game NFT is used to build characters, game items, and Metaverse structures. In addition, Play to Earn mechanism is applied to create economic benefits for Gamers, creating a unique point compared to traditional MOBA games.
The game is built based on the traditional Japanese snowball game (Yukigassen) which is famous throughout the game world by its attractive nature of sports, fun, competition, and attractive battle online and can develop into a global e-sport game
Our missions are to bring you the most novelistic gaming experience and the most lucrative earning opportunities while promoting the expansion of the Binance Smart Chain ecosystems and the mass adoption of blockchain applications.
Zuki Moba's mission is not just to create an e-sport game but a game platform that connects crypto players with gamers and streamers. These three components will create a sustainable ecosystem that makes gaming, sharing, and in-game peer-to-peer exchange famous worldwide.
Question 2:
Iris: What triggers you to launch ZukiMoba? What are ZukiMoba's unique selling points as compared to other similar projects in the industry?
Jayz: Oh, this is a nice question
May be i will explain more detail about this to everyone here
As you can see, in the blockchain industry, or specifically the GameFi market, there are not many MOBA games. Those games currently are just RPG or card games. Zukimoba is the perfect combination of Moba – the game genre that has made its own spot in the video game industry and Blockchain – the hot trend right now and so many years ahead.
Iris: Yes, indeed!
Jayz: Many gaming projects are facing the loss of players shortly after the games are released. This is partly because the attractiveness of the game is no longer enough to keep the players and investors to stay longer with the projects. Understanding that point, Zuki always wants to renew ourselves and bring to our users the best experience like the first day. Combined with MOBA gameplay, the most prevalent type of game in the world with many successful examples like LOL, Battle of Legend,…
Zuki is expected to reach the most diverse clients possible. Also with the experienced developing team including people with many years working in the gaming industry, we know what the market needs and provide them the best product integrated with the high end blockchain industry. When playing ZukiMOBA, players will find it both strange and familiar, so it won't take time to get used to it and start to earn money with ZUKI game.
First of all: The game is accessible and affordable to everyone. Players can start earning without paying any fee or staking any token.
Secondly is Tokennomics, ZukiMoba has a sizable play-to-earn community, and with a growing base of players in emerging economies. ZukiMoba has two in-game currencies, both based on the BSC blockchain in Zuki (Governance token) and Gem (Sub-token).
The Zuki token is leveraged for governance and other actions within the game. The game involves a battle between token-based characters called "Zuki," and players can collect items, collect GEM, breed the characters, and train their in- game characters.
While GEM is used for trading between Zuki and can be converted into fiat money, Zuki is a governance token that lets owners have right to vote in the development of the game. GEM is also a token tied to the Zuki economy and has seen a major role.
Besides earning and collecting GEM and Zuki, the Zuki Moba economy's tokens can be traded on exchanges like Pancake, Bibox, MEXC is up coming etc.
Iris: Yes! can't wait to trade ZUKI on MEXC!🔥
Jayz: And final thing is our team strongly long-term commitment with the project.
Question 3:
Iris: What is the role of $ZUKI in ZukiMoba? Would you tell us more about its tokenomics?
Jayz: Yes, I strongly believe this is the most important thing. To Avoid inflation is a very important issue and it is the challenge many NFT games are facing at this moment. At first, we see that burning a token is a possible solution to maintain the stability of tokenomics, but still, the problem is not totally avoided. Therefore, with the Zuki team, we think in another way.
Let me explain more about this: whenever a player buys and sell NFT cards, trade tokens, they will be charged a small amount of transaction fee is 1% and 80% of this fee will be returned to the game through Play To Earn reward, so the amount of tokens in the game is increasing in a natural way, which helps to develop a large number of token for new users in a long run.
So every day, a large number of tokens will be used for pairing, trading, and converting into NFT, so there will help to reduce inflation. This will create a token enclosing circle: who wants to earn tokens must have an NFT card and to have an NFT card, they must have a token. And, this is our Tokenmetrics, for more details, you can look below:
Advisor: 5%
Marketing: 10%
Reward (Stacking – farming – Play to earn) & Liquidity: 46%
Airdrop: 5%
Development Fund: 5%
Seeds: 4%
Private: 8%
IDO: 2%
It isn't surprising that a game like ZukiMoba has a sizable play-to-earn community, and with a growing base of players in emerging economies. ZukiMoba has two in-game currencies, both based on the BSC blockchain in Zuki (Governance token) and Gem (Sub-token). The total supply of $ZUKI will be 1.000.000.000 and the amount of $GEM will be unlimited.
Question 4:
Iris: Are there any exciting news or updates with regards to ZukiMoba that you would like to share with the users?
Jayz: Yes, this is the thing I thought that make me very happy to share to you all
At this moment (10th Jan'22), we have launched the testnet for the community and 100 lucky players participated. Besides, we also have an announcement about the listing of MEXC, and there will be other major exchanges in the near future. I hope that you all can enjoy the game and may send us more feedback for us to improve more. Also, upcoming we have many big events and e-sport tournaments for those who play our game.
Iris: Congrats on the test net launch!🔥
Jayz: So let train yourself and try to team up with friends and be ready for that.
Many thanks 😊
Question 5:
Iris: If you were to summarize your project in ONE word, what would it be? Why?
Jayz: Oh wow 🤩 Just only ONE word right? I would like to say is: UNIQUE. Why? Because at this moment We have a Unique Team who with very high determination and commitment to this Zuki project. We have a unique idea and product. And the last, we have a unique timing to develop this project
Free-asking Session to ZukiMoba
Q1. Do the token holders have the right to participate in the governance of the project? What kind of decisions can they vote on about the project?
Jayz: Yes, our Zuki Token is governance token and holders totally have the right to vote in the project development term. They even can suggest more ideas to Dev team to help to make the game more unique
Q2. When will your tokens be listed on the exchange and which exchanges do you plan to list on in the future?
Jayz: We did list our Zuki on Pancakeswap, Bibox, MDEX, and upcoming will be MEXC
Q3. Have you being audited ? Have not heard you talk about that security of funds is what every investor craves for and plans to escape incase of insecurity if funds,scams and rug pulls ? How strongly built are your security put in place?
Jayz: Yes we did complete the Audit with Certik and Techrate. You may check more information on our official website. Thanks 😊
Q4. PARTNERS are the most important that strengthen the ecosystems of all projects. Could you tell us about your project partners and the partnership strategy it has adopted?
Jayz: Ya, we got many support from our great partners as Kyber, Huobi VC, MEXC etc. and if don't mind you can see more on our official website and channel. Thanks for your question!
Searching for more MEXC AMA Recaps?
Explore recaps in a special section of our MEXC Global blog. Find insights for newly listed projects and any other useful information for you!