In this Telegram AMA recap, you'll find insights about the BIFROST project. In an event hosted by Iris from MEXC Global, you will meet Dohyun Pak, CEO and co-founder of BIFROST.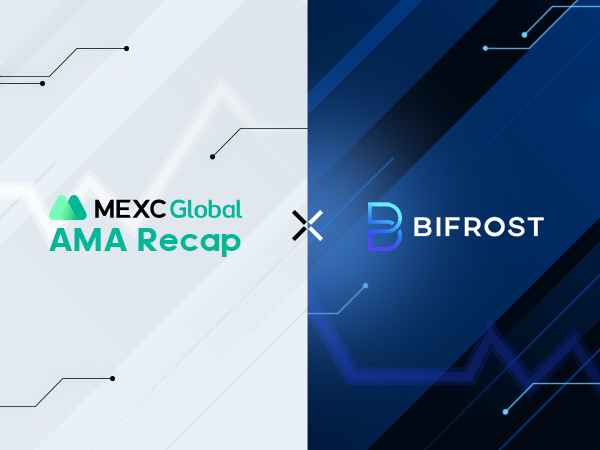 Introduction:
Dohyun: As for a brief background about myself, I have a PhD in Financial Engineering and have spent over 10 years in global financial institutions managing complex derivative products and specializing in quant trading.
I founded PiLab, a research-focused blockchain company in 2016, and our team began developing BIFROST in 2017 along with a suite of multichain DeFi launched: BiFi, BiFi X, Biport, and ChainRunner Q.
Really grateful for everyone who joined and appreciate the questions from the community. We will be holding MEXC's AMA in our own community tomorrow, so I encourage everyone to join our community and give us a follow on our socials for project updates! Will leave the links below:
BIFROST Official Website: https://thebifrost.io
Medium: https://medium.com/bifrost
BFC & BiFi Token Info: https://bifi.link/s
Official Telegram: https://t.me/Bifrost_Global
Telegram (Ask Us Anything: https://t.me/bifrost_bifi_ama_global
Discord: https://discord.com/invite/RZKSheWMQa
BIFROST Twitter: https://twitter.com/BIFROSTio
BiFi Twitter: https://twitter.com/BiFi_lending
Biport Twitter: https://twitter.com/BiportWallet
Questions about the BIFROST project:
Question 1:
Iris: What is BIFROST? Can you share with us more in detail?
Dohyun: BIFROST is a multichain middleware platform that enables developers to create DApps on multiple protocols. It offers a universal language for blockchains to communicate with each other, and we aim to create an interconnected blockchain ecosystem that allows for more flexibility and scalability for DApps.
Question 2:
Iris: What triggers you to launch BIFROST? What are BIFROST's unique selling points as compared to other similar projects in the industry?
Dohyun: When I founded PiLab in 2016, I believed that blockchain will change the world and revolutionize our financial system for the better, obviously. Knowing that, our team first tried to create DApps on top of Ethereum, but soon realized that too many problems exist, such as gas fees and slow speeds.
So we envisioned a product that will be able to connect all the blockchain networks and their DApps. The conclusion was to launch BIFROST – a tool for DApps to experience true scalability and interoperability in the multichain world.
We have proved with many of our launched DeFi products that we are able to connect to multiple blockchains and their capital markets, including Bitcoin, with the technology of BIFROST.
Question 3:
Iris: Are there any exciting news or updates with regards to BIFROST that you would like to share with the users?
Dohyun: So we initially started the project with the multichain middleware platform to be able to connect the diverse blockchain ecosystem. However, the space still experiences major inefficiencies, in regards to the speed, fees, and scalability of the networks while adoption is getting even nearer.
To that end, we have shifted our focus to expand our project to a DPoS network, planned to launch in Q2/Q3 this year. Our goal is to provide a borderless cross-chain financial network and innovations like cross-chain lending, DEX, payments, and more.
Right now, you can stake BFC on our staking platform: staking.thebifrost.io to earn 20% APR. This is a golden opportunity to get some high earnings and help contribute to our network!
Question 4:
Iris: Speaking of the $BFC staking – what is the role of the $BFC token in BIFROST? Would you tell us more about its tokenomics?
Dohyun: Currently, BFC serves as the utility token for BIFROST's overall multichain ecosystem.
When our DPoS BIFROST network launches, BFC will be used as the native coin of the network to ensure network security through a process of staking — which involves the BFC staking mentioned in the previous answer. BFC holders who stake BFC will be able to vote on delegates and help elect the network validator notes.
Question 5:
Iris: If you were to summarize your project in ONE word, what would it be? Why?
Dohyun: Well, our sole approach has been and continues to be MULTICHAIN. We believe that future is "multichain", not "one chain wins all". Therefore, we want to provide an interoperable environment for DApps, ultimately enabling seamless cross-chain activities in the future.
Free-asking Session
Q1. Do you have any NFT plans and its integration ahead in the roadmap? Also, do you have any passive income options and incentivization rewards for a long-term holder?
Dohyun:
We're seeing the NFT space growing in popularity and we want even more people to get them to join this space. But obviously, there's a lot of complexity in the Web3 world for the 99% of the mass that haven't joined yet.
Our goal is to scale out our gaming/P2E business over the next few months and make it easy for the 99% to get involved.
To achieve this, we are starting with Summoner, our first P2E along with its gaming NFT. We just launched a Summoner NFT staking platform so holders of the NFT can earn passive income before the official launch of the game.
Check out Summoner here: thesummoner.io
We're also rolling out our own art/collectibles BIFROST City NFT next for our token holders and ecosystem participants. Our own social marketplace is also coming up too, where users can create, collect and connect.
Q2. Can you list 1-3 killer features of this project that make it ahead of its competitors? What is the competitive advantage your project has that you feel most confident about?
Dohyun:
We focus on increasing accessibility, innovation, and multichain to connect all capital markets and demonstrate them through our products BiFi, BiFi X, ChainRunner Q, Biport, and many more to come.
We're trying to build better and practical use cases not yet established in the current market to create new opportunities in blockchain and DeFi across multiple chains with cheaper and faster transactions.
Q3. According to the project's roadmap- what are your most important next priorities?
Dohyun:
We have so many great plans aligned for the year of 2022 – a few including our existing DeFi expansions, the launch of the game Summoner, Biport mobile app, BIFROST Network, NFT marketplace, DEX, etc… in no particular order, and all through our own multichain ecosystem and technology.
Isn't this exciting? We really want to encourage everyone here to get involved early and join our journey together.
Trying to find MEXC AMAs recaps?
It's easy! Explore them in a special section of our MEXC Global blog. Find insights for other recently listed projects at MEXC like BIFROST.
Start your travel on MEXC Global