In this Telegram AMA recap, you'll find insights about the XY Finance project. In an event hosted by Iris from MEXC, you will meet Wilson Huang, Founder of XY Finance.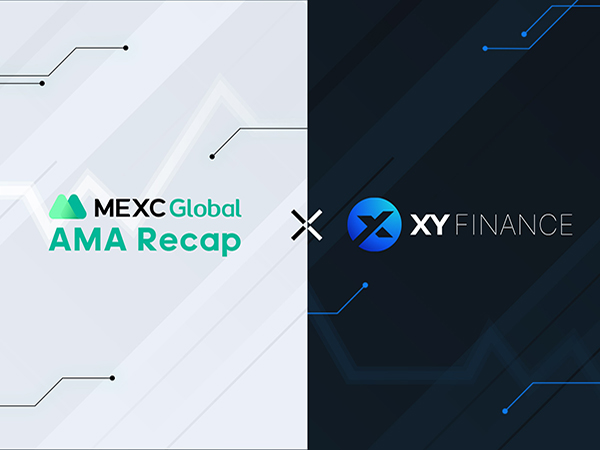 Key takeaways:
What is XY Finance
Team of XY Finance
Problems XY Finance solve
Role of XY Token
Introduction to AMA Member from XY Finance Token:
Wilson: Hi everyone, I am Wilson, Founder of XY Finance. I've been involved in Bitcoin since early 2014, and with seven years of solid experience in the crypto industry. I became the advisor of various protocols in the past.
I also want to briefly introduce our team. Our team started working on XY Finance in 2021 and the team consists of 20+ blockchain talents from Ethereum Foundation, imToken, Yahoo, MediaTek, and IBM.
Questions about the XY project:
Question 1:
Iris: What is XY Finance? Can you share with us more in detail?
Wilson: I'm glad to share more details of our powerful products.
XY Finance is a one-stop cross-chain aggregator for DeFi and Metaverse. We aim to provide users with the fastest, easiest, and most economical cross-chain services covering the following three major parts in the emerging multichain world: DeFi, GameFi, and NFT.
Let's dive into our applications in the three fields:
X Swap and Y Pool provide the fastest, most straightforward, and most economical cross-chain swap service with a seamless experience, and liquidity providers can earn yields without impermanent loss.
GalaXY Kats is a collection of 10,000 unique meerkats NFTs existing on the Ethereum blockchain. GalaXY Kats project aims to fulfill its mission not just as an NFT/PFP, but also as an asset providing practical utilities to holders.
Being a GalaXY Kats Adopter will allow you to enter our future Play-To-Earn blockchain game. Based on our latest whitepaper, we're going to launch our alpha testing for 10,000 GalaXY Kats holders in Q1 2022 and open beta testing in Q2 2022!
In addition to the GameFi sector, GalaXY Kats holders can further have special utilities such as APY boosts, swap fee discounts, token airdrops and more via XY Finance, depending on the faction of your minted meerkat.
Last but not least, we also focus on the NFT liquidity aggregation. Our NFT Satellite is a simple and user-friendly platform that integrates all major NFT marketplaces on various chains and allows users to buy, sell and swap NFTs on our platform in one transaction.
If you are interested in XY Finance and would like to be up to date with us, don't forget to join our social channels over on Twitter, Discord, and Telegram and become part of our fast-growing community!
Question 2:
Iris: What triggers you to launch XY Finance? What are XY Finance's unique selling points as compared to other similar projects in the industry?
Wilson: First, one of our advantages is our unique cross-chain bridge – Y Pool, to provide liquidity, which can significantly improve the slow and costly cross-chain transactions caused by unstable liquidity and unreasonable fees.
Meanwhile, based on the structure of our single-asset pools, we have deeper liquidity and reduce liquidity providers' risk by exempting impairment loss.
Moreover, we have set up a unique rebalance mechanism to maintain the Y Pool's liquidity. XY Finance proposes a rebalancing incentive mechanism that will reward users with XY Tokens for helping to rebalance assets on different chains.
With the help of the rebalance mechanism, our platform can provide stabler services to our valued users compared with other competitors because we can significantly prevent our liquidity from drying up.
That's to say, we allow users to complete transactions smoothly and seamlessly through our one-stop cross-chain services.
To help you quickly recap the advantage of Y Pool:
With the help of Y Pool, XY Finance features the following five outstanding advantages:
Instant cross-chain transfers (only two transaction IDs needed)
Incentivized rebalance system (prevents liquidity pool from drying up)
Earn your share of all transaction fees based on your provided USDT liquidity
No impermanent loss thanks to our single-asset liquidity pools
Highest composability thanks to many tokens being swappable on XY Finance
Besides, we understand that there are numerous cross-chain competitors. So, I want to share our biggest advantage with you. We are the first cross-chain service provider trying to serve DeFi power users, GameFi players, and NFT collectors!
Notably, none of all current cross-chain competitors find out the NFT and GameFi potentials. That's our strongest advantage to other projects while they still stay in only the DeFi aspect.
We have been developing our blockchain game GalaXY Kats, which will start alpha testing and public beta testing in Q1 and Q2 of 2022, respectively. Meanwhile, our NFT Satellite are under development, which will integrate all major NFT marketplaces on several chains. We not only aggregate AMMs on a single chain but also aggregate cross-chain bridge liquidity and NFT market liquidity.
Question 3:
Iris: What is the role of XY Token in XY Finance? Would you tell us more about its tokenomics?
Wilson: XY Token lives at the heart of XY Finance's DAO and the protocol. XY Finance has been ensuring all contributors to the leading cross-chain aggregator are incentivized to use the token for its intended functions, rather than sit on and speculate from the sidelines on what it may be worth a week later.
Meanwhile, we are giving utility and value to the XY Token by highlighting its use in staking, governance, strategic partnerships, and GameFi games.
XY Token has the following utilities:
Governance( DAO members can voice their opinions and ideas by sharing proposals with other members of the organization. Each token holder can then vote to either accept or reject any proposal. What's more, many parameters in XY Finance are configurable and DAO members can configure these parameters, including usage of treasury funds, swap fee rate, and the future product development direction.)
Exclusive mining opportunities (XY holders can lock their XY in our DAO vault to mining more XY and other partner tokens in the future)
APY boosting (By locking XY Token in our DAO page, people can enjoy up to 2.5 times APY boosting for their share in Y Pool)
Exclusive access to GalaXY Kats GameFi Marketplace (users can use $XY to purchase GalaXY Kats Equipment and earn more in the GalaXY Kats blockchain game)
Let's talk about tokenomics.
Regarding XY Finance's tokenomics in the Y Pool, in addition to the XY liquidity bonus, we also allocate 80% of the swapping fees from X Swap to liquidity providers and another 20% to the DAO vault.
Besides, these fees and royalty income from the GalaXY Kats (our NFT + GameFi project) will be allocated into the DAO vault. Notably, we're upgrading our tokenomics in light of market conditions and constructive advice from our investors and advisors.
After locking XY in the staking pool, XYers can gain governance power to propose, vote, or change system parameters in real-time, as well as start new Y Pools, etc.
In addition, a portion of the swap fee will be allocated to XY Finance and the XY DAO as a security fund. Meanwhile, apart from the governance power, DAO members can mine XY Tokens (Token Mining #1 and Token Mining #2) and other partners' tokens, which are coming soon.
Notably, our team are planning to update our tokenomics to add the part of NFT Satellite. We believe the newest version can further improve the token utility of XY and benefit all of our XY holders!
Question 4:
Iris: Are there any exciting news or updates with regards to XY Finance that you would like to share with the users?
Wilson: Sure. I can give some updates and leaks to you guys.
In December 2021, we sealed a strategic partnership with YGG SEA, the sub-DAO of YGG. We are collaborating on the cross-chain NFT and GameFI transaction.
On Jan 4, we listed XY on MEXC and opened the USDC Pool to improve our cross-chain liquidity. On the same day, our sub-GameFi project GalaXY Kats launched the whitepaper and got ready to launch the alpha testing of the game.
Meanwhile, we're working with the blockchain security company BlockSec to audit our smart contracts to make sure assets on our platform are safe and secure. Here are some alpha and leaks to our lovely MEXC members.
Iris: Trade XY/USDT on MEXC
Wilson: We're going to list two CEXs in the near future. Meanwhile, we're discussing with numerous Top 10 CEXs on CMC ranking for listing XY and the discussions are in the final stage.
We're going to integrate five new chains in Q1'22 to expand the XY ecosystem.
We have been in talks with several NFT marketplaces in the final stage and may reach a strategic partnership.
In sum, XY Finance is working day by day to make the cross-chain services easier, fasters, and more economical, following our mission. XY adventure just kicks off and we're glad to see more XYers join our community and experience in this exciting multichain world.
Question 5:
Iris: If you were to summarize your project in ONE word, what would it be? Why?
Wilson: Metaverse Aggregator
XY Finance is an all-in-one cross-chain metaverse aggregator. We want to provide cross-chain on-chain asset swap services, covering tokens, NFTs, and more.
For now, we have fully supported token swap on four different chains and the XY ecosystem will continue to expand when we integrate more chains. Meanwhile, we're developing NFT Satellite (NFT aggregator). In the near future, we will allow NFT collectors to trade NFTs on our platform only because we can help them buy or sell NFTs on all major NFT marketplaces, such as OpenSea, Looksrare, PancakeSwap, Rarible, and more.
It's fantastic if you can complete all things you need/want to do on one platform only. Therefore, we want to build up this on-demand platform to save all crypto natives time and let them create more values and explore more opportunities in Web 3.0. Hence, I think "Metaverse Aggregator" is the best word to summarize XY Finance.
Free-asking Session to XY Finance
Q1. About "GalaXY Kats" NFTs, Can you explain further about the utilities of these NFTs within your platform? Are they meant to be held as simple collectibles or will they have additional benefits? Also, will you have your own marketplace to sell and buy the "GalaXY Kats" NFTs?
Wilson: If you hold specific GalaXY Kats in your wallet then you can have some benefits like swap fee discount, airdrop bonus, Liquidity mining APY boosting. It depends on what traits your GalaXY Kat has. Also, We will have our own NFT marketplace aggregator for GalaXY Kats holder to list.
Q2. Partners, community and market are the most important aspects, so which aspects are you focusing on right now?
Wilson: We will focus on GameFi, NFT, and so called Metaverse project to collaborate first. Because we believe Metaverse has great potentials this year.
Q3. Do you have any plans to attract non-crypto investors to join your project? Because the success of a project attracts more investors who haven't yet entered the crypto world. What are the plans to raise awareness about your project in the non-crypto space.
Wilson: We have hosted several physical NFT/GameFi events in Asia and we will definitely host more and more offline/online activities to attract more non-crypto investors, users, and gamers in other countries.
Trying to find MEXC AMAs recaps?
It's easy! Explore them in a special section of our MEXC blog. Find insights for other recently listed projects at MEXC like XY Finance! Lots of helpful information for your DYOR!