In this Telegram AMA recap, you'll find insights about the Paycer (PCR) project. In an event hosted by Miranda from MEXC Global, you will meet Gregersen, Helge Ippensen and Mahsa Doorfard from Paycer Project.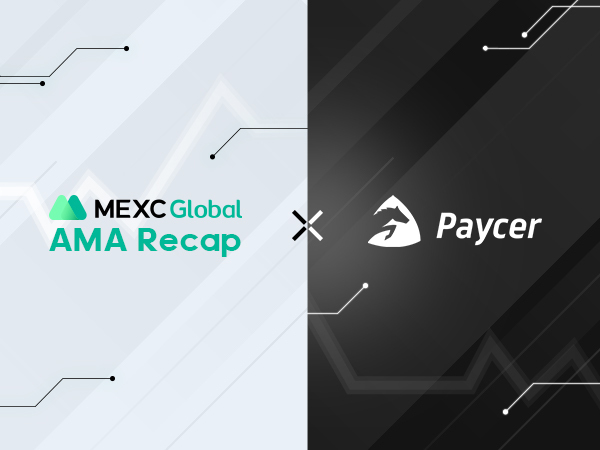 Introduction of Paycer AMA Member :
Nils: Hi everyone, thank you for this AMA in such a great community. 😄
Hi everyone, I am Nils, in the last 5 years I was working at IBM as a Developer, Business Analyst and Software Architect mainly for the cloud. I was part of huge international IT projects. I am one of the founders of Paycer and in the position of the CTO, but also doing a lot of other tasks that also include marketing at the moment. I was aware of the existence of Bitcoin since around 2013 because I follow most new trends in IT. In 2017 my uncle who lives in Singapore told me he bought 30 BTC and some ETH. Then I started to have a deeper look into the blockchain. I also bought my first crypto in 2017. Back then it was quite a struggle to buy the first BTC and ETH for fiat.
Helge: Hi and good morning from Germany😃
So some words to background: I started my career in tax advising before starting in big industrial enterprises like ABB and Cewe Color (Europeans biggest digital foto finisher) as head of human resources. In 2018 I started my own real estate business HPI Consulting and in 2020 he co-founded webrigade. Simultaneously I work in the public sector with a focus on innovation strategies and economic development. At Paycer I work in the strategic field and take an eye on legal matters including risk management. Joined with the CEO (Richard) I also take care of accounting and administration. I am particularly interested in the topic of law. I bought my first BTC in 2019 via Bison App 😉
Mahsa: Hello everyone. we're glad to be a part of MEXC family.
I am the Marketing Manager of Paycer. I have been active in Crypto content creation since 2019. Getting my Master's in media has made me a great storyteller with a keen sense for the target audience. Blockchain technology is my biggest passion and I am currently writing my Master Thesis about DeFi use cases. My ultimate goal is to encourage more female professionals to join the blockchain industry by providing free educational content.
Questions from community to Paycer:
Question 1:
Miranda: Can you tell us what is Paycer (PCR)? maybe can share with us more in detail?
Nils: The Paycer team is developing a bridge protocol that aggregates DeFi and crypto services cross-chain and combines them with TradFi to create new user-friendly financial products and services available on an easy to use platform. So basically we are working on easy and regulated DeFi (CeDeFi) for mass adoption.
Question 2:
Miranda: Next can tell us what triggers you to Paycer (PCR)? What are some of the real-world problems/ pain points that Paycer (PCR)aims to solve?
Mahsa: Currently, Many people are losing their wealth gradually year after year because they are not getting interested on their savings. so, every year they lose about 2-7% of their wealth to inflation. Decentralized Finance offers good interest rates without being dependent on a bank. However, using DeFi is pretty difficult; even for people from the IT industry! DeFi market entry would be barely impossible for non-crypto users. DeFi protocols are complex and require a deep understanding of the underlying technology and Non- technical users can't read smart contracts. Another problem that the DeFi industry is facing is that many Crypto platforms operate unregulated or semi-legal.
Nils: We are working on solving the regulatory and complex problem of DeFi for the user.
Miranda: yeah, I agree, inflation is a common pain for fiat money
Question 3:
Miranda: So next can you tell us what are Paycer (PCR)'s unique selling points as compared to other similar projects in the industry?
Helge: Paycer will provide a very clean user interface and simple processes that fully meet the requirements of our customers. It empowers everyone to use DeFi. Paycer will combine multiple DeFi products Cross-Chain to generate a stable and secure interest rate for the client's savings. Higher rates are possible with Paycer Token staking. Paycer will evaluate DeFi product risks and smart contract code before investing any assets. The financial services offered by Paycer are so diverse: Crypto wallet, bank account, lending, liquidity pools, simplified DeFi access & high-interest rates on personal savings. Moreover, The Paycer platform will follow the regulations and will operate within the European Union. Paycer is in close contact with BaFin and actively works on banking partnerships.
So the last point is very important: to work with the german regulators (BaFin) and to cover the business with a banking-as-a-service license.
Nils: Our main goal is to connect a bank account directly to DeFi.
Mahsa: It gives us the best position for entering the mainstream market.
Question 4:
Miranda: What about is the role of $PCR in Paycer (PCR)? Would you tell us more about its tokenomics?
Nils: Sure, PCR is Paycer's token that is based on the ERC20 standard and launched on the Polygon blockchain. The Maximum supply will be 750M and the use cases will be loyalty programs, Voting rights, Staking, Platform incentives and more.
Most of the PCR tokens are allocated to the community and will be distributed by token sales, marketing events, staking rewards and liquidity mining. There will also be a token buyback program based on the Paycer revenue. PCR will also go multichain very soon, the next chain we launch the token on will be BSC.
Mahsa: Just to make it easier to understand, here you can see the Token Allocation:
and here you can see the expected circulating supply:
This chart is over a duration of 8 years.
Question 5:
Miranda: Are there any exciting news or updates with regards to Paycer that you would like to share with the users?
Nils: Of course, the Paycer team works very hard to deliver steady progress. In the future, Paycer will be presented as a Fintech/Neobank. We are currently in the last stages of negotiations with a bank that wants to partner with us. After finalizing the legal terms we will most likely offer a bank account, crypto custody, crypto lending, a debit card and more to our users at Paycer. The target is to combine TradFi and DeFi as an easy-to-use CeDeFi platform that attracts crypto users but also inexperienced retail clients. And a little teaser Paycer is also working on an NFT project right now.
Helge: So with this early nearly fixed partnership with a bank we are way ahead of our schedule.😎. Honestly: that's a very early gamechanger for our business development.
Miranda: Yea,, i am excited about the bank cooperation news, don't forget to keep us updated👊👊
Question 6:
Miranda: If you were to summarize your project in ONE word, what would it be? Why?
Mahsa: Prosperity! because our goal is to provide services to the Mass Market and not just Blockchain enthusiasts. Everyone in the world should have the chance to earn high-interest rates on their investments.
Free-asking Session to Paycer
Q1. Too many projects promise magic but never release any working product or prove any revenue, Within a short/long time of release. Is your project also like this? If not can u tell us, What makes your project different from other projects?
Nils:
Almost the entire Paycer team is public (check paycer.io ), the company is based in Germany. Very experienced people work on the product and the project. We have already achieved a lot and the bank partnership is almost signed. Paycer will deliver in any case 👍 You can get a first impression on paycer.finance but this is our early DeFi product the CeDeFi product will be a lot more simplified.
Q2. Currently from where i can buy ? Is it possible that I can get only by holding it?
Helge:
Of course here on MEXC 😎…you can also visit our website paycer.io. For farmin and mining opportunities look our on dodoex and unifarm for example: https://app.dodoex.io/earn/mining?and network=polygon https://app.unifarm.co/ . Make sure that you are on polygon-blockchain. In near future we will also launch our token on Binance smart chain and Avalanche and many more.
Q3. What are plans in for global expansion? Are you focusing on market at this time or focus on building and developing or getting customers and users, or partnerships?
Mahsa:
Hey Elliott. Thank you for your question. ☺️ Our first Market target is Germany which is where our company is based in. but we are currently working on some Business Development and Marketing strategies to expand globally. we will target Europe, USA, South America and Asia. we have a very positive vision regarding our partnerships. so many huge international projects have shown interest in Paycer. for sure, more partnerships are on the way! 🤩 we are looking forward to focus on Marketing this year to bring more retail users to the community.