In this Telegram AMA recap, you will find insights into the $AMG project. In this event hosted by Yity from MEXC, you will meet Ricky (Global Community Manager at DeHero).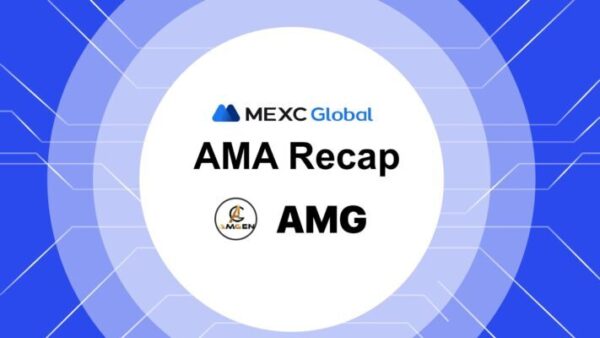 On February 17, 2023, Ricky, the Global Community Manager at DeHero, sat down for a Discord AMA with MEXC. He answered a large variety of questions, including what is AMG, the story about how AMG started, as well as the vision and mission of AMG. 
We would like to say our massive thanks to all of you who joined the AMG AMA. We truly appreciate your support. Here is a recap of the entire session, in case you missed it!


Introduction
Yity: Hi Ricky and everyone here ✌️ Let me introduce myself. I'm Yity, the Community Manager at MEXC. I've been in the crypto space ever since 2019, and I'm very passionate about the industry! Happy to be here with you and help answer all of your questions!

Thanks, Ricky! Would you like to introduce yourself as well?

Ricky: Hi there, I'm Ricky, the Global Community Manager at DeHero. I've always been passionate about gaming, and it's great to witness and drive the innovations blockchain brings to the gaming industry! As many of you may know, DeHeroGame ($AMG) is warming up on the MEXC Launchpad. I'm excited to chat with Yity here today, and to mingle with old and new community members of DeHero. Now let's hop into the topic, shall we?

Questions from Community:
Ricky: Q1. So Yity, could you please give us a brief introduction to MEXC as a centralized exchange. What makes you different from others and what benefits do you provide to your users?

Yity: MEXC was established in April 2018 and has over 10 million registered users in over 200 countries and regions now. We offer users multiple services including spot, margin, leveraged ETFs, derivatives, staking, etc. As for how we are unique and better compared to others, there are a few reasons:
Firstly, we always try to be as transparent as possible with our users, and set goals that are both optimistic and realistic at the same time.
Secondly, the quality of service is our top priority, and as long as we can guarantee it, we are willing to experiment and bring new services, features, products, and alike.
Last but not least, MEXC is known as the Crypto Gem Hunter, meaning tokens that got listed on MEXC are more likely to be listed on top exchanges like Binance and Coinbase later on.

Ricky: Q2. Wow, that sounds amazing, doesn't it? What about the upcoming MEXC Launchpad with DeHeroGame ($AMG)? Could you tell us more about it?

Yity: Sure, I will gladly! The launchpad seems to have become the most popular event on MEXC now. The MEXC Launchpad provides users worldwide the chance to participate in free token airdrops from new projects and potentially earn valuable tokens. You only need to hold 1 $MX to be eligible to join the launchpad! So don't miss out on this exciting opportunity, and be sure to take advantage of the 8th session of MEXC Launchpad with DeHeroGame ($AMG)! The timeline is as follows:
Snapshot Period: 16:00, Feb 15, 2023 – 15:59, Feb 21, 2023 (UTC)
Registration Period: 10:00, Feb 22, 2023 – 10:00, Feb 23, 2023 (UTC)
Airdrop Time: 11:00,Feb 23, 2023 (UTC)
AMG/USDT Trading: 12:00, Feb 23, 2023 (UTC)

You could participate now with this link:
https://www.mexc.com/launchpads/assessment
Or, learn more from this article: https://support.mexc.com/hc/en-001/articles/15512835735449–Airdrop-MEXC-Will-Launch-the-Launchpad-with-DeHeroGame-AMG-

Yity: Q3. Now that we've already mentioned DeHeroGame, would you like to give some details on what DeHeroGame is and how it is related to DeHero?

Ricky: Sure! To put it short, DeHeroGame is an iteration of DeHero. Both games were published by MixMarvel.
DeHeroGame pioneers GameFi 2.0 through NFT adventures in a multi-universe. It pivots on TCG playability and is the latest iteration of "Staking Card Game". Players unite 100+ NFT heroes from parallel time-spaces to confront PVE and PVP dungeon challenges and obtain FT and NFT rewards. DeHeroGame is the first gaming application on Rangers Mainnet, which supports ultimate decentralization, thrilling gaming experience, asset cross-chain, super low gas fee, and Web2-friendly solutions.

Yity: Q4. PVE and PVP dungeon challenges and obtain FT and NFT rewards. Exciting! However, how is DeHeroGame different from other blockchain TCG or GameFi?

Ricky: Oh, I can name at least 3 main reasons why DeHeroGame stands out among the crowd. First of all, it provides Ultimate Decentralization. All hero cards and skill cards in the game are on-chain NFT assets, and all game activities such as dungeon challenges are on-chain. Game logics are deployed on-chain as well.
Secondly, it provides Thrilling Gaming Experience.The PVE gameplay features strategic dungeon challenges. With the efficient processing capability of Rangers Mainnet, while ensuring the safety of assets, DeHeroGame can also provide a combat experience that does not lose to traditional games.
And last but not least, there are High-Quality NFT Cards. DeHeroGame features 100+ NFT hero cards of 4 quality levels, 9 professions, 3 equipment options, and 200+ skills.

Yity: Q5. Sounds rather great indeed. We've already mentioned $AMG today, could we go back to it a little more. So tell us, what is $AMG? What is its importance to DeHeroGame?

Ricky: $AMG is the governance token of DeHeroGame, an NFT TCG pioneering GameFi 2.0, and has a total supply of 100,000,000. $AMG demonstrates solid value growth by representing the prime glory and governing power among the game community.
The diverse usage scenarios of $AMG include in-game NFT progression, monthly membership subscription, special event voucher, voting, and more. $AMG will not only be available on popular exchanges but be rewarded to advanced and loyal DeHeroGame players as well.

Yity: Q6. Quite a diverse token! I'm sure all of our users would also like to know about the tokenomics of $AMG. Could you share more about it?

Ricky: The total supply of AMG is 100,000,000
IDO Launchpad: 1% – 1,000,000
P2E Pool: 25% – 25,000,000
Treasury: 36% – 36,000,000
Team: 24% – 24,000,000
Private Sale: 14% – 14,000,000

Yity: Q7. Great, that's great! What about the value appreciation logic of $AMG?

Ricky: So there are two scenarios for it, Short-Term and Mid-to-Long-Term.
In case of Short-Term appreciation, there will tend to be high demand vs low supply.
In this case, the in-game generation of $AMG tokens concentrates around victory rewards from level-150 NFT heroes, which require decent consumption of $AMG for leveling-up. $AMG is required in special activities and acquisitions of advanced skills. As the game continues to iterate, $AMG will always stay in a tight supply-demand relationship.
In case of the Mid-to-Long-Term, $AMG becomes a Social status symbol
It represents the highest glory in the game community with lofty goals. As DeHeroGame iterates, players may purchase special items exclusively with $AMG. They may also vote to determine the game's external revenue distribution by staking $AMG. Besides having a virtuous circulation model, $AMG would also create premiums through time.

Yity: Q8. I'm sure all of our users have one question in mind right now: How and where can we get $AMG?!

Ricky: $AMG will be listed on MEXC on February 23, 2023 starting from 12:00 (UTC)! You could also get $AMG by participating in the MEXC Launchpad with DeHeroGame ($AMG).

Yity: Q9. Speaking of which, Ricky, would you mind to elaborate on some highlights of the MEXC Launchpad with DeHeroGame ($AMG)?

Ricky: Tokens Allocated to MEXC Launchpad: 1,000,000 AMG
The participation threshold is min. position 1 $MX.
Token Sale Format: Airdrops (No asset exchange)
Supported Sessions: MX

Trying to find MEXC AMAs recaps?
It's easy! Explore them in a special section of our MEXC blog. Find insights for other recently listed projects at MEXC

Start your travel on MEXC