In this Telegram AMA recap you will find answers to the most anticipated questions about the WICRYPT project. In an event hosted by Miranda from MEXC Global, you will meet Toni from the WICPYRT team!
Introduction to WICRYPT AMA Member:
Toni: My name is Toni Dada. I am the COO and I have over 14 years of experience in the Telecoms and Fintech space leading growth for the two biggest Telecoms companies in Nigeria MTN and Etisalat. 
My crypto journey actually started this year after joining Wicrypt as their COO. I have been in the telecommunications and Fintech space for years and I fell in love with Crypto, decentralization and NFTs and how these technologies are changing the world. Applying the blockchain to the Telecommunication industry has been an amazing experience for me. Building a telecommunication future on the blockchain is nothing but breadthless.
I joined Wicrypt when I applied for the growth position role to help Wicrypt scale its product to different parts of the world.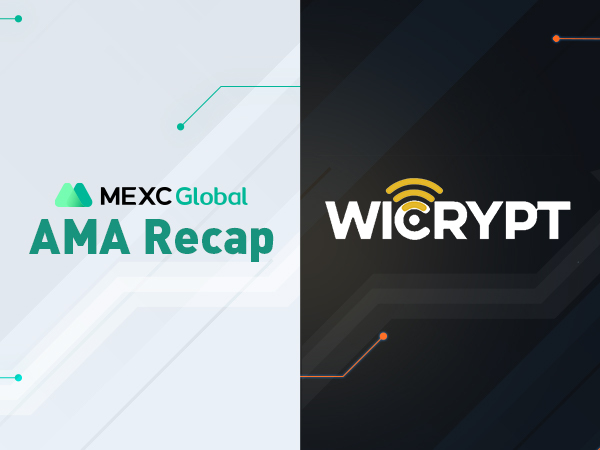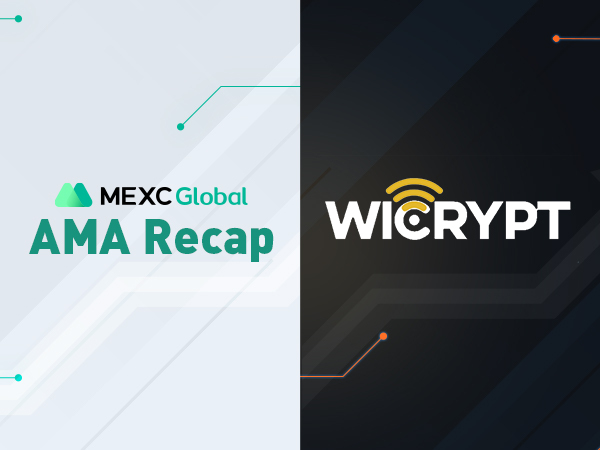 Questions about the WICRYPT Project:
Question 1:
Miranda: What is Wicrypt, maybe share with us more in detail?
Toni: Wicrypt is a Decentralized mobile internet sharing and monetization network. Wicrypt has created a smart Wi-Fi network infrastructure that runs on a decentralized network of micro-nodes powered by the Wicrypt OS(operating system), giving anyone the power to act as a micro internet service provider. The Wicrypt protocol allows anyone to share their WiFi with others & get paid for doing it! Wicrypt Hotspot Creators mine $WNT when sharing their WiFi. Wicrypt is created to solve the following problems:
Miranda: Hotspot Creators mine WNT when sharing their WiFi. It sounds interesting, I think many of us would love to mine WNT this way!
Toni: Yeah. You should definitely buy our devices and then start mining.
Question 2:
Miranda: Can you tell us what triggers you to build Wicrypt ? What are some of the real-world problems/ pain points that Wicrypt aims to solve?
Toni: We created this project to solve the following problems:
High cost of mobile internet data
Unavailability of mobile internet data in urban and remote regions
Highly centralized telecommunication market
Lack of Innovation and Underutilization of Mobile infrastructure
And give benefits to our users:
Users earn money by sharing their internet data with these devices
Freedom to decide your own rates for creating a hotspot network
Put a limit on the data usage & time
Get customer feedback & run ads of your business
Clients also mine WNT for using the hotspot network. This means the users connecting also get incentivized for using your devices
Hosts that create Wicrypt hotspots mine WNT (Wicrypt Network Tokens). WNT is the native token of the network
Wicrypt is location and ISP agnostic. This means it can work anywhere with any Internet service provider
Question 3:
Miranda: What about the role of WNT in Wicrypt ? Would you tell us more about its tokenomics?
Toni: Utilities of WNT
Staking: Wicrypt hosts will need to stake Wicrypt Network Tokens (WNT) to become active hosts that can mine WNT when they provide Wi-Fi connection to users. Staking WNT helps to prevent bad actors from joining the network
Voting rights or Governance : WNT holders will be able to perform governance actions to control different parameters that determine the operational structure of the network
Airdrop Reward: WNT is used to reward hosts that provide active hotspots with high uptime. Clients get incentivized with WNT when they connect to multiple hosts for a specified period of time and have consumed a certain amount of bandwidth. 20% of overall network tokens have been allocated for mining rewards for hosts while 5% have been allocated to reward clients. Rewards and incentives helps to create a large network effect which leads to fast adoption
Payment for service or Product/Payment for ads: Businesses are allowed to place ads on the Wicrypt Network. Payment for the ads will be done WNT
Gas/Transaction Fees/Discount on Wicrypt fees: Payment for internet connection with WNT gives discounts on fees
Discount on Payment for Wicrypt Devices: Wicrypt devices can be purchased with WNT at a discounted rate
Our Tokenomics is available in our Medium account
Question 4:
Miranda: Thanks for these details Toni, next maybe you can share with us some exciting news or updates with regards to Wicrypt ?
Toni: Cool
Here are some upcoming activities
Wicrypt explorer on testnet
Device/NFT sales to the first users
Mainnet for Wicrypt Explorer
Launch of the $WNT mining reward for hotspot creators and clients
Please kindly join our waitlist or purchase our devices on the official website!
Question 5:
Miranda: If you were to summarize your project in ONE word, what would it be? Why?
Toni: Decentralization. I chose this word because we have leveraged the decentralized nature of the blockchain in the telecommunication space to give users the power to become independent internet service providers and not depend on big telecommunication companies to spread or increase the accessibility of the internet globally. 
Free-asking Session
Q1. What are the steps to become a part of your community, and start getting revenues? Where do we buy, where do we sign up? This looks like an amazing project!
Toni: To buy our token visit our trading page at MEXC. To buy our devices visit WICRYPT Official Website
Q2. Are you afraid someday there will be another project with more innovative technology that can replace your project?
Toni: No we are not afraid because we are constantly innovating and growing our technology
Q3. Since NFT is popular nowadays, is there a plan for NFT integration?
Toni: Yes. We are using NFTs heavily in Wicrypt to represent every single device information on the blockchain and all device data can be tracked through the NFT metadata. NFTs
Wicrypt devices are all represented by unique NFTs (Non-Fungible Tokens) on the blockchain. Data points(such as internet speed, GPS location, ISP, Connected clients) transmitted through the devices are represented on the blockchain through the NFTs in real-time on the Wicrypt block explorer. The NFTs will enable Wicrypt to create an open data network on the blockchain
Looking for more MEXC AMAs?
Explore recaps in a special section of our MEXC Global blog. Find insights for newly listed projects and any other useful information for you!
Start your travel on MEXC Global