In this Telegram AMA recap, you'll find insights about the Shiryo project. In an event hosted by Iris from MEXC Global, you will meet Jordan, CEO of Shiryo.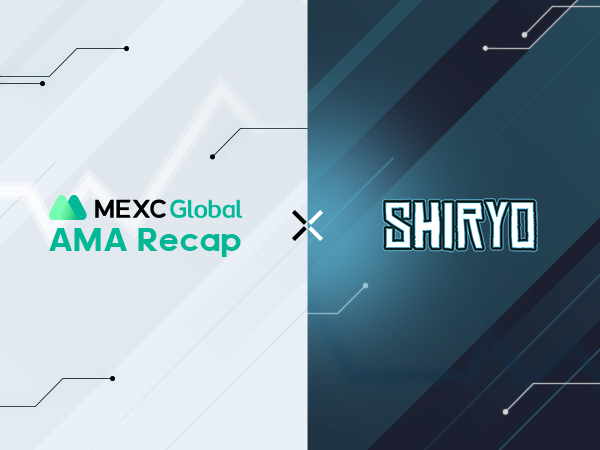 Introduction:
I'm Jordan Fung, the CEO of Shiryo! I have been working in the digital and online space for the past 15 years, doing graphics, web & app design, as well as online marketing. For the past few years, I have been working in the DeFi space, helping other projects reach their goals… This is where the idea for Shiryo came from, the Shiryo Team and I thought we could create our own project and do everything we had been helping people with, but do it to a much higher standard 😄
Questions about the Shiryo project:
Question 1:
Iris: What is Shiryo? Can you share with us more in detail?
Jordan: Shiryo is an NFT based trading card game DeFi project. Meaning we are building our own online trading card game, that utilizes the blockchain… People could imagine Pokemon or Hearthstone if they are unsure what a trading card game looks like. Our NFT's are the cards themselves, which will be directly used in the game 🙂
Question 2:
Iris: What triggers you to launch Shiryo? What are Shiryo's unique selling points as compared to other similar projects in the industry?
Jordan: Myself and the whole team have been really into online trading card games for many years, as well as living and breathing DeFi… Helping other projects (with all aspects of their project, from graphics to marketing) really inspired us to turn one of our passions into our own project, as we knew we could run it in a way that hadn't been done before 😄
We think what sets us apart from other similar projects is our attention to detail and the importance of quality within our ecosystem… As well as this, our game has been carefully planned out and will require strategy and skill to compete at a high level.
Question 3:
Iris: What is the role of the $SHIRYO token in Shiryo? Would you tell us more about its tokenomics?
Jordan: Our token has numerous roles within our ecosystem, as we will continue to add more utility as we continue to expand/grow…
You can stake your tokens to earn card packs, which contain our NFT's, as well as adding to our LP to create a farm
The token can be used to mint avatars, which will be used as your in-game persona
Once our game is released we will see a few new uses of the token, including, being able to borrow/rent cards/decks, tokens being used for tournaments & wager matches
As well as all of this, the token will be our underlying currency in the Shiryoverse, and will be used to buying land/assets to be used.
Question 2:
Iris: Are there any exciting news or updates with regards to Shiryo that you would like to share with the users?
Jordan: So there is a few things we have released recently…
The Shiryoswap is live! Which is our own DEX that we have built… Working in a similar way to uniswap, but with a few extra features, including a chart viewer and more detailed troubleshooting information
We just got back from the Dubai Crypto Expo, where we won 'Best Upcoming Crypto Game'
We have recently revealed our NFT's and people have been opening their card packs, this has been reallt exciting 😄
We are almost ready to release a complete website overhaul, which will improve the user experience on our website, as well as add more information about our development process
We will soon be listed on another Top 5 CG exchange (we can say which one yet) 😄
In the coming weeks we will be launching on matic/polygon, and then rolling out our bridge, which will help anyone who is struggling with gas fees on ETH
We are currently mid way through our game development and expect to release the alpha version Q2/Q3 this year
Question 5:
Iris: If you were to summarize your project in ONE word, what would it be? Why?
Jordan: Quality.
Everything we do we always have the highest quality in mind! And everyone in the team holds this very close to their heart. Whether that's the design team, game devs, dapp devs, telegram/discord/twitter mods… Everyone always does everything they can to ensure everything is carried out to the highest quality. This will reflect in the gameplay experience once the game is released
Free-asking Session
Q1. Where can I currently buy Token?
Jordan:
You can buy our token on Uniswap, BitMart, LBank, BKEX, MEXC and on Shiryoswap!
Q2. What are your top 3 things for priorities in 2022? Could you share some plans for the upcoming year?
Jordan:
Developing and releasing our game 🙂
Continuing to grow and look after our community daily
Adding new features to our ecosystem & building them in a way that users are ecstatic with
Q3. Too many projects promise magic but never release any working product or prove any revenue, Within a short/long time of release. Is your project also like this? If not can u tell us, What makes your project different from other projects?
Jordan:
Not at all! From the start, we are really proud to have delivered on all of our promises as well as delivered some things that we never promised. We always say 'underpromise and overdeliver – This is something we will continue to do 😄
Q4. How many team members do you have? Do they have enough experience in the blockchain field? Do they have any experience working in crypto and non-crypto projects?
Jordan:
We have over 50 team members worldwide. This includes all of our designers and moderators on different platforms. The core team (around 10 people) has been dedicated to blockchain and DeFi for the past few years and all have backgrounds in the digital world
Q5. Did you consider community feedback/requests during the creation of your product in order to expand on fresh ideas for your project? Many projects fail because the target audience and clients are not understood. So I'd like to know who your ideal consumer is for your product?
Jordan:
We always listen to our community and take in their feedback. If there is ever an issue, we make sure it is fixed in the best way possible and that the community is happy with the outcome
Q6. Do you have tutorial videos so we can get to know your project more clearly or do you have a YouTube channel or something? can you share it with us?
Jordan:
We have some videos hosted on our website, as well as videos on our YouTube Channel
Shiryo.com
Trying to find MEXC AMAs recaps?
It's easy! Explore them in a special section of our MEXC Global blog. Find insights for other recently listed projects at MEXC like Shiryo.
Start your travel on MEXC Global